Tech
The 2024 Volkswagen Atlas Is a German-American Conundrum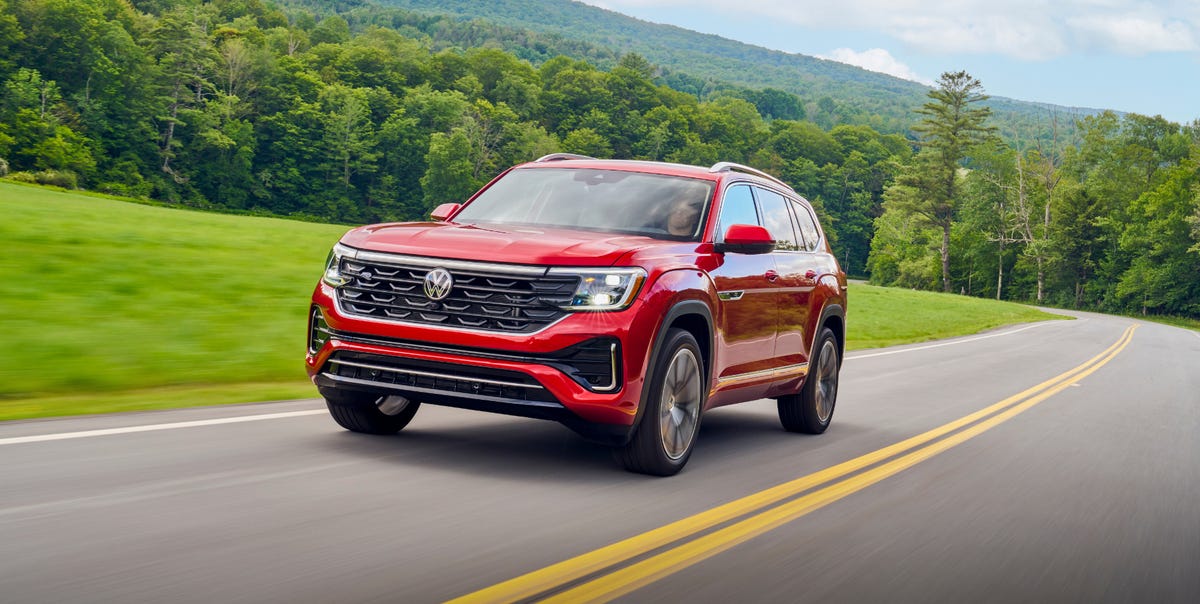 Volkswagen designed the seven-seater Atlas crossover specifically for American consumers, and it continues to refine the model with new technology and amenities.
From heated and ventilated seats and extra soft-touch surfaces to a new 12-inch infotainment screen, VW brings up the standard of quality on the 2024 Atlas.
Killing off the former 3.6-liter VR6, VW will only offer the Atlas with an EA888 turbocharged 2.0-liter inline-four, making 269 hp and 273 lb-ft of torque.
---
When Volkswagen brought its first crossover, the Touareg, to the US market, it was a stunning departure for the traditionally car-based brand. Co-developed with Porsche, the Touareg featured strong off-road chops, suave interiors, and engine options ranging from a turbodiesel V10 to a naturally aspirated W12, further cementing the smooth-shaped model as an indication of a new era in Wolfsburg.
Volkswagen has been riding out this Touareg-prompted era coming on 21 years now, as the culmination of a strategic shift toward bigger and cheaper vehicles comes to fruition in 2023. A glance at the model range shows VW's transformation, with five flavors of crossover to choose from against the only truly compact, pedestrian nameplate left—the Jetta. But it's the numbers that show just how rapid this transition was, as VW reported a 91% car sales mix in 2013 and an 83% SUV and crossover sales mix in 2022.
And the 2024 Volkswagen Atlas and two-row Atlas Cross Sport are a pinnacle representation of VW's plans for America. Produced and launched specifically for the American market back in 2017, the Atlas is VW's flagship model and its largest crossover, though its MQB-platformed bones date back to the MK7 Golf.
Even so, the '24 Atlas is thoroughly refreshed, featuring strong exterior changes and subtle-but-refined interior updates. With all these changes, Volkswagen didn't want to lose out on its historically price-conscious customer base either, meaning it standardized a laundry list of amenities. And did I mention it's only powerplant now is a 2.0-liter four-cylinder?
As with many Volkswagen products, pricing depends on who's buying, as the Chattanooga-built Atlas Cross Sport and three-row Atlas start at $38,065/$39,075 and go as high as $52,795/$53,805. These prices include $1350 destination, and those wanting 4Motion AWD will have to pay an additional $1900.
For that money, 2024 Atlas owners receive shapely new LED front and rear lighting, additional soft-touch surfaces, 30-color ambient interior lighting, and standard ventilated seats on all trims. Indeed, the Atlas is an uber-comfortable place to sit, especially nestled in the ventilated, quilted leather seats inside a $50,000 SEL R-Line Atlas Cross Sport.
Better yet, a new 12-inch, higher-mounted infotainment display is now standard on all models, though paging through music, navigation, and climate controls proved convoluted at times. Similarly, the lack of a tactile volume knob made sonic changes unintuitive through its console-mounted, touch-based slider.
Even so, the standard wireless App-Connect and wireless charging features worked flawlessly. Charging for the whole family shouldn't be an issue either, with four to six USB-C ports available depending on seating configuration.
And if you elect to buy the 7-seater Atlas, first and second-row spacing is ample for occupants six feet tall and above, though VW's approach to a two-seat-only, adult-sized third row proves that it remains slightly detached from America's children-only third-row culture. For those with capped family sizes or no desire to pile additional friends in a third row, the five-seat Atlas Cross Sport will reward you with a competitive 40 cubic feet of cargo volume.
Driving the Atlas and Atlas Cross Sport through New York's Catskill Mountains, its car-based bones are apparent, as the steering emulates the sharp yet light wonders of my family's former MK7 Golf Alltrack. It changes direction quickly and compliantly whether in sport or comfort mode (for whatever that is worth on a 4600-pound crossover), and the steering weight noticeably firms up at highway speed.
Even with a MacPherson front and multi-link rear suspension, the Atlas is a supple ride on newly paved highway and gravel roads alike, giving it a sort of best-of-both-worlds appeal. It's nimble and reactive if and when you want it to be but mindless to drive in a straight line for hours at a time. Frankly put, the only dynamic gripe I had with the Atlas lineup was its soft brake pedal tuning, though the actual stopping power of its braking hardware is plenty.
Looking at the Atlas as an overall package, only small annoyances exist and these are not the kind of irks that would dissuade me from recommending it. But the crux of the 2024 VW Atlas is its single-engine offering—the turbocharged, 2.0-liter EA888 inline four-cylinder.
In killing off the outgoing (and aged) 3.6-liter VR6, VW says this iteration of the widely used EA888 produces 269 hp and 273 lb-ft of torque, for a 6-hp loss and a 28% gain in torque over the VR6. Fed through an 8-speed automatic transmission, these power figures amount to plenty of torque off the line and a meaty pull through about 5000 rpm. There is no need to wind it up to its slightly over 6000 rpm redline though, as peak power has clearly passed by then.
It's no performance machine (which is true for the rest of the segment, too), but the EA888 feels more refined and with less lag in this application, especially compared to the aging EA888 in my daily-driven 2014 VW Jetta GLI. It can even tow a maximum of 5000 pounds. But the workhorse EA888 displays its strain in fuel economy, as the 2.0-liter four only manages a combined 22 mpg in its lightest and most aerodynamically wrapped Atlas Cross Sport.
That's 19 mpg city and 26 mpg highway as estimated by the EPA. Meanwhile, the two most popular midsize crossovers are the Honda CR-V (rated at 27 mpg city/32 mpg highway) and the Toyota RAV4 (rated at 27/35 mpg).
Beyond performance on paper, however, a more existential question remains. Will American audiences accept a foreign three-row four-cylinder Atlas that competes with the V6-powered Honda Pilot, Kia Telluride, Jeep Grand Cherokee, and Nissan Pathfinder? Whatever the answer, VW is not alone in its powertrain strategy, as the Toyota Highlander, Chevy Traverse, and Subaru Ascent also use turbocharged four-cylinder engines (although slightly larger, displacing at least 2.4 liters). Also, the base engine for a Ford Explorer is a 2.3-liter EcoBoost I4.
No matter that towing capacity for the Atlas is on par or that it provides ample power for 99% of US drivers, the marketing of a turbocharged, four-cylinder seven-seater could prove challenging. Volkswagen of America says the Atlas is its best seller and most profitable vehicle, and the company surely wants to grow its 6% share of the midsize crossover segment. Regardless of consumer response to the engine, the improved technological features and driving experience could still make the Atlas attractive for shoppers.
Will we see long-standing full-size SUVs like the Chevy Suburban with four-cylinder-power before electric propulsion? Please share your thoughts below.

Associate Editor
A New York transplant hailing from the Pacific Northwest, Emmet White has a passion for anything that goes: cars, bicycles, planes, and motorcycles. After learning to ride at 17, Emmet worked in the motorcycle industry before joining Autoweek in 2022. The woes of alternate side parking have kept his fleet moderate, with a 2014 Volkswagen Jetta GLI and a 2003 Honda Nighthawk 750 street parked in his South Brooklyn community.