Tech
No More ICE for Norway Next Year from One Major Automaker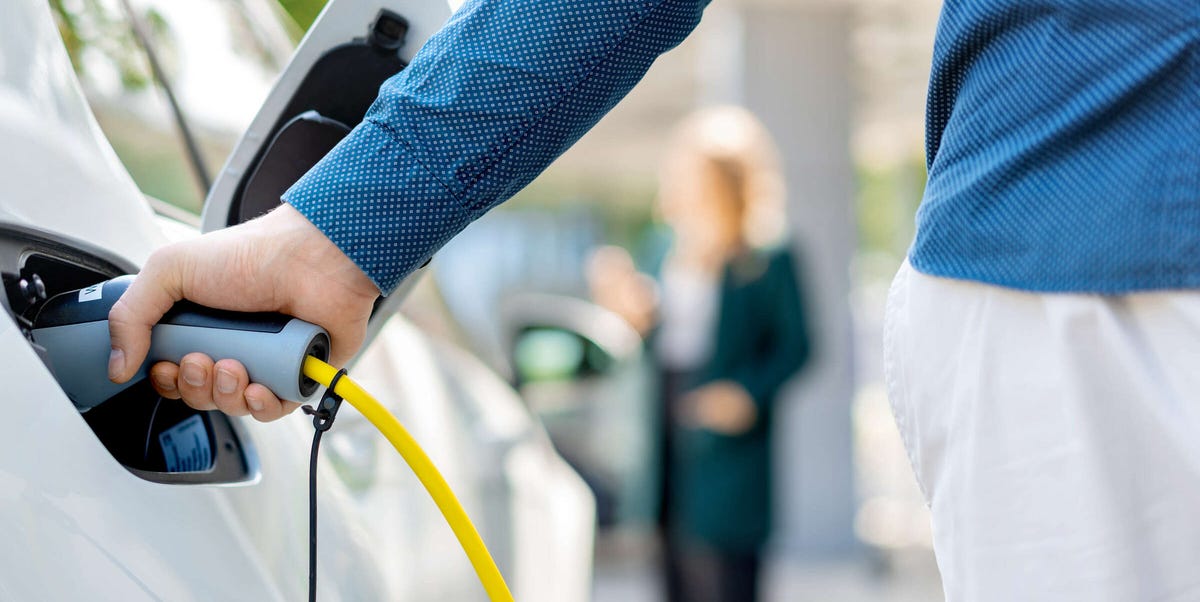 More than 90% of the new cars sold in Norway now are plug-ins, and the country has mandated an end to the sale of cars with tailpipes in 2025.
TransPod is building test tracks and prototypes of an electric mag-lev-type train that can go 600 mph, intended for the Calgary-to-Edmonton run.
With a range of up to 310 miles, Project Arrow is the first all-Canadian EV, produced by a consortium of 50 Canadian companies. It will be at The Battery Show in Detroit this September, but it was also on the Collision floor in Toronto.
---
All of Volkswagen's brands will stop selling gas, diesel, and even hybrid cars in Norway at the start of next year—ahead of the country's EV mandates, Pierre Boutin, president and CEO of Volkswagen Group of Canada, told Autoweek at the recent Collision tech conference in Toronto.
"We're really getting out of internal-combustion there," Boutin said. "The entire VW Group." VW's nameplates include, in addition to VW itself, Audi, Lamborghini, Bentley, and Porsche. A VW of Canada spokesman attributed the information about the local plans to the "Norwegian importer for our product."
It's actually somewhat of a no-brainer, because more than 90% of the new cars sold in Norway now are plug-ins, and the country has mandated an end to the sale of cars with tailpipes in 2025. The overall European Union target is a decade later, in 2035, with a loophole for the sustainably produced gasoline known as e-fuel.
The best-selling car in Norway last April was the Tesla Model Y. That month, 83.3% of sales was battery electrics, and 7.8% plug-in hybrids, although the PHEV share is shrinking. Norway has long had excellent incentives for EVs, but the rate of EV adoption is still remarkable given the country's colder climate is not ideal for range.
Michael Austin, senior research analyst for electric vehicles at Guidehouse, said VW Group is already selling mostly EVs in Norway, and "this most likely allows VW to wind down any remaining internal-combustion inventory over the next 18 months."
VW Group is not the only company to melt the ICE in Norway. Hyundai stopped offering anything there with an internal-combustion engine as of January 1 this year. Since 2020, the only engines were in Hyundai plug-in hybrids.
Tech Highlights from the Collision Conference
Faster Than a Speeding Bullet
A train that goes more than 600 miles per hour? It's not as crazy as you think. A company called TransPod is building test tracks and prototypes and last year acquired the promise of $550 million (US) in phase-one funding to build the first iterations of this electric mag-lev-type train.
It signed a memorandum of understanding with the government of Alberta to begin production of the ultra-speedy hyperloop system in a Calgary-to-Edmonton run. The train-car-sized vehicles travel in an enclosed track—necessary at those speeds. The route won't open soon—the target for the $20 billion project is the mid-2030s, with construction to start maybe in 2027.
Right now, the world's fastest train is the Shanghai Transrapid, which scoots along at a mere 267 mph. Unlike Elon Musk's Boring Company system, the TransPod FluxJet cars (which carry 35 to 55 people) don't ride in a partial vacuum but in a more conventional covered guideway.
They can travel by themselves or coupled, and don't use a human driver—the speeds are too high for that, said Ryan Janzen, co-founder and chief technology officer. He said Transpod, which also has operations in France, is talking to officials in the Dallas/Fort Worth area. Toronto-Montreal is another possibility.
"It's like a mag-lev train in reverse," Janzen said. "The electric engines are on the vehicles, not on the track, which reduces the infrastructure cost per mile." What's it like to travel 600 mph on land without trying to set a land-speed record? TransPod told Autoweek that it's like taking off in a plane, with that brief feeling of being pinned to your seat by g-forces. But once you're at speed that sensation disappears.
Toronto is now known as Canada's tech hub, and that's why the Collision conference is held there, for a lot of cool startups to display their wares.
Canada's Committee Car
Project Arrow is the first all-Canadian EV, and it's one-of-a-kind, produced by a consortium of 50 Canadian companies. It will be at The Battery Show in Detroit this September, but it was also on the Collision floor.
The Arrow has a vaguely French Renault look to it, with such features as carbon-fiber panels, a Canadian maple floor, biometric sensors in the steering wheel to read your blood pressure as you drive, suicide doors with no external handles, a solar roof, and an infotainment system with wireless transducers instead of speakers.
Range is up to 310 miles from an 82.5-kWh battery pack. There are no airbags. It isn't registered. Paula Ambra, assistant chief engineer on the project, said the question she gets most often is, "When can I buy one?" Not anytime soon, alas.
Drones for Cops
Blake Resnick is a wild-haired tech nerd who built a fusion reactor in his garage at 14, and interned at McLaren, where he developed a brake cooling system. While living in Las Vegas, he had a close-up view of the Mandalay Bay mass shooting in 2017, which killed 58. It took 65 minutes for Las Vegas police to arrive and control the situation.
That experience led Resnick's Brinc company to create the Lemur S drone, which is specifically for police SWAT teams. "The police hated the first product," he said in Toronto. But now the drone has been refined and is meeting with a better reception. "We're offering eyes and ears in dangerous places," Resnick said.
The drone can break a window with a special tool, then cruise around an interior looking for an armed and dangerous perpetrator. It can create a floorplan, look around corners, shine a light, and offers two-way communications (with translation, if needed!) so a hostage negotiator could try to de-escalate the situation. There are also defense and search/rescue applications.
Resnick pointed out that China makes the great majority of the world's drones, but the US government is no longer willing to buy drones sourced from there. "That's where we see a market," he said. "We want to open up more large-scale drone manufacturing in the US."
Woven City
Woven Capital is the $800 million investment arm of Toyota Motor Corp., and is investing in "the future of mobility and driving innovation," including in companies that build the better wheelchair (Tokyo's Whill), safety systems for self-driving cars (Foretellix, Tel Aviv), tech efficiency for fleets (Ridecell, San Francisco), and autonomous delivery (Nuro, Mountainview, California).
Under construction is the 175-acre Toyota Woven City, near Mt. Fuji in Japan. It is intended as both a sustainable and robot-equipped residential town and as a test center for innovation, with mobility-related pilot programs to start in 2024 and 2025. Only fully autonomous EVs will be allowed on Woven City streets.

Contributing Editor
Jim Motavalli is an auto writer and author (nine books) who contributes to Autoweek and Barron's Penta. He has written two books on electric cars, Forward Drive (2000) and High Voltage (2010), and hosts the Plugging In podcast.  
Motavalli's writing has appeared in the New York Times, CBS Moneywatch, Car Talk at NPR, Forbes, US News and World Report, Sierra Magazine, Audubon, and many more. In his spare time, he reviews books and jazz.