Tech
Look Both Ways, Texas: VW Prototype AVs Heading to This Town for Testing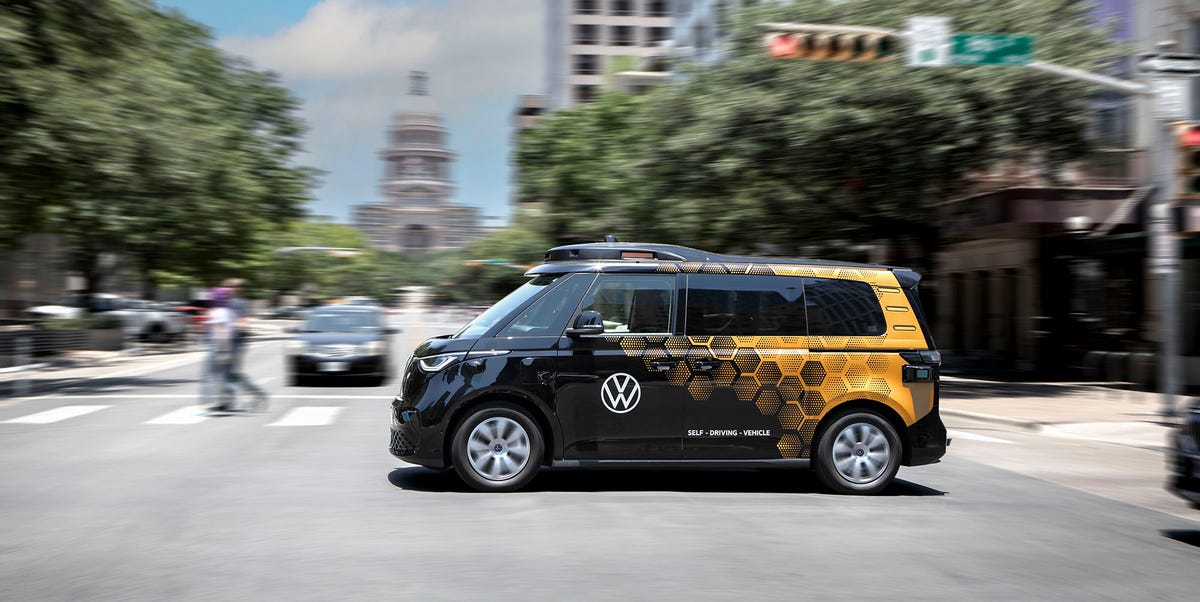 VW gets ready to test autonomous ID. Buzz prototypes in Austin, Texas, ahead of a planned commercial debut of Level 4 vehicles in 2026.
The automaker is working with Mobileye in readying Level 4 vehicles for operations in several cities.
VW has opened offices of a new subsidiary dubbed Volkswagen ADMT, LLC, in Austin and one other city, betting on an emerging market for robotaxis.
---
Volkswagen fans won't be able to get their paws on the electric ID. Buzz until 2024, but one version of it will get here much sooner. Starting this month VW will test autonomous ID. Buzz prototypes in Austin, Texas—Tesla's new hometown—developed by Volkswagen and Mobileye.
The automaker will kick off tests of its autonomous tech with a fleet of 10 ID. Buzz vehicles outfitted with roof sensor pods, before adding other cities to the program. The long-term aim is to launch commercial operations in Austin by 2026.
Just what level of autonomy does VW envision?
In the longer term VW aims to commercialize a fleet of Level 4 robotaxis by 2026, given its efforts in this sphere elsewhere, specifically its MOIA ride-pooling shuttle service intended to launch a couple of years earlier in Germany.
Early on VW had partnered with Argo AI on autonomous vehicle development, before the developer was forced to shut down. VW is currently working with Mobileye, with vehicles using LiDAR, cameras, and radar.
"Expanding Volkswagen Group's global autonomous driving vehicle program to the United States marks an important milestone for us," said Pablo Di Si, president and CEO, Volkswagen Group of America.
The automaker has opened offices of a new business unit named Volkswagen ADMT, LLC, in Austin and in Belmont, California. The first part of the Austin program will see the fleet of EVs collect data through miles driven around the city, before the next phases of testing begin.
"We selected Austin as the first U.S. hub, as the city has a track record for embracing innovation and offers a conducive climate for the testing of autonomous vehicles," said Katrin Lohmann, president of Volkswagen ADMT, LLC. "We are committed to continuing an open and collaborative dialogue with the city and its diverse stakeholders."
---
---
The end goal of this program in Austin and elsewhere appears to be a commercial robotaxi fleet, one that could take on the form of ride-pooling with paying passengers sharing rides with others along a calculated route based on demand from users.
VW won't be the first to bring vehicles with advanced levels of autonomy in Austin, as Cruise and Argo had been carrying out testing in this city since 2022, in addition to others. In fact, Cruise looks like it could launch robotaxis for paying customers in Austin first, having already kicked off operations in the Bay Area, with Los Angeles up next.
The race toward commercial Level 4 appears to be accelerating.
Will Level 4 robotaxis replace ride-hailing drivers by the end of the decade, or will this process take longer? Let us know in the comments.

Jay Ramey grew up around very strange European cars, and instead of seeking out something reliable and comfortable for his own personal use he has been drawn to the more adventurous side of the dependability spectrum. Despite being followed around by French cars for the past decade, he has somehow been able to avoid Citroën ownership, judging them too commonplace, and is currently looking at cars from the former Czechoslovakia. Jay has been with Autoweek since 2013.