Tech
Lightweight Vehicle Frames, SMC Tailgate Part of VW Research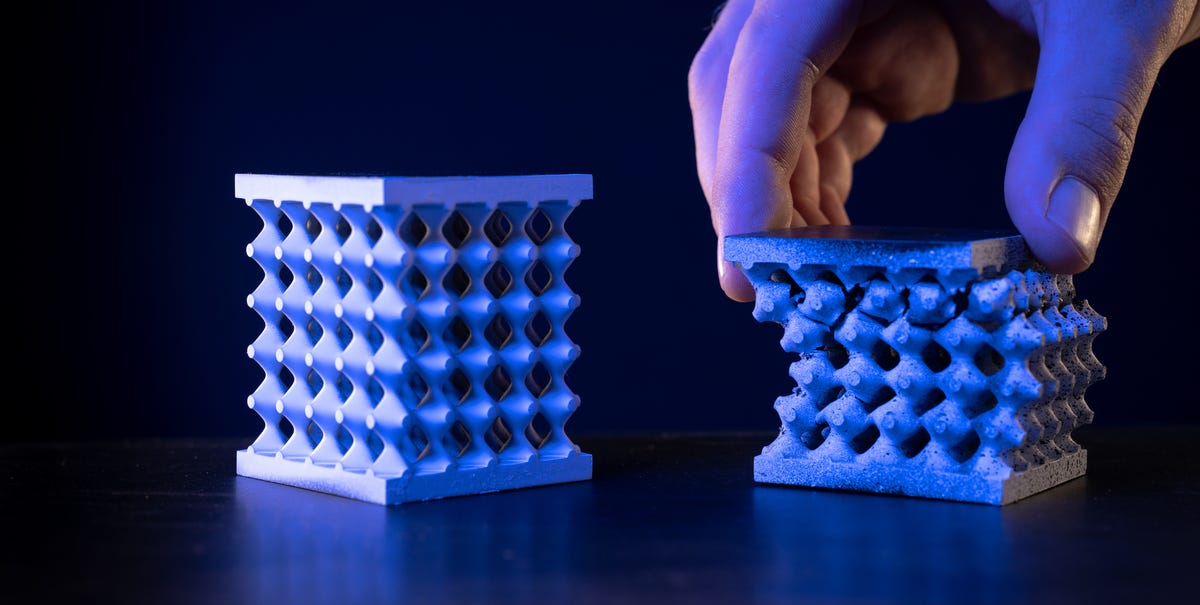 VW researchers, working with Oak Ridge National Lab and University of Tennessee faculty and doctoral students at the Innovation Hub, have developed new materials and manufacturing methods that could lower the weight of electric vehicles.
The Innovation Hub in Knoxville has been developing materials that can be 3D-printed from liquid resins and used in EV construction to achieve weight savings.
The research teams have also been working to increase the speed of inductive charging pads, relying on silicon-carbide materials to boost charging speeds.
---
Two of the major goals of battery research for the past few years have been to increase energy density and decrease battery weight, with developers working feverishly to achieve breakthroughs on both fronts even as average vehicle weight has continued to climb in the EV era.
But decreasing vehicle weight as a means to achieve more range has also been one of the earliest techniques undertaken by automakers in the EV sphere, along with aerodynamics.
Volkswagen researchers, along with University of Tennessee faculty and doctoral students, and the Oak Ridge National Lab (ORNL) working at the automaker's Innovation Hub at the university's Research Park in Knoxville, have recently achieved a number of breakthroughs in materials that could dramatically decrease vehicle weight.
The first breakthrough, achieved with the help of a deep learning algorithm (or artificial intelligence), has pinpointed a modular repeating structure composed of tiny pyramid shapes that can be 3D-printed (see photo above) from liquid resins and can support 30,000 times its own weight. The team of researchers believes such a structure could be used in constructing a vehicle frame, permitting it to be 60% lighter compared to a steel frame, while also exceeding its qualities in energy absorption.
The team used the University of Tennessee's high-performance computers to model this modular repeating structure.
Yet another breakthrough in materials science concerned a type of fiberglass-reinforced plastic. A team at the Innovation Hub has used a sheet-molding compound (SMC) to recreate a tailgate for a VW Atlas. The result was a drop in weight of over 35% (13 pounds), showcasing another type of material that could be used in future EVs.
Recently, researchers have focused on refining this molding technique to achieve the smoothest and most durable coat for fibers possible.
"The team's research breakthrough has already found its way into vehicle production. Bentley and Lamborghini have adopted these new materials and the molding process for the Bentley Continental, and in the Lamborghini Aventador," the automaker notes.
Research in the sphere of EV charging, of course, remains yet another priority for automakers and battery developers. Teams at Volkswagen's Innovation Hub have achieved a breakthrough in this area as well, creating an inductive charging pad that uses silicon-carbide materials to increase charging speeds.
The team has been able to increase the pad's charging power level from 6.6 kW all the way to 120 kW, delivering charging speeds more commonly seen at a DC station. The researchers' future goal is to achieve 300 kW using a similar type of silicon-carbide inverter.
"Centering more knowledge in the United States is part of Volkswagen's strategy for growth and is vital for sourcing and developing talent," said Pablo Di Si, President and CEO at Volkswagen Group of America Inc.
Will consumers demand even greater range from EVs in the coming years as part of a shift to greater EV adoption, or has the range war largely peaked? Let us know what you think.

Jay Ramey grew up around very strange European cars, and instead of seeking out something reliable and comfortable for his own personal use he has been drawn to the more adventurous side of the dependability spectrum. Despite being followed around by French cars for the past decade, he has somehow been able to avoid Citroën ownership, judging them too commonplace, and is currently looking at cars from the former Czechoslovakia. Jay has been with Autoweek since 2013.