Tech
Following Ford, GM, and Rivian, Volvo Adopts Tesla's NACS Port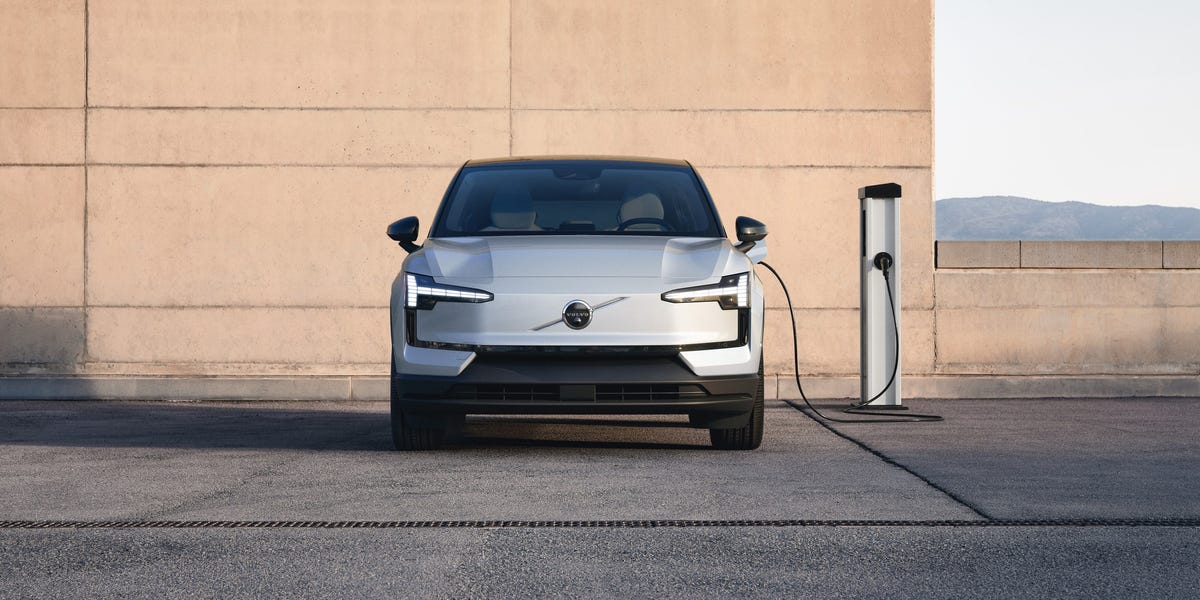 Volvo joins several automakers recently adopting the North American Charging Standard and signs a deal with Tesla to open up 12,000 new fast charge points.
Current Volvo EV owners will be able to charge at Tesla stations by early 2024 using an adapter, though production models with NACS ports will be available come 2025.
With two new EVs on the way, the EX30 and EX90, Volvo is committing more heavily to the US market, as it plans to battle for market share.
---
First Ford and then General Motors and Rivian—it's not hard to see where this charging trend is heading. Domestic automakers are flocking to the Tesla-developed North American Charging Standard for all the right reasons: reliability, availability, and quality. But now a foreign automaker is joining the group, as Chinese-owned, Scandinavian-born Volvo adopts the NACS and signs a deal with Tesla for the use of its vast Supercharger network.
Refocusing itself on the electric vehicle market in recent years, Volvo is making big statements about its electric future. After rolling out the XC40 Recharge in 2021, the brand has continued to reveal all-new battery-electric models, rolling out the three-row EX90 late last year and introducing the sub-$40,o00 EX30 just weeks ago. And the brand seems keenly invested in the North American EV market, as CEO Jim Rowan said the Inflation Reduction Act's EV subsidy provisions will drive massive investment and advancement in the domestic realm.
The arrangement with Tesla is a prime example of that, as Volvo says this will open up for its customers at least 12,000 new fast-charge points in the US, Canada, and Mexico. And in 2025, Volvo says its new production cars will be fitted with the NACS port, replacing the former Combined Charging Standard (CCS) ports. This smartly coincides with the sales launch of the EX30 and concurring rounds of production for the EX90.
Additionally, current Volvo EV owners will be able to use Tesla's Supercharger network by the first half of 2024, so long as they fit an NACS adapter. But the big change comes in model year 2025, when Volvo says its new EVs will be assembled with NACS connectors. At point, CCS adapters will be available to Volvo EV owners, allowing for continued use of both North American and Combined Charging standards. However, Volvo still needs to clarify whether its current EVs will be assembled with integrated NACS ports as of 2025, or whether that applies only to Volvo's future EVs.
"As part of our journey to becoming fully electric by 2030, we want to make life with an electric car as easy as possible," said Jim Rowan, CEO at Volvo Cars. "One major inhibitor to more people making the shift to electric driving—a key step in making transportation more sustainable—is access to easy and convenient charging infrastructure. Today, with this agreement, we're taking a major step to remove this threshold for Volvo drivers in the United States, Canada, and Mexico."
With the rapid succession of automakers joining the NACS, Tesla owners have expressed concerns about overcrowding at Supercharger stations. However, Tesla continues to grow the number of stations available, as the company said it added around 269 stations in Q1 of this year. Additionally, Tesla will likely have 50,000 individual charging stalls by the end of the year, indicating that this soon-to-be widely available network can easily expand to meet demand.
Meanwhile, this technological expansion could help Volvo secure additional EV sales in the US, as BEV models made up 10% of its annual US sales last year. That's 38,538 XC40 Recharge and C40 Recharge units sold. With two new EV models on the way geared for both big families and young, urban drivers—plus access to more reliable, faster charging—Volvo is making a strong case to push prospective buyers over the edge.
Which automakers will follow suit and join the NACS? Please share your predictions below.

Associate Editor
A New York transplant hailing from the Pacific Northwest, Emmet White has a passion for anything that goes: cars, bicycles, planes, and motorcycles. After learning to ride at 17, Emmet worked in the motorcycle industry before joining Autoweek in 2022. The woes of alternate side parking have kept his fleet moderate, with a 2014 Volkswagen Jetta GLI and a 2003 Honda Nighthawk 750 street parked in his South Brooklyn community.