Tech
European Auto Manufacturers Are Flocking to Adopt NACS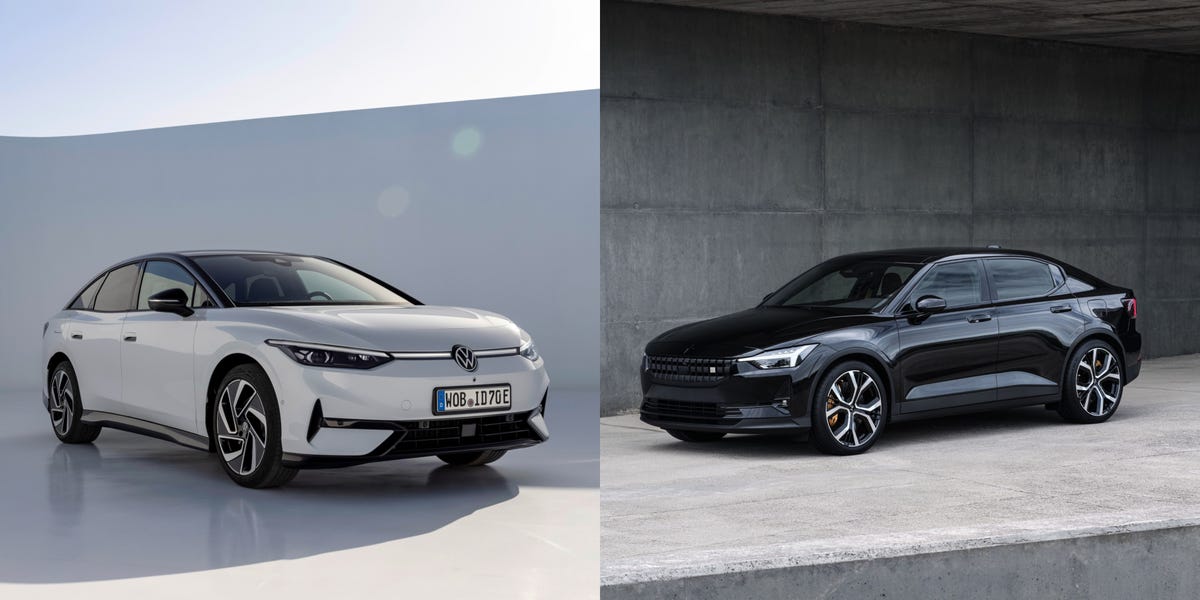 Volvo started the charge but Polestar and maybe even Volkswagen are following suit as brands scramble to adopt the North American Charging Standard.
Similar to Volvo, Polestar says it will adapt its production lines to install NACS ports by 2025, though Polestar says even its current model EVs will be reconfigured for 2025.
Paired with Electrify America, Volkswagen is mulling over a transition to NACS, as Electrify America confirms it will build chargers with NACS connectors soon enough.
---
The electric vehicle industry feels like it's been on a fast track the past five years, with novel platforms, enhanced battery technology, and shifting corporate strategies popping up on the regular. And bearing witness to these industry changes can be exciting, especially as entirely new chassis are born and legacy nameplates evolve. But the less glamorous part of the industry—charging and servicing—is actually one of the most important parts of launching an electrified lineup.
Manufacturers are quickly learning that it takes much more than a sleek body and eye-popping power figures to push EV adoption, particularly in the US. In fact, charging woes are often the biggest hurdle for adoption, as surveys from JD Power indicate a growing skepticism of EVs among US consumers. There is, however, a network of chargers known for reliability that manufacturers like Ford, General Motors, Rivian, and Volvo believe will strengthen North American EV adoption and operation.
Of course, we're talking about the Supercharger network, designed and run by Tesla since 2012. And Ford, GM, Rivian, and Volvo are not alone, as new manufacturers hedge their bets and sign a deal with Tesla seemingly every other day.
Joining Volvo's announcement last week, Polestar (which is also owned by Chinese auto conglomerate Geely) has committed to adopting the NACS by 2025. Specifically, Polestar says new Polestar vehicles sold in North America will be equipped with Tesla's North American Charging Standard (NACS) charging port by 2025. However, current Polestar owners with Combined Charging Standard (CCS) ports will be able to utilize the NACS network through an adapter by 2024. Notably, Polestar says its current EVs (Polestar 2 and Polestar 3) will be assembled with integrated NACS ports as of 2025, with compact-crossover Polestar 4 set to join the lineup shortly after.
Next up is Volkswagen…maybe. With Tennessee-based vehicle manufacturing facilities and a Canadian battery plant under construction, Volkswagen is set on US EV expansion, in business moves that parallel Volvo and BMW. Executives in Wolfsburg haven't entirely made up their minds, however, according to a statement from the Volkswagen Group.
"Volkswagen Group and its brands are currently evaluating the implementation of the Tesla North American Charging Standard (NACS) for its North American customers," Volkswagen said.
The decision is understandably harder for Volkswagen, as it involuntarily runs Electrify America, one of North America's most fleshed-out charging networks. As a part of the Dieselgate emission scandal settlement, Volkswagen has been compelled to develop, grow, and run a nationwide network of CCS chargers, meaning an industry-wide shift to NACS could have jeopardized Electrify America's reach in the long run. That is if EA didn't just announce that it would install NACS connectors, per a company statement.
It's not just legacy automakers that are joining the NACS network, though. In fact, Finnish electric motorcycle manufacturer Verge says it is the first two-wheeled company to commit to the NACS. With its first production motorcycle, the Verge TS, set for release later this year, the European startup is banking heavily on the US market, as exampled by its American-road-sized power and range figures of 201 hp and 233 miles of range.
Rumors of Hyundai and Stellantis joining the NACS pact have been floating around as well, according to Reuters. This shift would make sense for both manufacturers, but especially for Hyundai as it wars with Ford for second place in the US EV market. And while Tesla owners have expressed frustration over previously privatized charging territory, the rate at which Tesla and Electrify American are expanding indicates that overcrowding won't be a problem just yet.
Have you used a Tesla Supercharger before? What was your experience? Please share your thoughts below.

Associate Editor
A New York transplant hailing from the Pacific Northwest, Emmet White has a passion for anything that goes: cars, bicycles, planes, and motorcycles. After learning to ride at 17, Emmet worked in the motorcycle industry before joining Autoweek in 2022. The woes of alternate side parking have kept his fleet moderate, with a 2014 Volkswagen Jetta GLI and a 2003 Honda Nighthawk 750 street parked in his South Brooklyn community.