Tech
Beyond Distraction, Smartphones Can Be a Tool for Safer Driving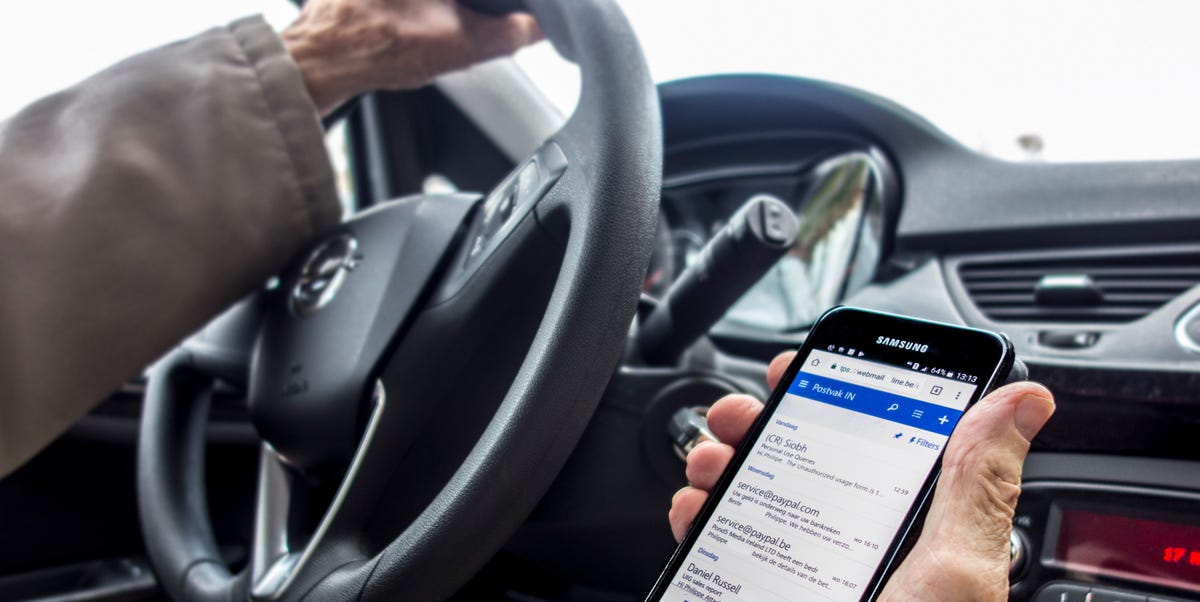 Distracted driving accounts for around 9% of annual traffic fatalities in the US and, with the proliferation of smartphones, it's not hard to understand why.
As federal regulators grapple with how to appropriately integrate connectivity into vehicles, the IIHS says smartphones can serve a genuine safety purpose.
From speed limit alerts to forward collision-warning systems, using smartphones to fill in the safety gaps on older vehicles and fast-track technology rollouts could be the next frontier.
---
Distracted driving has become a pressing problem in the 21st century, with a world of connection sitting in our pockets or on the dash as we drive along. And modern cars aren't necessarily helping eliminate these distractions, as manufacturers push for increasingly larger infotainment screens. These distractions aren't a nebulous issue created by worried regulators either, as 84% of people admit to using their phones while driving and studies show that infotainment screens require more time to operate than traditional buttons.
The National Highway Traffic Safety Administration says distracted driving crashes claimed over 3000 lives in 2021, representing around 9% of annual traffic fatalities in the US. And the Insurance Institute for Highway Safety says the real number is likely three times higher, as surviving drivers rarely admit to using cell phones following a crash. Even more grim, crash investigators can't always tell if deceased occupants were distracted before a collision.
But how we interact with our phones while driving can also be the best line of defense against crashes, says IIHS Senior Research Scientist Ian Reagan. From Do Not Disturb features to verbalized navigation, smartphones can reduce driver workload, Reagan explained. And the smartphone industry is eager to be a part of the solution, whether for technological or liability reasons.
"Regulators and safety advocates are beginning to engage with tech companies the way IIHS has always engaged with automakers—pushing manufacturers to make numerous improvements well before they're required by law," a report from the IIHS reads. "Along with IIHS and several other nonprofits, government authorities, and academic institutions, Google is a member of the steering committee of the National Distracted Driving Coalition, which recently showcased technologies with the potential to combat distraction, while several smaller tech firms are involved in the group."
But what exactly can smartphones do besides lock users out and block calls while driving? Researchers at the IIHS say Do Not Disturb modes and limiting infotainment screen functionality are just the tip of the iceberg. For example, the US could emulate Europe's mandated intelligent speed assistance (a system that alerts drivers as they exceed the speed limit) through individual smartphones.
This would not allow for more personalized notifications, but it could significantly reduce the amount of lead time needed to equip vehicle fleets with the technology. Specifically, the IIHS says using Google and Apple maps could allow for a rollout overnight of this statistically proven safety measure.
A decent, front-facing camera is a cornerstone of every smartphone these days, and the IIHS says these cameras could protect drivers of older vehicles. With an increased federal focus on automatic emergency braking and forward collision warnings, the institute suggests smartphone cameras could provide drivers with a sort of homemade forward collision warning. A federally approved, phone-based collision warning system could fill in the gaps until drivers can upgrade, with such warnings producing an estimated 27% reduction in rear-end collisions.
Whether or not these safety features come to fruition, the IIHS also proposed an extension of a kind of safety net that already exists through insurance companies. Many insurers now offer an opt-in, driving behavior tracker that rewards safe drivers with lower premiums. At a glance, this technology feels a bit big brother, though the IIHS suggests it could help reform dangerous drivers in less punitive ways. Instead of suspending licenses or levying lofty fines, the institute suggests tracking infracted drivers' behavior to reward better habits or to log fresh offenses.
These solutions may sound inventive, but smartphone manufacturers may not be so quick on the draw. For one, neither Apple nor Samsung has joined the National Distracted Driving Coalition, indicating that smartphone suppliers may be protective of proprietary systems or simply wary of liability.
And it's not just suppliers that need persuading. Convincing consumers to opt into safety features like Do Not Disturb modes has proven challenging in the past, as only one in five users opted in when Apple released the safe driving mode. Similarly, state-by-state laws differ around the use of cell phones while driving, creating complicated regional barriers to the mass adoption of such programs. New this month, Michigan has banned holding phones or other electronic devices while driving—legislation that could nudge drivers who haven't become familiar with their vehicle Bluetooth connectivity.
For those with older vehicles, how do you approach navigation and calling? Phone mounts or MapQuest? Please share your thoughts below.

Associate Editor
A New York transplant hailing from the Pacific Northwest, Emmet White has a passion for anything that goes: cars, bicycles, planes, and motorcycles. After learning to ride at 17, Emmet worked in the motorcycle industry before joining Autoweek in 2022. The woes of alternate side parking have kept his fleet moderate, with a 2014 Volkswagen Jetta GLI and a 2003 Honda Nighthawk 750 street parked in his South Brooklyn community.