Sports Cars
With Factory Carbon Fiber and Nettuno V6, Maserati GT2 Is Track Bound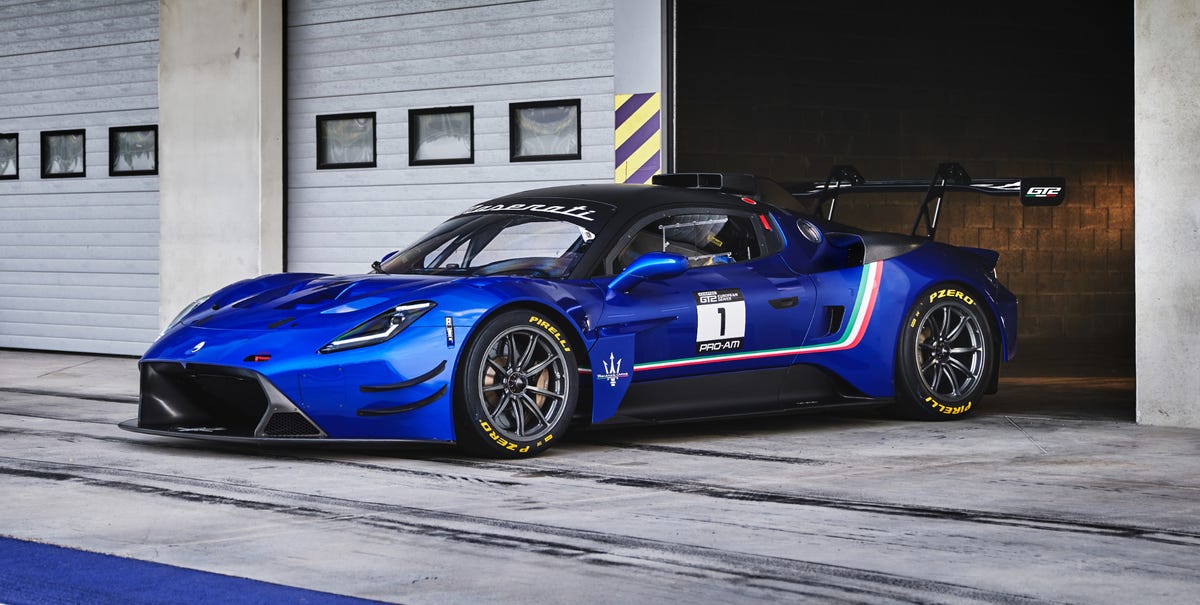 The Maserati GT2 is developed from the road-going MC20 supercar.
The Italian brand peeled back the curtain of its GT2 race car at the 24 hours of Spa.
Maserati says the GT2 will compete in part of this year's GT2 campaign but will run for the entire 2024 season.
---
It appears Maserati is taking its road-going MC20 supercar racing. Called the Maserati GT2 in race guise, this non-road-homologated race car has its sights set on, well, the GT2 racing class. Debuting at this year's 24 Hours of Spa, the Maserati GT2 is scheduled to hit the track in anger in the back half of the Fanatec GT2 European Series and will hit the track for the full 2024 season.
Like its road-going foundation, the Maserati GT2 sports an engine based on the Nettuno V6. The GT2's engine still displaces 3.0 liters and gets force-fed air by a pair of turbochargers. The folks at Maserati aren't specific about the hardware changes to make this V6 ready to race, but they did note the turbochargers are making more boost, and the exhaust manifolds were redesigned.
Despite the modifications, Maserati says this race-prepped V6 is good for the same 621 hp as its road-going variant. Of course, that's depending on the sanctioning body's balance of performance. This engine feeds power to the rear tires by way of a six-speed sequential transmission.
Joining the revised engine and new drivetrain is a predictably race-ready suspension. Maserati says this GT2 racing machine shares essentially the same carbon-fiber chassis as the road-going MC20. Though, the aluminum front and rear subframe sections have been optimized for track use and help with the revised suspension geometry. As you'd expect from a race car, the dampers, springs and antiroll bars are adjustable to give your team the optimum setup on race day. Maserati says a tire pressure monitoring system is available, but will cost you extra.
There's no word on how much Maserati will charge you for one of these, but if you have to ask, you probably can't afford it. Also, if you're taking one of these racing, you're probably going to need more than just one car. Though, if you can't afford one, you'll be able to watch it in some of your favorite sports car races around Europe.
Do you think the Maserati GT2 will be successful? Tell us your thoughts below.
Wesley Wren has spent his entire life around cars, whether it's dressing up as his father's 1954 Ford for Halloween as a child, repairing cars in college or collecting frustrating pieces of history—and most things in between. Wesley is the current steward of a 1954 Ford Crestline Victoria, a 1975 Harley-Davidson FXE and a 1959 Ford Fairlane 500 Galaxie. Oh yeah, and a 2005 Kia Sedona.