Sports Cars
With an AMG V8, Aston Martin DB12 Is So Good it Needed a New Category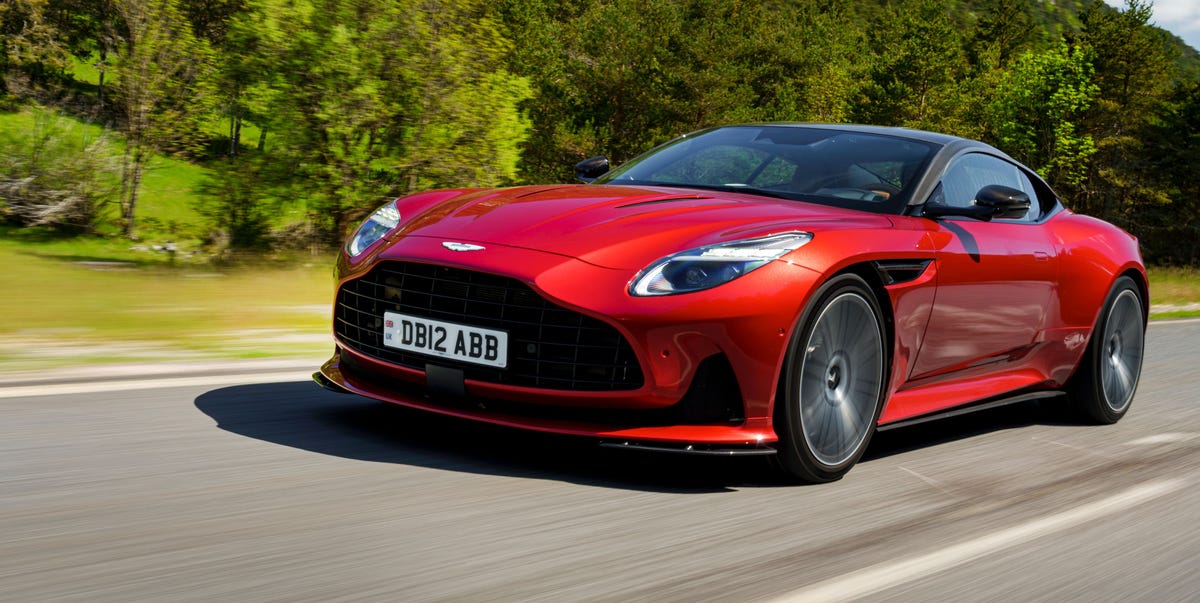 Aston Martin made yet another beautiful coupe, the DB12, which will be in showrooms this fall.
The 4.0-liter V8 comes from AMG and makes a whopping 671 hp.
Balance of the beast is 48/52 and yes, it's as fun to drive as it sounds.
---
The roar of internal combustion will be silenced all too soon, so make the horsepower while the sun shines. If possible, make it with a glorious collaboration of English design and German engineering. If possible, get a DB12.
A lot of the powertrain of the new Aston Martin DB12 is from Mercedes' inhouse power-tuner AMG in Affalterbach, Germany. But the gloriously svelte lines and languorous proportions of the car are all from Gaydon, UK.
You can't call it all-new, but there's enough new content in the Aston Martin DB12 that Aston has penned a new category name for it: Super Tourer. What is a Super Tourer? Aston execs spent a lot of our time in the South of France explaining. It's between a gran turismo like the Bentley Continental and sports/supercars like the Ferrari Roma, McLaren GT, and Porsche 911 Turbo.
"Brands like Rolls-Royce and Bentley slow down time—they're about luxury, (while) brands like Ferrari, McLaren, and Lamborghini speed up time, exhilarate time in the seat, and make you feel completely different in that respect," said Alex Long, Aston's director of product and market strategy. "We really see that our strength and opportunity is to combine the very best of the aspects (of the above cars), but with this incredibly strong performance arm."
So, if you were being generous, the new DB12 combines the very best of every interesting and fun luxury super car on the market. And that assessment might not be far off.
Much of the DB12's body-in-white, its chassis, is carryover. It's been stiffened up strategically, particularly in the front, and many if not most of the bushings that hold the suspension to the body are new. The suspension pickup points are the same, the doors and the roof are the same, but the rest of the body is all-new.
The grille is larger and more upright to accommodate both cooling air and pedestrian impact standards. The car is wider—six mm in front and 22 rear. And it just looks better all around than the DB11, something that really didn't seem possible if you've ever seen a DB11.
"If you think of DB11, the surfaces are relatively flat, but the line is much lower," said Design Director Marek Reichman. "Curiously, by bringing the hood up and making the emblem—the badge—more prominent, you actually get the sensation of a longer car… much more like a fist punching through the air."
Under that new, more powerful hood is a new, more powerful engine. The AMG-based 4.0-liter twin-turbo V8 makes 671 hp at 6000 rpm and 590 lb-ft of torque between 2750 and 6000 revs. It's not just a straight-up AMG crate motor, though.
"We had a choice of engines, and we had a choice of the way we tuned it," said Simon Newton, director of vehicle performance, whose career includes stints at Lotus, Bentley, and even Williams F1. "We took the base engine and we chose the turbos, we chose the cams and the compression ratios, and importantly, we had huge influence on the characteristics of the powertrain through the calibration."
Ultimately the team picked this engine "…for its balance of torque, response, and mass."
To get the 48/52 weight balance of the DB12, the transaxle sits at the rear, connected to the V8 by a carbon fiber prop shaft. An electronic rear differential is just one of the systems that can be controlled through the car's five different drive modes.
Like many European supercar makers, Aston only lists "dry weight," which sits at 3715 pounds. That's without gas, oil, windshield washer fluid or any Starbucks frappucinos in the cupholders. Add all the necessary fluids to get an SAE curb weight and you will easily clear 4000 pounds, which is still fairly light considering the DB12's 186 inches of overall length and 84.5-inch width. With a power-to-weight (or weight-to-power, actually) ratio of somewhere around 6:1, this should be one of the best-performing setups out there. And it is: Naught to 60 mph comes up in 3.5 seconds and top speed is listed at 202 mph.
Indeed, on the road, the DB12 performed exactly as promised. They handed the cars over to us just outside of Monte Carlo and pointed us up into les Alpes Maritimes, specifically, along the length of the Route Napolean, the mountain road Bonaparte used on the way to destroy Europe for a second time. Maybe if Napolean had been driving a DB12 instead of riding a horse he wouldn't have been so angry—just raise the seat to its maximum height, click it over to Sport mode, and floor it.
Engineers say they recalibrated the DB12's controls, such as more responsive pedals and steering. When you first try these out you may think the whole thing feels jumpy, testy, maybe overboosted, maybe like any AMG product ever made. But it's a little less severe than an AMG setup and, like AMGs, you get used to it.
Me, I'd like something with the pedal, steering, and shifter response of something like a Bentley Continental GT coupe, but with the lighter weight, lower profile, and greater agility of something like this beautiful DB12. I gotta think that if the powertrain and who-knows-what other parts didn't come from AMG, the DB12 would be more comfortable in the first few miles of a test drive. But you do get used to it, eventually.
On the twisty narrow confines of Napolean's Route, N85, the DB12 felt at home, if a little too long for a few of the dangerously narrow, blind curves with rock walls on one side and vertical drop-offs on the other.
Aston Martin likes to compare this to the Ferrari Roma, which is a fine GT-style touring sports car. But I would say it's closer to a Ferrari 812, even though the 812 has four more cylinders and more than a hundred more horsepower.
If Napolean had one, by the time he rolled into Grenoble he'd be seeking alliances with German engineers and British stylists, instead of just reconquering all of Europe again. If he'd seen the redone interior on this magnificent craft, he'd have dropped all plans of invading anyone and just listened to the Bowers and Wilkinson audio. The plush seats are far more comfortable than the saddle on his famous horse Marengo, the one rearing up in the famous portrait.
Likewise, Aston Martin is very proud of its new touchscreen and the fact that it retained several buttons and dials for ease of use. But the NAV stopped navigating on our drive, forcing us to use google maps to get back, and at one point the throttle stopped throttling (we were told the driver had bumped the speed limiter down to almost zero mph). Maybe those were glitches or maybe those were the ghosts of that famous British headlamp maker, which, as far as we know, isn't a supplier here.
Overall, though, the DB12 is truly one of the greatest all-around sporty GT touring supercars ever made, whatever category you want to put it in.
Look for it in your dealer's showroom in Q3, with pricing to be announced closer to launch.
Is the Aston Martin DB12 the best of all possible worlds? Sound off in the comments.
Mark Vaughn grew up in a Ford family and spent many hours holding a trouble light over a straight-six miraculously fed by a single-barrel carburetor while his father cursed Ford, all its products and everyone who ever worked there. This was his introduction to objective automotive criticism. He started writing for City News Service in Los Angeles, then moved to Europe and became editor of a car magazine called, creatively, Auto. He decided Auto should cover Formula 1, sports prototypes and touring cars—no one stopped him! From there he interviewed with Autoweek at the 1989 Frankfurt motor show and has been with us ever since.