Sports Cars
The 2024 Subaru Impreza RS Is a Rally Baby On a Budget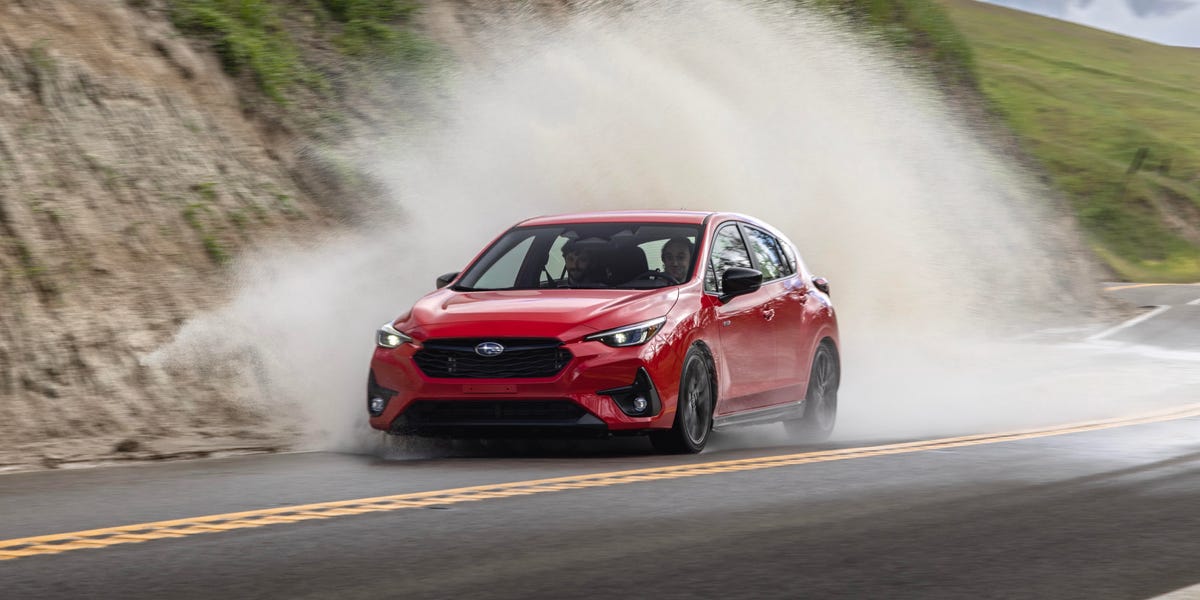 Subaru is reviving the RS model for the 2024 Impreza with a 2.5-liter four-cylinder boxer, but does it do the iconic nameplate justice?
Lagging behind Honda and Toyota for compact-car dominance, Subaru sets itself apart through AWD performance, extended range, and an adventure-tough interior.
With no manual transmission and 182 hp and 178 lb-ft of torque, the modern Impreza RS isn't exactly a consumer-ready rally car, but it's a hoot to drive nonetheless.
---
Growing up in the Pacific Northwest, the regional treasure trove of Subarus shaped my early experiences with cars. Just about everyone I knew had a Subaru, with models dating back to the Subaru GL station wagon or as new as the full-size Subaru Ascent. In fact, the first car I ever drove was a 1996 Subaru Impreza L, trundling down a gravel road in The Dalles, Oregon.
Despite its 2.2-liter engine, rear drum brakes, and no-frills interior, the Hunter Green Metallic GC-generation Impreza that started my driving career was a sibling to one of the first true-performance cars that North America received from Subaru. With a naturally aspirated 2.5-liter flat-four and semi-functional hood scoop and wing, the first generation of Subaru's Impreza 2.5RS started a legacy of compact, all-wheel-drive performance cars that has yet to shake its enthusiast popularity over two decades later.
These days, the Impreza lineage is perhaps at its weakest. With the WRX STI extinct and the current WRX sedan divided from its previously Impreza-based chassis, the Impreza competes with the likes of the ever-popular and arguably more practical Honda Civic, Toyota Corolla, and Mazda3 for supremacy in the compact segment. Last year, Subaru sold 30,846 Imprezas, an 11.3% drop compared to 2021. And when you compare that to the 133,932 Civics or 222,216 Corollas sold in 2022, the Impreza comes up short.
In fairness to Subaru, it's a small company with a specific market footprint, and the Impreza represents a more niche offering in an already shrinking hatchback segment. Additionally, Subaru's most popular model, the Crosstrek, actually rides on an Impreza chassis, with over 155,000 sold last year. Regardless, the Subaru product team has a plan to maximize the Impreza's market share. Offering it as a hatchback only for 2024 is the most drastic change, separating the chassis from the sedan-only WRX, though this seems only right given the merely 25% sedan take rate.
The trim levels are also simplified for 2024, with only base, Sport, and RS offerings available in the US. Starting at $24,085 with destination, the base model and more expensive Sport trim will be powered by a 2.0-liter four-cylinder boxer making 152 hp and 145 lb-ft of torque while the RS version receives a 2.5-liter boxer-four making 182 hp and 178 lb-ft of torque. Pricing for the Sport trim jumps to $26,085 and RS models start at $28,975. Notably, all three versions will be available only with an 8-speed continuously variable transmission, axing the previously available manual transmission.
Subaru claims the base Impreza will likely be the cheapest car available with standard AWD, but the company's model revamp rides on more than low-end sales to drivers in snowy climates. By re-launching the Impreza RS, Subaru is trying to signal that quasi-rally car fun isn't reserved for those with WRX money (or vaping problems, as one Subaru representative pointed out). And to verify this claim, we were let loose on the California Central Valley's twistiest roads, gravel lots, and even a levee or two.
Everyday driving is easy, pleasant, and comfortable in the Impreza RS, just as it should be. Thanks to a new dual-pinion steering rack borrowed from the WRX, a loosened center differential, and an increased flow of transfer case fluid, the electric power steering is sharp and well-weighted. Leave the car in Intelligent mode and the throttle mapping is smooth while the 8-speed CVT "shifts" (or adjusts ratios) seamlessly.
At highway speeds, the transmission holds the phantom eighth gear at around 2000 rpm doing 75 mph, allowing for it to match the claimed 33 mpg highway and 480-500 miles of range. Subaru also redesigned the suspension for 2024, featuring a 10% increase in damping and in torsional stiffness but a softer spring. This makes the ride noticeably plush for an economy car on 18-inch alloy wheels, though it also has its benefits when the road gets curvy.
Switch the drive mode into Sharp and the drivetrain livens up, with quicker shifts and a jumpy throttle. Even with new camshafts, the 2.5-liter boxer in the Impreza RS doesn't feel particularly quick and, paired with a CVT (paddle-shifted or not), the pained sound of a valvetrain working hard reminds the driver to have mercy. For context, the Civic EX's 1.5-liter turbocharged four-cylinder has a similar level of power but feels faster and provides its torque much earlier in the power band.
Still, the lack of low-end power can be forgiven, once you chuck the RS into a corner.
Left foot brake the Impreza RS into a tight, muddy corner, point the wheel, and then stab the throttle. It will roll noticeably and ever-so-slightly rotate around the rear without actually losing grip—that's due to the standard addition of active torque vectoring and a variable front/rear torque split.
Ultimately, it's a laughably engaging chassis that takes mid-corner bumps in jest, happily power slides through a gravel lot, and jumps if you want it to. With an electronic brake booster adding improved brake feel, just be careful—when pushing the Impreza RS to the limit—not to cook the four-wheel disc, dual-piston front, and single-piston rear brakes.
Inside the new Impreza RS, it's standard fare Subaru equipment, including an 11.6-inch vertical screen with Apple CarPlay, a three-spoke leather steering wheel, and a host of EyeSight Driver Assist Technology, including blind-spot detection with lane change assist and automatic emergency steering. The climate controls are also packaged within the screen, though the temperature buttons are analog and set to the side of the screen, which can lead to some confusing interactions.
The cabin itself is fitted with redesigned, comfortable seats, better noise control thanks to a new HVAC position, and increased storage capacity. The aluminum alloy pedal placement is natural and the manual seat adjustability allows for a wide range of comfortable driving positions, due to a new chassis-mounted seat rail. Notably, Subaru even designed the Impreza cupholders to hold Hydro Flask or Nalgene water bottles, in true Subaru owner fashion.
Subaru knows its owners well, and that's part of the reason behind the subtle but effective Impreza redesign. With a host of crossovers available and its best-selling one based on the Impreza itself, Subaru is able to position the Impreza as a marginally cheaper compact car with more mechanical capability than just about all of its competitors. That's part of the reason it consciously removed the roof rails from the Impreza for 2024, encouraging true rooftop campers to buy a Crosstrek.
But Subaru wasn't willing to lose out on its typical customer base, with half of current Subaru owners having a pet, 21% going hiking, and around 15% carrying bicycles on their cars. As I know well, the customer base is made up of granola-eaters who seek out adventure, in a turn of corporate advertising that rings true for once.
And the Impreza is still fit for these adventures, even if it doesn't offer leather seats or class-winning power levels. It may not be the most sophisticated compact car on the market, but the combination of its AWD parts and adaptable chassis make it extraordinarily capable and also a bit rowdy, just like how we imagine its owners will be. That's certain to work in Subaru's favor, even if it won't outsell its bigger competitors.
Is AWD a necessity for you when buying a car? Why or why not? Please share your thoughts below.

Associate Editor
A New York transplant hailing from the Pacific Northwest, Emmet White has a passion for anything that goes: cars, bicycles, planes, and motorcycles. After learning to ride at 17, Emmet worked in the motorcycle industry before joining Autoweek in 2022. The woes of alternate side parking have kept his fleet moderate, with a 2014 Volkswagen Jetta GLI and a 2003 Honda Nighthawk 750 street parked in his South Brooklyn community.