Sports Cars
Porsche's New 718 Spyder RS Is a GT3-Powered Drop-Top Hot-Rod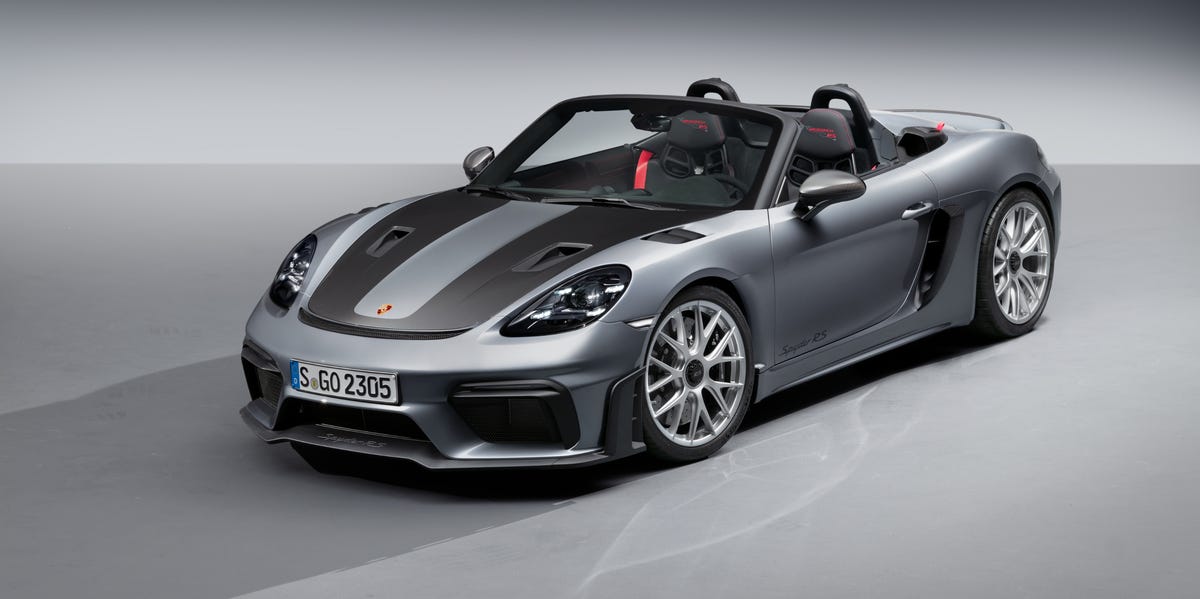 Porsche reveals its newest high-performance creation, the 2024 Porsche 718 Spyder RS, as a sibling to the 718 Cayman GT4 RS.
Fitted with a 4.0-liter flat-six engine making 493 hp and 331 lb-ft of torque, Porsche Active Suspension Management, and a GT3 Touring-like interior, the 718 Spyder RS is set for delivery in spring 2024.
With an electric 718 chassis on the way, Porsche is reminding everyone that it can build a hyper-engaging ICE hot rod, for the price of $162,150.
---
Porsche's 718 chassis models—the current generation Boxster and Cayman—are already supremely good cars. Built around a mid-engine, rear-wheel-drive chassis with flat-four and flat-six cylinder powertrain options, 718-chassis cars are genuine competitors for their sibling 911 models these days.
At times, this internal rivalry can pose a model hierarchical challenge for Porsche, but it's unlikely that company executives lose sleep over having two fantastic chassis in production.
In fact, it appears Porsche executives have actually pondered their success with the Cayman GT4 RS, as they announce the launch of the 2024 Porsche 718 Spyder RS. Built as a sort of internal parts-bin hot rod, the folks in Stuttgart are adding to the 718 RS lineup, but top-down this time.
Using the 4.0-liter flat-six from the Porsche 911 GT3 Cup racing car, the new 718 Spyder RS will boast 493 hp and 331 lb-ft of torque, funneled through a short-ratio 7-speed PDK transmission. All this power and relatively short gearing make the model good for 0-60 mph in 3.2 seconds (0.5 seconds faster than the outgoing 718 Spyder) and a top speed of 191 mph.
Straight-line speed has always been secondary to handling prowess in Porsches, especially in the case of the 718. And the 718 Spyder RS is no different, with Porsche Active Suspension Management (PASM) fitted as well as a 1.1-inch suspension drop.
Active torque vectoring, ball-joint type suspension bearings, and a mechanical limited-slip differential are also standard. Porsche says the ride height, toe, camber, and anti-roll bars are all adjustable, though the damper and spring rates have been reduced to match convertible mannerisms.
Because the 718 Spyder RS shares DNA with the 718 Cayman GT4 RS, both cars have a nearly identical front end, with a standard front lid channeling airflow and two NACA ducts for improved brake cooling. However, Porsche says the front lip on the Spyder RS differs from that on the Cayman counterpart, due to additional downforce needs. Also, the beastly convertible will feature a rear ducktail spoiler, as opposed to a traditional wing.
True to its lightweight roots, the 718 Spyder RS will have a two-part manually operated soft top. The first part of the top is an outer weather protector, while the second part is a sun shield that can be used independently. Altogether, the top weighs less than 40 pounds, a weight savings of 36 pounds compared to the traditional Boxster.
Inside, you'll find a pair of lightweight, carbon-weave bucket seats and a Race-Tex-covered GT Sport steering wheel with the classic 12 o'clock mark in yellow. The interior color vignette for 718 Spyder RS is focused on Arctic Grey, Carmine Red, and black accents, with leather being the main material throughout the cabin.
Four standard exterior colors will be available, though Porsche will offer some metallic paints as well, including the new Vanadium Grey Metallic as well as a few special colors including Arctic Grey, Shark Blue, and Ruby Star Neo.
For those looking to customize their 718 Spyder RS, Porsche will offer the Weissach Package, which adds forged magnesium wheels and titanium exhaust tips. The visual package also includes some minor weight reduction, with an exposed carbon-fiber hood, carbon-fiber combustion air scoops, and a carbon-fiber Gurney flap on the rear spoiler.
Without that extravagant package, the 2024 Porsche 718 Spyder RS will be priced at $162,150, including a $1450 delivery fee. Deliveries will begin in spring of 2024, though the car will be shown publicly in June at the 75 Years of Porsche ceremony in Stuttgart and then at the Goodwood Festival of Speed.
Does adding high levels of performance to a convertible make sense? Please share your thoughts below.