Sports Cars
Little-Known First F1 Champ Gets Special-Edition Pininfarina Battista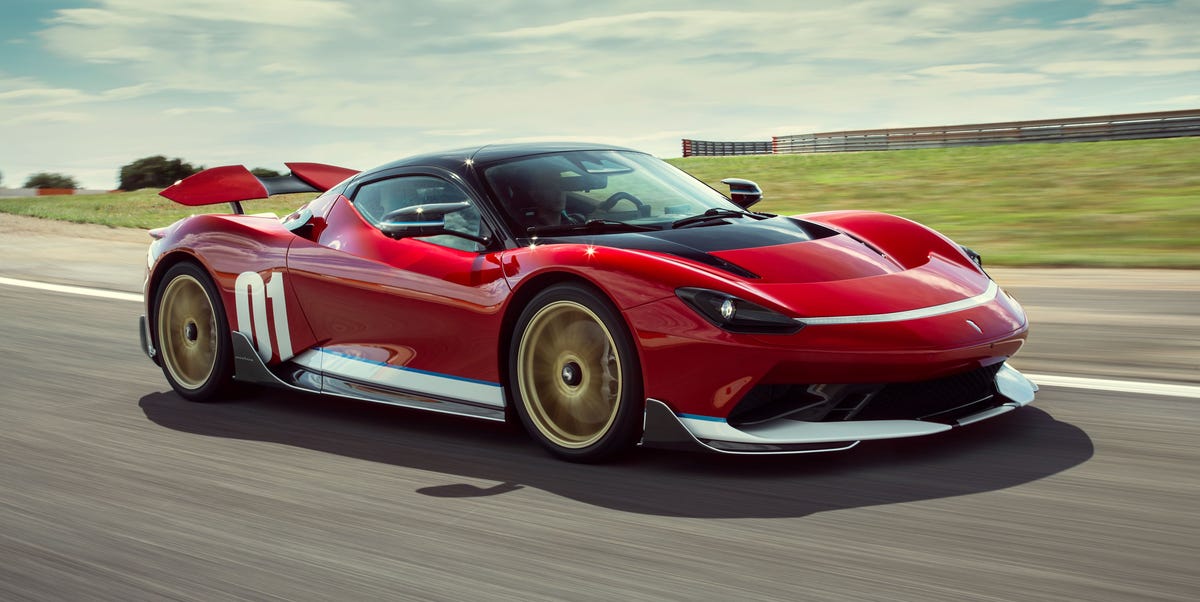 Pininfarina is unveiling a limited run of "Battista Edizione Nino Farina."
The cars get special paint, interior fabric, and a few other touches to add to the Battista's already potent 1900-hp, 1726-lb-ft, four-motor, electric performance.
No pricing was released but expect to pay way north of $2.2 million.
---
The Pininfarina Battista was already a fairly exclusive automobile. As its own version of the pioneering Rimac Nevera, the 1900-hp 1726-lb-ft four-motor all-electric supercar, you don't exactly see them on your daily commute or parked in the neighbor's driveway. But up in this layer of the stratosphere exclusivity is worth as much as performance.
That and getting the respect of—or maybe getting one up on—your fellow billionaires. Toward that end, Pininfarina is offering five special-edition Battistas all named after motorsport's first world champion.
Without getting into too much corporate detail, Automobili Pininfarina was founded to realize the dream of Battista "Pinin" Farina to build a supercar of his own bearing the family name. Mahindra & Mahindra came along, purchased Automobili Pininfarina, and essentially made that dream possible.
It was made possible by starting with a Rimac Nevera, the world's greatest electric hypercar. A quick refresher: the Nevera/Battista are carbon-fiber two-seaters with one electric motor at each wheel which together make 1900 hp (or 1914 hp, or whatever, who's counting by that point?) and launch the car from zero to 60 mph in "less than" two seconds (again, your brain goes all squiggly at around sub-3 seconds).
There will be something like 150 Pininfarina Battistas made. A small handful of those were Battista Anniversarios. Five of them will now be these Battista Edizione Nino Farinas.
What do you get on your Nino Farina? Glad you asked. You get:
What Pininfarina calls "an unmistakable exterior design including Rosso Nino paint with contrasting Bianco Sestriere and Iconica Blu finishes, new Glorioso Gold wheels and exquisite details including an eye-catching '01' body side graphic."
A bespoke interior with a driver's seat finished in "Black Sustainable Leather" beside a contrasting passenger seat finished in Beige Leather, with both featuring Black Alcantara trim and exclusive 'Nino Farina' inscriptions.
And no matter which of the five Nino Farinas you get, yours will have a unique aluminium door plate "celebrating one of five outstanding landmarks in Nino Farina's impressive career."
Will that be all, sir? Perhaps it shall. Prices are somewhere north, possibly far north, of $2.2 million. But you've already hired people just to hang around and laugh at your jokes, and you're running out of trophy spouses, so what's left for you? This, a beautiful Italian take on Croatian engineering. It'll be worth every Euro.
Fly in to Goodwood this weekend to watch the car's unveiling, and to see former F1 driver Nick Heidfeld power it up the Duke's driveway at full wallop.

Mark Vaughn grew up in a Ford family and spent many hours holding a trouble light over a straight-six miraculously fed by a single-barrel carburetor while his father cursed Ford, all its products and everyone who ever worked there. This was his introduction to objective automotive criticism. He started writing for City News Service in Los Angeles, then moved to Europe and became editor of a car magazine called, creatively, Auto. He decided Auto should cover Formula 1, sports prototypes and touring cars—no one stopped him! From there he interviewed with Autoweek at the 1989 Frankfurt motor show and has been with us ever since.