Sports Cars
It's No EV, Which Makes This BMW Concept Even More Appealing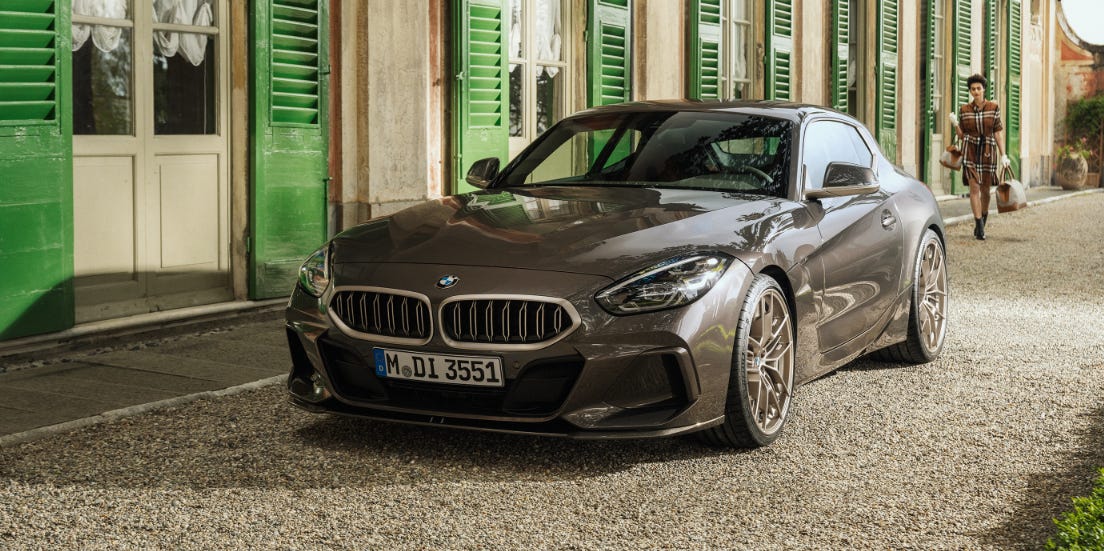 The cult classic BMW Z3 M Coupe, often known as the Clown Shoe, hit the market in 1998 and lasted five years. Has a spiritual successor arrived?
Known as the BMW Concept Touring Coupé, the model features a classic shooting brake shape, a 3.0-liter inline six-cylinder engine, and a set of custom Italian luggage, to boot.
For now, BMW's concept will remain a one-off based on the current Z4, with its public release set this weekend for the 2023 Concorso d'Eleganza Villa d'Este in Cernobbio, Italy.
---
Do you remember the BMW Z3 M Coupe? I wasn't around just yet when it was launched in 1998, but I do remember the first time I ever saw the boot-shaped oddity. Listening to the naturally aspirated, 3.2-liter inline sing up to its 8000 rpm redline on State Highway 71 outside of Austin, Texas, cemented the model as significant in my mind.
Colloquially known as the "clown shoe" because of its unorthodox shape, the Z3 M Coupe wasn't a particularly popular model when new, given that only 6291 units were made during its five-year production run. Catching a glimpse of one these days is even harder.
BMW followed the original Z3 M Coupe with a shooting brake model based on its new convertible sports car, the Z4. Marketed as a no-compromises version of the E46 M3, the Z4 M Coupe didn't gain quite the cult status that its predecessor did, but it was similarly praised for its lively S54 inline-six powertrain and no-nonsense handling.
But it has been years since BMW has produced a goofy-looking, small-market model like this. Instead, the company has focused on its luxury offerings in executive sedan and SUV form, while carving out a spot for its legacy sport sedans and, of course, battery-electric vehicles. But the traditionally stiff German automaker may be shaking things up soon, as it teases a modern concept of its clown shoe shape.
The company is calling it the BMW Concept Touring Coupé, and the two-seater will be publicly revealed this weekend at the 2023 Concorso d'Eleganza Villa d'Este in Cernobbio, Italy, an event that BMW says will center the concept in historical context. Using influences from the 1940 BMW 328 Touring Coupé and the 1970s BMW 02 Series, company designers wanted to blend historical visuals with 21st-century performance, in an effort to pay homage to the design risks that BMW regularly takes.
True to form, the Concept Touring Coupé will be powered by the 3.0-liter turbocharged inline six-cylinder from the current Z4, meaning it will likely have around 380 hp and 370 lb-ft of torque.
"The BMW Concept Touring Coupé celebrates the original Sheer Driving Pleasure," says Domagoj Dukec, head of BMW Design. "A highly emotional vehicle like this shows that the passion for everything that goes into driving pleasure has been essential through the ages and will be for the future."
As with previous iterations of the M Coupe lineup, the rear end is the major design queue, as the engineers and designers have wrapped a convertible chassis with a trunk and roof. Signature to the shooting brake shape, this concept features a long bonnet and streamlined roof contours, which form what BMW calls a distinctive two-box design. And the Sparkling Lario exterior paint doesn't hurt to look at either, with embedded flakes of blue glass blending into its grey-brown coat.
Handling prowess has always been essential to the marketing and feel of these models, and the Concept Touring Coupé shouldn't disappoint. The concept will be largely based on the running gear of the current Z4, meaning it will use the fine-tuned suspension found in both the Z4 and Toyota Supra, according to a BMW spokesperson.
Additionally, a set of model-exclusive lightweight alloy wheels will be fitted in a staggered setup, with the 20-spoke radial design wheels sitting at 20 inches in the front and 21 inches at the rear axle.
Another draw of the shooting brake concept is its practicality, at least as compared to its roadster siblings. In fact, the original Z3 M Coupe was known for being rather practical, given its wide storage area behind the two seats. The same is true for the Concept Touring Coupé and BMW actually produced a set of custom luggage from the Schedoni leather workshop in Modena to show off its capability, purposefully matching the exclusive dark brown and saddle tan bi-color option from the Italian leather workshop Poltrona Frau.
As with all concepts, it's essential to set realistic expectations about the Concept Touring Coupé. Beyond displaying the model later this year, BMW has made no promises about volume production.
Even with Z4 running gear, molding the chassis into a hardtop shooting brake en-masse would be no easy feat, even if a few thousand enthusiasts would wait at the factory doors with their wallets ready.
Does the shooting brake shape represent avant-garde, groundbreaking design or is it just plain ugly? Please share your thoughts below.

Associate Editor
A New York transplant hailing from the Pacific Northwest, Emmet White has a passion for anything that goes: cars, bicycles, planes, and motorcycles. After learning to ride at 17, Emmet worked in the motorcycle industry before joining Autoweek in 2022. The woes of alternate side parking have kept his fleet moderate, with a 2014 Volkswagen Jetta GLI and a 2003 Honda Nighthawk 750 street parked in his South Brooklyn community.