Sports Cars
Hyundai's Ioniq 5 N Hot Hatch Churns Out 600 HP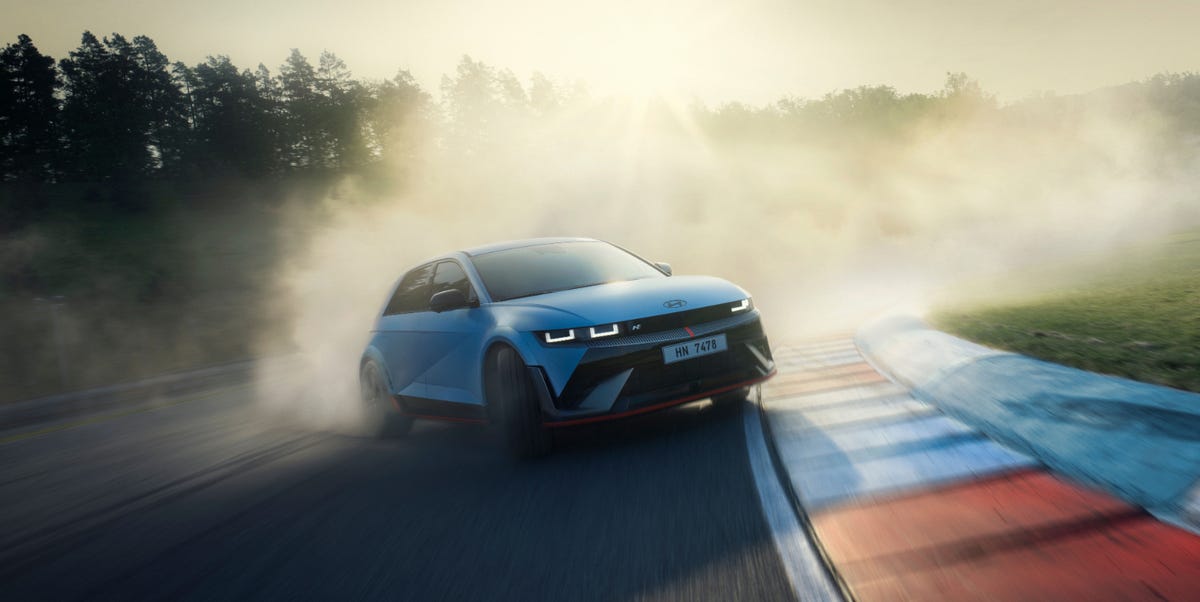 Forget about the VW Golf R and Honda Civic Type R because there is a new hot hatch in town, and it's electric.
Enter the 600-hp, track-tuned Hyundai Ioniq 5 N, which is set to be revealed at the 2023 Goodwood Festival of Speed.
With significant chassis bracing, various track and traction modes, as well as enhanced interior and exterior designs, the Ioniq 5 N is one of the most exciting EVs to date.
---
Subversive styling is not the only reason Hyundai's Ioniq 5 has been a big success. In fact, it might have something to do with its lively driving character, 300-mile range in a rear-wheel-drive configuration, and surprising spaciousness. Starting at $42,785 doesn't hurt its chances, either, as the EV market continues to bend towards top-end models and luxury startups.
But what if you wanted to kick it up a notch? What if 320 hp wasn't enough for you? After all, this is an uber-modern design for a small crossover—not a sports car. But Hyundai is about to answer this hypothetical question on its own, as it reveals the newest model from its N performance lineup. Known as the Hyundai Ioniq 5 N, the Korean automaker is making its official entrance into the world of electric hot hatches, and it will be publicly revealed at the 2023 Goodwood Festival of Speed later today.
Hyundai says it focused on three engineering pillars when building the Ioniq 5 N: Corner Rascal, Racetrack Capability, and Everyday Sportscar. Starting with the Electrified-Global Modular Platform (E-GMP) from the current Ioniq 5, Hyundai actually made significant structural enhancements to the N version, with 42 additional weld points and over two meters of additional adhesive. Some additional adhesive may not seem like enough to constitute a performance emblem, but World Rally Championship-inspired integrated drive axles and a sharper Rack-Mounted Motor-Driven Power Steering make up the kind of driving feel changes you need in an electric hot hatch.
The Ioniq 5 N goes even deeper than new mechanics. Specifically, Hyundai has redesigned just about every input point, starting with the pedal box. Known as N Pedal, the tweaked accelerator mapping focuses on speed as opposed to energy conservation, while also engaging regenerative braking more quickly on deceleration for improved turn in. Fully variable front and rear torque distribution are adjustable 11 ways (yes, seriously), and a steering-angle maintaining, clutch-kick simulating drift mode will also be standard. Sounds pretty fun, right?
With the current Ioniq 5 weighing in at 4700 pounds, Hyundai has yet to give an official weight for the Ioniq 5 N, but these sorts of structural rigidity increases will be essential to eliminating sloppiness from the frankly heavy car. Just as important, however, will be how you counteract that weight with your right foot, and Hyundai has car enthusiasts everywhere covered on the power front. Employing a new 84-kWh battery, Hyundai claims 600 hp sent to all four wheels. That allows for a 0-60 mph sprint of 3.4 seconds and a top speed of 161 mph when using boost mode, which temporarily bumps power figures up to 641 hp.
Because this hot hatch is marketed for track duty, Hyundai has also worked hard to keep battery temperatures under control by adding individual radiators for the battery and electric motors. Better yet, Hyundai is offering a drag mode for maximum power, a track mode for temperature optimization, as well as an endurance mode for lengthy road course sessions, all through the push of a button. Charging up between track sessions shouldn't be an issue either, with a maximum charging speed of 350 kW and claimed 20%-80% charge time of 18 minutes.
Slowing all this weight down is an essential part of track driving, too. Using 400mm front discs with four-piston monobloc calipers and 360mm rear discs working secondary to a regenerative braking system, the Ioniq 5 N boasts Hyundai's most powerful braking hardware ever, with a maximum of 0.6 g decelerative force. Notably, the regenerative braking stays active even with ABS engaged to a maximum of 0.2 g of decelerative force.
Among the central debates about EVs, the loss of manual transmissions continues to stoke anger among purists, and the Ioniq 5 N will disappoint on this front too. But it does its best to make up for it by simulating the act and feeling of paddle shifting through an eight-speed dual-clutch transmission. And it will make the accompanying sounds of flat-out driving as well, using the N Active Sound+ system. With eight internal and two external speakers, drivers can choose between three different performance soundtracks, including a jet-engine-themed soundscape. Other fun technology features include N Road Sense, which automatically recommends N-Mode when the road gets twisty, and Vehicle-to-Load charging ability.
Compared to the standard Ioniq 5, the N version sits 20mm lower overall, is 50mm wider, and 80mm longer due to the more prominent diffuser. Visually, the Ioniq 5 N carries on the boxy dimensions of the standard model while adding aerodynamics and aggression in the form of front and rear spoilers as well as a rear diffuser. And while the interior looks fairly similar save for the N badging and new front bucket seats, Hyundai has added padding in the knee and shin areas to further bolster during performance driving. Sustainability isn't lost on Hyundai either, as the interior is constructed from recyclable paperette, BIO PET yarn from sugarcane, recycled PET yarn, and eco-processed leather, just to name a few of the materials inside.
Pricing, range, and production plans have yet to be revealed, but we're excited nonetheless. Beyond Kia's EV6 GT (which is also built on the E-GMP chassis), electric hot hatches are a rarity in the US, despite representing some of the best packaging and performance features of modern EVs. And if the standard Ioniq 5 is any indication, we suspect the Ioniq 5 N will go far beyond the simple descriptor of fun.
Which brand do you want to see build an EV hot hatch next? Please share your thoughts below.

Associate Editor
A New York transplant hailing from the Pacific Northwest, Emmet White has a passion for anything that goes: cars, bicycles, planes, and motorcycles. After learning to ride at 17, Emmet worked in the motorcycle industry before joining Autoweek in 2022. The woes of alternate side parking have kept his fleet moderate, with a 2014 Volkswagen Jetta GLI and a 2003 Honda Nighthawk 750 street parked in his South Brooklyn community.