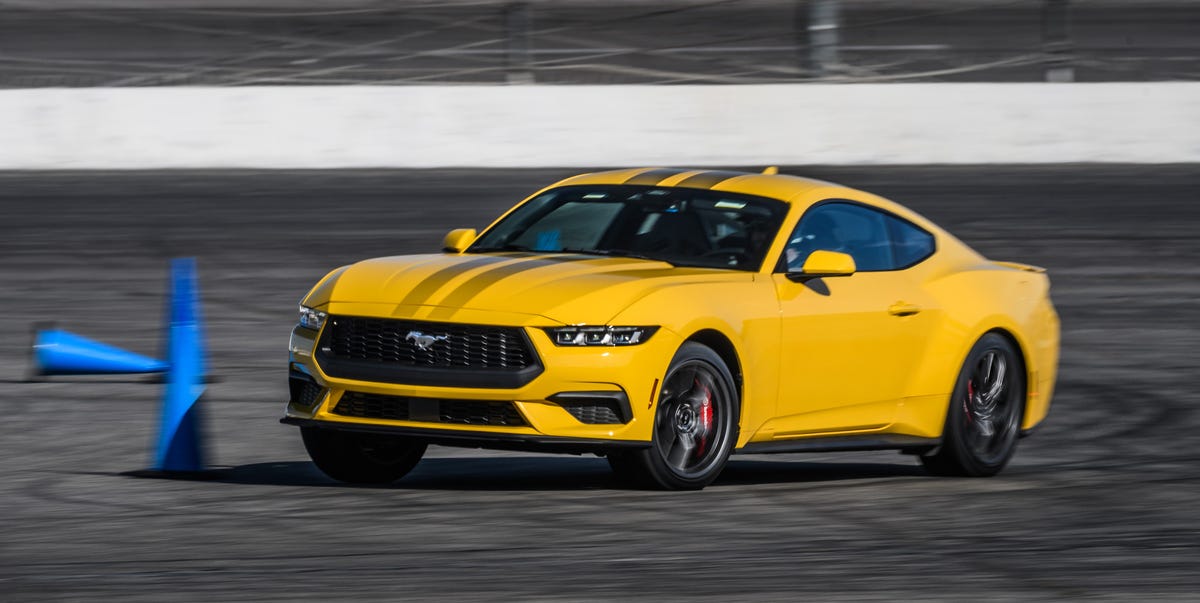 Ford says the 2024 Mustang is all-new but it's really just all-better.
It launches now with a 315-hp 2.3-liter EcoBoost four and a 486-hp 5.0-liter V8.
Prices start at $32,515 for the EcoBoost while the V8 GT starts at $43,090.
---
With Chevy Camaro and Dodge Challenger going and/or gone completely, Ford now rules the muscle car roost in America and, by extension, the world. So all you guys who have been saying, "Ford Rules! Chevy Drools!" since you were eight, now have an actual factual basis for your claim. Ford does, in fact, rule—if only by process of elimination.
The seventh-generation 2024 Mustang you see here is supposed to be "all-new," according to Ford, but if you look at the spec sheets of the four-cylinder EcoBoost model and even the mighty V8-powered 5.0 GT, you may beg to differ. The chassis is largely carryover and the engines, while significantly improved in the case of the 5.0-liter V8, could be interpreted as largely carryover, too, depending how much weight you give the improvements on these new models.
Which is not to say you shouldn't be excited about Ford's new baby. With revised heads and other tweaks, the turbocharged EcoBoost 2.3-liter four-cylinder now makes 315 hp and 350 lb-ft of torque, while the big, bad naturally aspirated 5.0-liter (5003-cc) V8 cranks out 486 hp and 415 lb-ft of torque. That should be more than enough for raucous good times. Drift and Launch modes add to the fun. There's even a feature that allows you to rev it remotely to impress your friends or terrify lookie-loos.
Let's have a look.
Outside, from 50 feet away, you might miss all the differences. Look closer and you'll see: the hood is missing those air-exit louvres; the grille is, well, almost the same; the headlights are thin, squinty LEDs that take up far less space and therefore help aerodynamics as well as nighttime vision; the sides of the car are a little more svelte, missing the side-scoop aft of the door; and the rear end loses the raised, separate fixed wing in favor of a deck-wide tail spoiler. But the whole thing looks nicer, more cohesive, more, dare we say, artistic.
The interior, meanwhile, really is all-new, with a nice, wide wraparound gauges-and-infotainment screen Ford calls an "Immersive Digital Cockpit." The wide screen features two large, customizable digital displays that allow you to make your Mustang your own. You can even program in the speedo and tach from the fabulous Fox body Mustang of 30 years ago. It looks like one long, sweeping screen but the programs are presented in two sections. The leftmost 12.4-inch display is where you configure your gauges while the 13.2-inch center screen displays all the infotainment you'll ever need. The optional Recaro seats are much appreciated over twisty mountain roads.
The EcoBoost four-cylinder now makes 315 hp, slotting between the previous four's base 310 hp and its High-Performance Package's 330 hp. Apart from one comment from an engineer about a "revised valvetrain," not much was said about other new content on the 2.3.
The 5.0-liter V8 in the 2024 Mustang GT, however, now makes 486 hp and 418 lb-ft of torque. The previous GT made 450 hp and 410 lb-ft. The new, fourth-gen Coyote V8 makes more power than any base Mustang GT ever, Ford said. It does that with new dual air intakes feeding dual throttle bodies as well as "structural improvements and an upgraded oil pan." This new setup, perched on an engine stand at the car's introduction, did look quite fetching.
Both engines come with a tunable exhaust and come mated to a 10-speed automatic with SelectShift, but the GT can also be ordered with a six-speed manual with rev-matching.
Both Mustang GT and EcoBoost models can be ordered with the Performance Pack, which adds: a K-shaped front strut tower brace, Torsen limited-slip differential and optional MagneRide active suspension, wider rear wheels and tires, and larger, 390-millimeter front and 355-millimeter rear Brembo brakes. The GT Performance Pack adds brake ducts for better cooling as well as a standard auxiliary engine oil cooler. The package also offers a 3.55:1 final drive to replace the standard 3.15:1.
In addition to all that, the Performance Package gives you the Drift Brake, officially called the Performance Electronic Parking Brake. Just yank it up and the rears lock up and you are suddenly Vaughn Gitten Jr. in Formula D. For those seeking straight-line performance over sideways style, there's the line lock feature that locks up the front brakes so you can do AWESOME burnouts whenever and wherever the mood strikes you. Go ahead, use up a month's salary worth of rear rubber in less than a minute!
How does it feel on the open road? I got to spend a couple days driving both the EcoBoost I4 model and the brawny 5.0 V8. I can only tell you about the four-banger today because Ford, like many carmakers, realized it could get two stories for the price of one by slapping an embargo on the Mustang GT that was a day later than that of the EcoBoost 2.3. So here's the entry-level 2.3.
First off, you should get the Performance Pack. All those extra features will be worth the cost if you ever plan on driving your EcoBoost hard. If not, then the base entry model without the Pack will do for you.
And don't complain about the 315 hp. It is more than twice what the 3.8-liter V6 made in the 1994 SN95 Mustang and 55 hp more than the 4.6-liter V8 of that same generation. In fact, it matches the horsepower of the fifth-gen S197 Mustang V8 of 2005 with half the cylinders.
The EcoBoost model I got, unfortunately, was about what the average German tourist gets at the airport in Las Vegas—a convertible four-banger with no Performance Package.
Though Ford picked some great roads for us, the EcoBoost slid around on its 255/40R19 rubber a lot and I found myself stopping on long sections of the mountain roads to let the brakes cool down—they were not fading, just producing that distinct brake dust smell. Maybe I was just being paranoid.
Things would have been different had I stepped up to a model with the Performance Pack. So please, I implore you, get the Performance Pack. Tell the spouse it's a safety feature and you're "only getting it for the kids."
All new Mustangs—EcoBoost and GT—get a stiffer chassis, so you should notice that when you drive yours. "It is heavily redesigned," said vehicle dynamics engineer Adam Brecher. "The cross-car beam, between A-pillar to A-pillar, where the steering wheel mounts and the dash, IP and all that, is significantly redesigned to be stiffer."
The steering, in particular, benefits from that added stiffness, while the steering ratio goes from 16:1 in the previous 'Stang to 15:1 here. That helps a lot. And remember, all Mustangs including this seventh generation have independent rear suspensions for better handling in turns.
I did a lot of driving in GTs and I will be back tomorrow to tell you about the Mustang GT 5.0. I am prohibited from saying whether it was better or worse than the EcoBoost 2.3 entry-level Hertz rental car I drove first, but perhaps you can guess.
The EcoBoost model starts at $32,515, the V8 GT starts at $43,090, and there's a 500-hp "Dark Horse" version coming that will sticker at $59,565.
Is the new Mustang really "all-new?" No, but the parts that are new are better and you should feel them when you drive, if you drive a car with the Performance Pack. Come back tomorrow for more.
What is the future for American muscle cars as automakers, including Ford, pitch heavily toward full electrification? Please comment below.

Mark Vaughn grew up in a Ford family and spent many hours holding a trouble light over a straight-six miraculously fed by a single-barrel carburetor while his father cursed Ford, all its products and everyone who ever worked there. This was his introduction to objective automotive criticism. He started writing for City News Service in Los Angeles, then moved to Europe and became editor of a car magazine called, creatively, Auto. He decided Auto should cover Formula 1, sports prototypes and touring cars—no one stopped him! From there he interviewed with Autoweek at the 1989 Frankfurt motor show and has been with us ever since.