Sports Cars
Aston Martin Rolls Out Retro-Cool V12 Valour with Manual Trans at Goodwood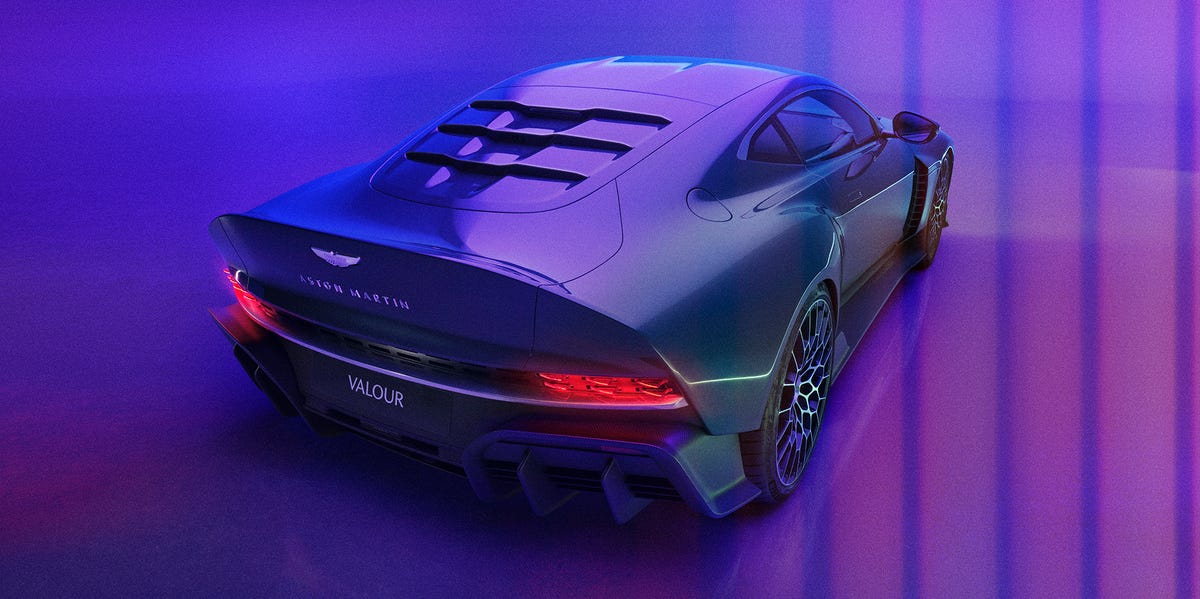 Aston Martin will reveal this stunning retro-cool Valour at Goodwood this weekend.
Powered by Aston's mighty 5.2-liter twin-turbo V12, making 705 hp and 555 lb-ft of torque, it gets a six-speed manual transmission.
Only 110 units will be made, and pricing has not been released.
---
Aston Martin will reveal a new and powerful limited-edition coupe at the Goodwood Festival of Speed that manages to combine seemingly all the best elements of Astons past into a seamlessly unique monster muscle car. Only 110 examples of the coming Aston Martin Valour will be available starting at the end of this year. No pricing has been released.
Other details are missing, too, such as curb weight, how much it costs, and exactly how many of those 110 cars will be allocated to US buyers.
We do know the mighty V12 makes a range-topping 705 hp and 555 lb-ft of torque, more than what we can assume is essentially the same engine in the DB11, where it manages "only" 600 hp and 516 lb-ft, and another similar application in the DBS Superleggera which makes 690 hp and 555 lb-ft. The major difference with the Valour is that all 110 of them will come with six-speed manual transmissions.
(!)
"A big part of honoring that driver-pleasing character was mating our fabulous V12 engine to a manual transmission," said Simon Newton, Aston Martin's Director of Vehicle Performance. "It was a unique part of the brief and the end result is something truly unforgettable; a state-of-the-art driver's car that thrives on being pushed to its limits and has the true heart and soul of a timeless analogue classic."
Valour is based on the Aston Martin bonded aluminium sportscar platform but with a bespoke powertrain calibration, suspension and custom body structure, plus extensive customisation and unique parts. Valour certainly has entirely its own unique character: it gets its own suspension underneath, with specific springs, dampers, and anti-roll bars as well as dedicated settings for castor, camber, and toe. Valour's body structure is stiffened by front and rear shear panels and bracing across the rear suspension towers and around the fuel tank.
"These characteristics ensure Valour possesses distinct and clearly defined ride and handling qualities," Aston says. "A road car first and foremost, this means successfully striking a sporting balance of taut, precise vertical body control and resolute resistance to roll, while offering the compliance to shine on great driving roads."
Six-piston carbon-ceramic discs measuring 410 mm in front and four-piston 360-mm rear brakes help stop the car. The carbon brakes knock off more than 50 pounds of unsprung weight. Lightweight 21-inch forged alloy honeycombed wheels, a lightweight stainless-steel exhaust and even lightweight seats reduce mass.
The car's all-carbon-fiber exterior matches that performance perfectly. Those gorgeous lines convey some of the great Aston Martins of the 1970s and 1980s. Consider the original V8 Vantage and the Vantage-based RHAM/1 'Muncher' Le Mans racer from 1980, Aston points out.
Also, you may be seeing some of the 1990s twin supercharged V600 Vantage which was, for a time, the world's most powerful production car. There is even some of the One-77 supercar, or the stunningly beautiful, one-off Victor. See all that? You can also see some 1970s Trans-Am racers from the rear three-quarter view, but Aston doesn't tout those as influences.
You can add any one of 21 colors of racing stripes to yours, too.
That shape spent considerable time in the wind tunnel, with each line helping aerodynamic performance.
"The prominent front splitter and front fender vents incorporated into Valour's flanks work in harmony with the rear screen panel's featuring vortex generating exoblades, and elegantly upswept Kamm tail and prominent diffuser to achieve aerodynamic balance," Aston says.
Inside, owners can choose everything from shifter material (aluminum, titanium, carbon fiber, or walnut) to woolen tweed or carbon-fiber weaves for seating and door-panel trim materials.
Aston Martin says production will begin at Gaydon in Q3 with first deliveries expected by the end of the year. While prices were not released, consider that the somewhat similar DBS Superleggera stickers for somewhere around $333,000. But that's peanuts compared to what this might cost. Think more like $1.5 million to $2 million. Hoping to get pictures of it at Goodwood later this week.
What do you think of Aston Martin's new V12 muscle car? Please comment below.

Mark Vaughn grew up in a Ford family and spent many hours holding a trouble light over a straight-six miraculously fed by a single-barrel carburetor while his father cursed Ford, all its products and everyone who ever worked there. This was his introduction to objective automotive criticism. He started writing for City News Service in Los Angeles, then moved to Europe and became editor of a car magazine called, creatively, Auto. He decided Auto should cover Formula 1, sports prototypes and touring cars—no one stopped him! From there he interviewed with Autoweek at the 1989 Frankfurt motor show and has been with us ever since.