Sports Cars
2023 BMW M2 May Be the Most Fun You Can Have in a Bimmer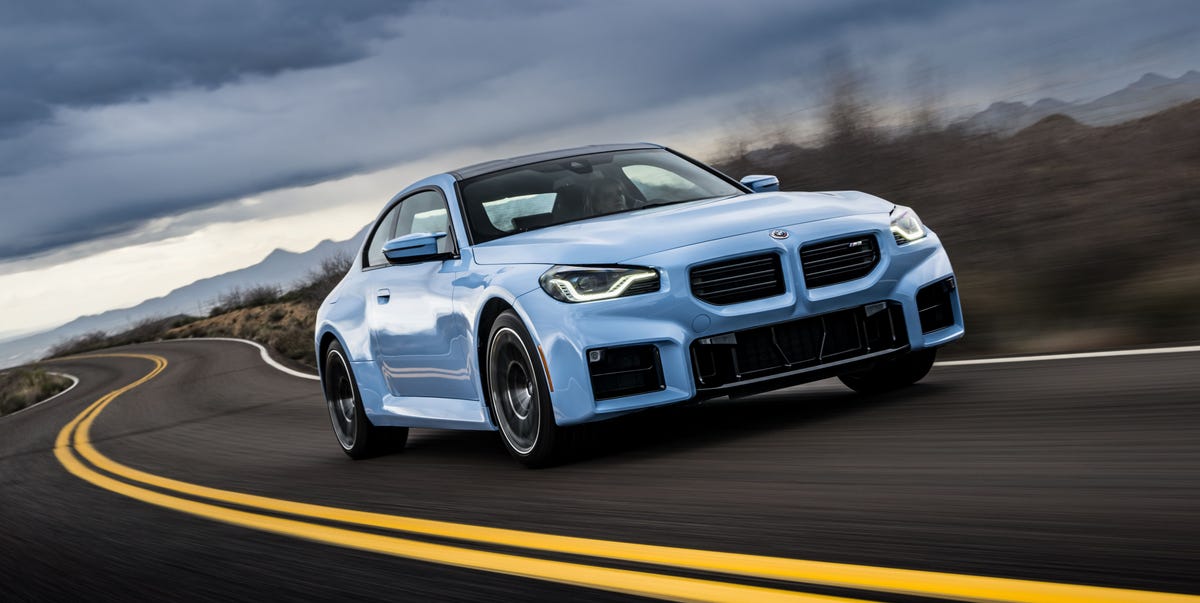 The new BMW M2 is at dealers and ready for flailing.
Power comes from the M4's 3.0-liter straight six, which makes 453 hp and 406 lb-ft of torque, more than enough to push the 3867-pound M2 around by the rear wheels.
Pricing starts at $63,195 and goes up to the low-to-mid-$70s, about on par with the Audi RS3 and Cadillac CT4-V Blackwing.
---
You have to get past the confused front end to find that the rest of the second-generation 2023 BMW M2 is pretty much fantastic. With straight-six power and torque, a stiffened body, and an active differential for this rear-drive-only coupe, your only problem will be getting someone to pry it from your hot, sweaty hands when your track time is over. Sticker price starts at $63,195.
But first, people seem to love bashing BMW grille designs, so let's have a look at this one. It's not as bad as the M4, which wears a pair of air-slurping snout nostrils that could scare a tapir. Like its predecessor, the second-gen M2 you see here has subdued twin kidneys. They're actually quite small. So you can't complain about them. Unfortunately, underneath the kidney beans, the design gets a little confused, with a folded-origami assemblage of inlets, creases, grilles, and bracing. Had designers and engineers simply flattened the whole thing out, maybe no one would be upset. Maybe no one is upset.
BMW says the look is necessary.
"…the M2 is most obviously differentiated from the BMW 2-Series Coupe by the M-specific design features necessary for cool air intake and routing and aerodynamic balance," BMW said.
More specifically, "I think it's a very clear and puristic design that makes you feel the driving experience even at a standstill," said Dirk Haecker, head of development for BMW M GmbH. "It says 'athletic charisma.' In the front we have the wide, frameless BMW kidney with the horizontal bars, rectangular air inlet, and LED headlights with their own contour. They are individual, and they are related to the BMW 2-Series."
So it's a BMW front end, but the same thing we've been arguing about since Chris Bangle was in Jr. High. Aft of that, it's pure athleticism, like Haecker said: The flared fenders and unique side skirts say "performance" in both German and English.
The back end returns to confusion, granted, but that balances out the front, with a few too many folds and creases. Just don't let this car's design peccadilloes deter you from actually driving it, because you will surely miss out on some great corners if you do.
The heart of the M2 is its 3.0-liter twin-turbo straight-six. With fully variable valve timing and variable camshaft timing, it makes 453 hp and 406 lb-ft of torque, most of which is available across a wide swath of engine speeds. Peak power comes at 6250 rpm and peak torque from 2650 to 5870 revs. Those meaty engine performance curves make driving easier because there's power and torque available seemingly anywhere on the tach. The new M2 packs 90 more ponies than the previous deuce. It was more than up to the task of hauling around my M2's 3867 pounds in automatic transmission trim (or 3814 pounds in manual).
Yes, that engine is mated to your choice of the standard six-speed manual or optional eight-speed M Steptronic automatic. I had the automatic and found it a joy to paddle-shift up and down the gears on some of northern Arizona's best twisty roads.
That power and torque go to the rear wheels only, through BMW's standard electronically controlled Active M Differential, shared with the M4, which can lock up to 100% when an inside wheel is slipping.
It may be an oversimplification to say the M2 is basically a shrunken-down M3/M4, but that's where it got its (slightly detuned) inline six-cylinder engine, suspension links with large castor and kingpin angles and lowered roll center, and M Compound brakes with six-piston fixed-caliper 15-inch discs at the front and floating-caliper 14.6-inch discs at the rear.
The brakes are particularly interesting because they are electrically actuated, which might be—and feel—faster-acting. There are no carbon-ceramic brakes offered, but you might not need them unless you're going to the track on this, which many owners probably will. The steering carries over from the previous M2 and feels set up just a little more for comfort, perhaps at the expense of liveliness.
To try all this out in the real world, or at least in Arizona, I got a light blue automatic and took off. Mine had the M Carbon bucket seats that look like they'd be painful but weren't. I had the same seats last summer when I drove an M4 from LA to Monterey for the big car week festivities. I was comfortable the whole way as I picked my way from one great twisty road to the next. The M2 definitely feels lighter and more nimble than the M4. The wheelbase is 4.4 inches shorter, which is probably the main difference you feel when cornering.
On my first really tight corner I actually plowed forward a bit, before I had a feel for the Michelin Pilot Sport 4S tires. With that info in my mental database, I never understeered again. Instead, I had a truly delightful time whipping the car through any corner that came up, and there were hundreds of great corners on the road from Prescott to Wickenburg (you really should try that road yourself, in an M2, if possible).
On long straights the car didn't bounce around or wander—it stayed straight and true as your last promise. The biggest difference between this and the first-gen from 2015-2021 was that this car felt just a little more comfortable underway. While you can get it to rotate just as much as you want, there's even a Drift Analyzer if you have a tire budget.
You can also drive the M2 all day and not need new internal organs. I would say this is even more compliant than the XM I drove the same day, certainly when it comes to smaller bumps being transmitted into the cabin.
Should this be your next fun-car purchase? Like so many BMWs of recent vintage, you will have to get past the looks. The M2 isn't bad, certainly when compared to the nostril-slurping M4, but you wouldn't buy this for style alone. The competition isn't particularly stylish, either. The Audi RS3 is a real sleeper, which may be used to your advantage, unless you get one of those electric green colors.
The RS3 makes a little less horsepower from a slightly smaller engine—401 hp from a 2.5-liter five-cylinder, but it's still a crackling good time on a good road. It costs upwards of $60,000. The Cadillac CT4-V Blackwing is priced similarly to the M2 at $60-$75k, and offers more hp at 472 from a twin-turbo 3.6-liter V6. And there's also the AMG CLA 45 Coupe starting at just south of 60 grand, which gets 382 hp from a 2.0-liter turbo-four.
Of those, I do like the performance and anonymity of the Audi, the domesticity of the Cadillac, but I could probably get over the crumpled "pre-crashed" look of this BMW M2, so I'd say it wins the class. What do you think?