Off Road
INEOS Launches Grenadier Quartermaster Dbl-Cab Pickup, Talks 3 More Models Coming After That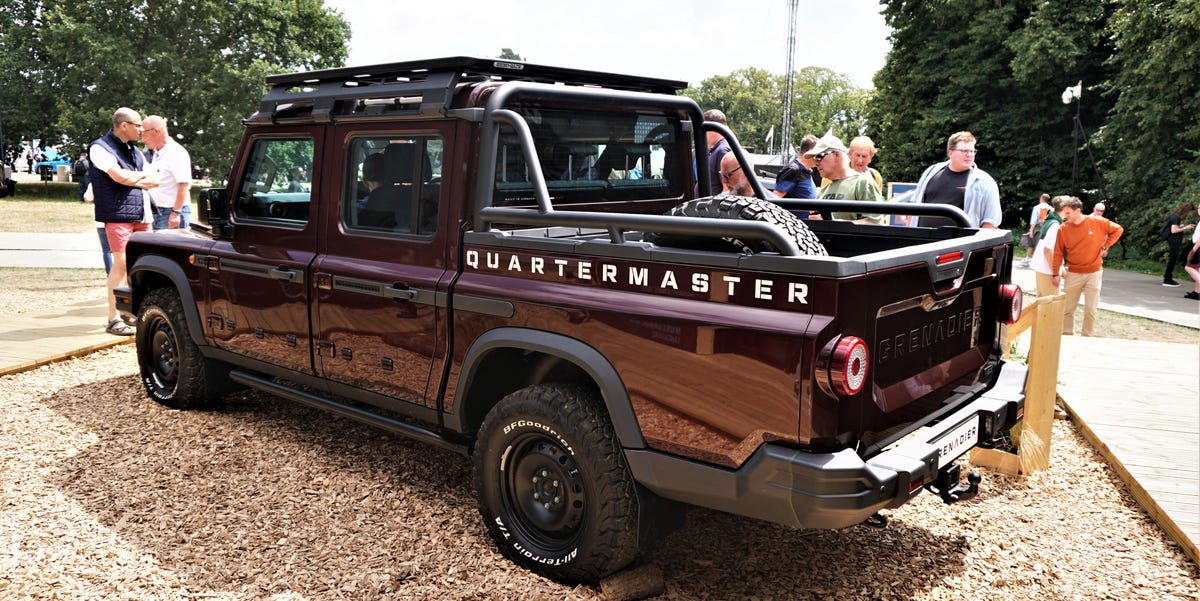 INEOS revealed a double-cab pickup truck version of its Grenadier SUV at Goodwood.
The truck is a foot longer overall than the SUV, with a five-foot-long bed.
Powertrain is the same as the SUV: 3.0-liter BMW straight six 4×4.
---
INEOS pulled the cover off a big, utilitarian, double-cab pickup truck version of its mighty Grenadier SUV during the Goodwood Fesitval of Speed yesterday. The big brute is to be called the Quartermaster.
"We've spent the last five and a half years developing the first Grenadier station wagon (their term for the Grenadier SUV), and we've be talking to customers, and we're really listening in the market and you've told us that we need a vehicle like this that's a real workhorse that actually has a lot of modern refinement and comfort as well," said INEOS Automotive ceo Lynn Calder. "Some markets in particular, are really interested in it: whether it's the U.S. with a pickup truck, or South Africa with a bakkie (their term for pickup), or Australia with a Ute, a vehicle like this is essential in some of those markets. So we're listening."
The Quartermaster shares most of its componentery with the Grenadier SUV, but it's just over a foot longer overall. The bed is just over five feet long and five feet three inches wide. Payload is listed at 1676 pounds while it'll tow 7716 pounds. Both payload and towing numbers match those of the Grenadier SUV. Flip the tailgate down and that'll support 496 pounds.
"I just had one fully loaded in the bed and fully loaded on the trailer and did a trip with it and it was just fine," said engineering coo Hans-Peter Pessler.
The pickup bed sports four tie-down rings, a 400-watt power takeoff and you can order a set of utility rails for further cargo versatility, INEOS says.
The Quartermaster pickup shares BMW's 3.0-liter turbocharged inline six with the SUV version of the body-on-frame chassis. Both powertrains are mated to an eight-speed ZF automatic. Locking center differential and a two-speed transfer case are standard, while locking front and rear diffs are optional.
Prices for the Quartermaster pickup were not released but U.S. prices for the Grenadier SUV finally were: $71,500 minus destination for the base model and $79,190 for the upscale Trialmaster and Fieldmaster editions.
All well and good you say, but what about the Grenadier SUV I put money down on, when do I get that? So far over 5000 U.S. and Canadian customers have put down deposits on the Grenadier SUV. With production started and over 2200 cars delivered in Europe, when can North Americans expect their cars?
"We are starting U.S. production in September, and we're working really, really, really hard to get cars in the US this year," Calder told us. "We are absolutely breaking our backs right now to get vehicles to the U.S. this year, but there are challenges to that, exactly as there were for our first start-of- production for the (European-market) Grenadier station wagon for the rest of world. We won't compromise either. We won't send it out if it's not right. But we're working really hard."
U.S. customers might get a better Grenadier than those in Europe, at least those who have already gotten their Euro-spec models.
"We've learned a lot (after the start of European production). It's not a vastly different vehicle that we're building, but the US will, I hope, customers will be the determinant, but the U.S. will benefit from everything we learned last year. And we'll be getting a kind of more modern configuration of the car."
So we got that going for us.
INEOS also showed off a new hydrogen-powered concept version of the Grenadier SUV at Goodwood called the Hydrogen Demonstrator. That vehicle uses BMW Group's latest 400-volt fuel cell architecture. While the concept had a large hood bulge to accommodate the vehicle's fuel cell, a production version would have the same hood as the SUV.
Beyond that, the company talked about a fully electric 4×4 Grenadier SUV to arrive in showrooms in 2026. Specifics on that were lacking, but Calder did say the EV SUV would offer 250 miles range, with a battery tray underneath.
INEOS also said there would be three more vehicles coming after the SUV and Quartermaster pickup versions of the Grenadier, though not a lot of specifics on those were shared.
"What I can tell you is, the off-road DNA will always be us, so we're not going to build a sports card or a family saloon (sedan)."
With the world transitioning to zero-emissions, INEOS may continue to offer internal combustion for the foreseeable future, at least.
"We're going to be constantly balancing our fleet," said Calder. "So we are really committed to everything that we need to do to try and decarbonize, no question, we won't exist without it. However, we also have a global market, and not every country in the world has the same push. So we need to try and find the right balance of making sure that we're doing everything we need to do for the zero-emission transition, but that we still provide combustion engine cars in countries where they need it, not just want it, but need it. I think we'll be looking at maximizing optionality without getting too complex for our future models. So the 2026 full battery electric I talked about at the moment, we're just talking about that being electric, future models, I think we might look at a bit more optionality."

Mark Vaughn grew up in a Ford family and spent many hours holding a trouble light over a straight-six miraculously fed by a single-barrel carburetor while his father cursed Ford, all its products and everyone who ever worked there. This was his introduction to objective automotive criticism. He started writing for City News Service in Los Angeles, then moved to Europe and became editor of a car magazine called, creatively, Auto. He decided Auto should cover Formula 1, sports prototypes and touring cars—no one stopped him! From there he interviewed with Autoweek at the 1989 Frankfurt motor show and has been with us ever since.