Off Road
Ineos Grenadier Picks Up Where Land Rover Defender Left Off—and Then Some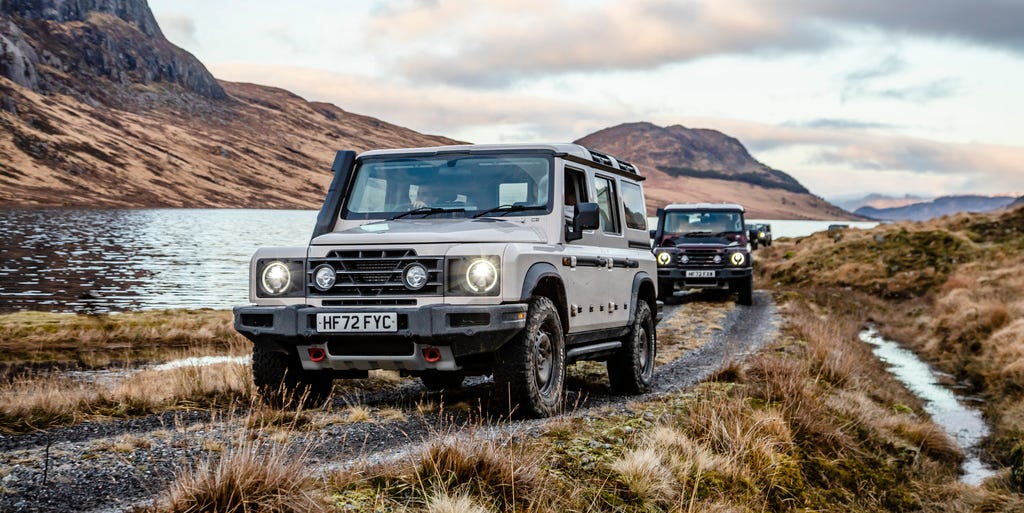 When Ineos failed to secure the original Defender tooling from Land Rover, it decided to build, in essence, that beloved British off-roader's spiritual successor, the Grenadier.
Sporting all the requisite off-road bona fides—ladder-frame chassis, live axles front and rear, and steering box rather than a rack and pinions, as well as a two-speed transfer case and a locking center differential—the Grenadier proves fully capable in all types off far-from-the-pavement settings.
Look for Ineos to spin off several more models from the Grenadier platform in the coming years.
---
Many rich guys have loved exotic cars enough to pay huge sums of money acquiring them. But none have spent as much on a new model as Sir Jim Ratcliffe. One of the UK's wealthiest men, a billionaire thanks to his Ineos chemical group, Ratcliffe was so upset by the demise of the classic Land Rover Defender in 2016 that he tried to buy the tooling to keep it in production. Having been turned down by Land Rover, he instead resolved to fund the creation of a new model, one inspired by his favorite car and named after his favorite London pub, The Grenadier in Knightsbridge. This process including winning a legal battle with JLR over design rights, but that was just part of the huge cost of realizing the dream—Ratcliffe saying he has spent around €1.5 billion bringing the Grenadier to market. That's $1.6 billion at current exchange rates.
The project expanded rapidly and expensively from the original idea. Austria's Magna Steyr was contracted to do development work, with no fewer than 250 engineers moving from the creation of the current Mercedes-Benz G-Class straight onto the Grenadier project. After considering potential suppliers including Ford and Toyota, powertrain supply was contracted to BMW. The Grenadier will be launched in Europe with the choice between gasoline and diesel 3.0-liter six-cylinder engines, with some markets set to later gain the option of four-cylinder power.
But the defining moment came when, as Ratcliffe admits, Mercedes boss Ola Kallenius called him up to offer him an excellent deal on the Smart ForTwo factory in Hambach, France. Daimler had decided to shift its plans to build the Mercedes EQA and EQB from Hambach to a new plant in Hungary—would Ineos like to acquire it? Ratcliffe won't say quite how much he paid for the factory, although he admitted it was a very good deal.
Even if it was free, the cost of fitting it out for an all-new model took a big chunk of that ten-figure investment. It also means that Ineos will have to utilize a high percentage of Hambach's single-shift, 25,000 annual capacity for the project to pay off. That's why the Grenadier will be sold around the world—including in the United States.
So should we be getting excited? The Grenadier's boxy proportions, flat fenders and round headlights might make it look like the old Land Rover Defender—the one that was last officially sold in the US in 1997. Yet the reality is a considerably more advanced car. The basics are, better thought of as old-fashioned 'ute than Sports Utility—a ladder frame chassis, live axles front and rear, and with a steering box rather than a rack and pinions. All versions will have an eight-speed automatic gearbox, the BMW sixes no longer playing nice with manuals, with drive then passing through a two-speed transfer case and a locking center differential before passing to each axle. Electronically controlled front and rear lockers will be optional.
Build quality feels good. The Grenadier is intended to be tough and to prioritize function over shiny technology. The dashboard features a central display screen that combines instrumentation and infotainment, but all other controls are by large physical switches dials. These buttons cover both the center console and an aircraft-style panel on the inside of the roof. Space is good up front and reasonable in the back, with a large load space behind this; only a two-row layout and a single-row 'utility wagon' version of the station wagon body shell will be offered at launch, but a crew cab pick-up will follow.
Performance is strong. I drove both the gasoline and diesel versions, although only the former is likely to make it to the States. The gas motor combines 282 hp and 331 lb-ft and feels pretty dieselly already—in a good way—making its maximum power at 4750 rpm and hitting its limiter at a lowly 5200 rpm. Peak torque is available from just 1850 rpm. Ineos claims an 8.6-second 0-62 mph time, but the Grenadier actually feels quicker than that figure suggests thanks to its height and the pronounced rear-end squat under hard acceleration.
The diesel has 247 hp and 405 lb-ft and is a little louder, but only slightly slower: Ineos says it takes 9.9-sec for the dash from 0-62 mph, but on road it feels just as keen. The cars I drove rode on optional BF Goodrich All-Terrain T/A KO2 tires, which could only offer modest grip on the chilly Scottish asphalt that made up most of my test route.
No matter, even with limited adhesion to call on the Grenadier's chassis was benign and predictable. Steering is low geared and slightly vague—it takes a increasing numbers of small, correctional inputs to keep on a chosen line as speed rises. Ride has the slightly lumpy edge common to anything riding on heavy live axles. Even on apparently smooth surfaces the Grenadier doesn't quite settle down, but refinement was good. Wind noise wasn't an issue at cruising speeds, although the effect of airflow could be felt on the bluff shape as velocities rose; just lifting off created the sense of an air brake as the bluff front end saps speed. INEOS says top speed is limited to 99 mph, it's hard to imagine that too many owners will reckon that to be a hindrance.
The Grenadier feels predictably happy off-road, although with the proviso that it lacks any of the idiot proof terrain modes increasingly common in this part of the market. Beyond low ratio gearing and the individually lockable differentials the only additional feature is a speed-regulating hill descent mode. That means that owners will need to bring a degree of experience if venturing too far into the wilderness. While smart lifestyle SUVs like the current Land Rover Defender will automatically lock and unlock their differentials and move torque across an axle to help them turn, the Grenadier's driver needs to do everything manually. The cars I drove proved more than capable of dealing with challenges ranging from gelatinous mud to slippery rocks, but all were tackled with little sense of a safety net.
To a lesser extent that was true on road as well. The Grenadier has antilock braking and stability control—functions the original Defender lacked—but it is missing the more advanced active safety systems that increasingly come as standard on expensive lifestyle 'utes. There is no blind-spot monitoring, radar cruise control, or lane-keeping assistance, nor one of the spiffy 360-degree camera systems that takes some of the worry out of maneuvring in tight spaces. Ineos claims the car will appeal strongly to those in search of rugged authenticity, but it's not hard to imagine such omissions limiting appeal to family buyers. No Grenadier will be cheap; pricing in Europe will start at the equivalent of $58,000, and the top spec gasoline car I drove ran to $76,300 with options.
Yet Grenadier is also just the start. Ineos automotive confirms that it is planning to follow up with three more distinct models beyond the Grenadier pickup—one of which will be larger (and presumably feature three-row seating), and one of which will be a full EV. Nobody could accuse Jim or his company of lacking ambition.
Senior European Correspondent
Our man on the other side of the pond, Mike Duff lives in Britain but reports from across Europe, sometimes beyond. He has previously held staff roles on UK titles including CAR, Autocar and evo, but his own automotive tastes tend towards the Germanic, owning both a troublesome 987-generation Porsche Cayman S and a Mercedes 190E 2.5-16.