Off Road
Embattled EV Maker Targets Fuel-Cell Semis and Hydrogen Refueling Stations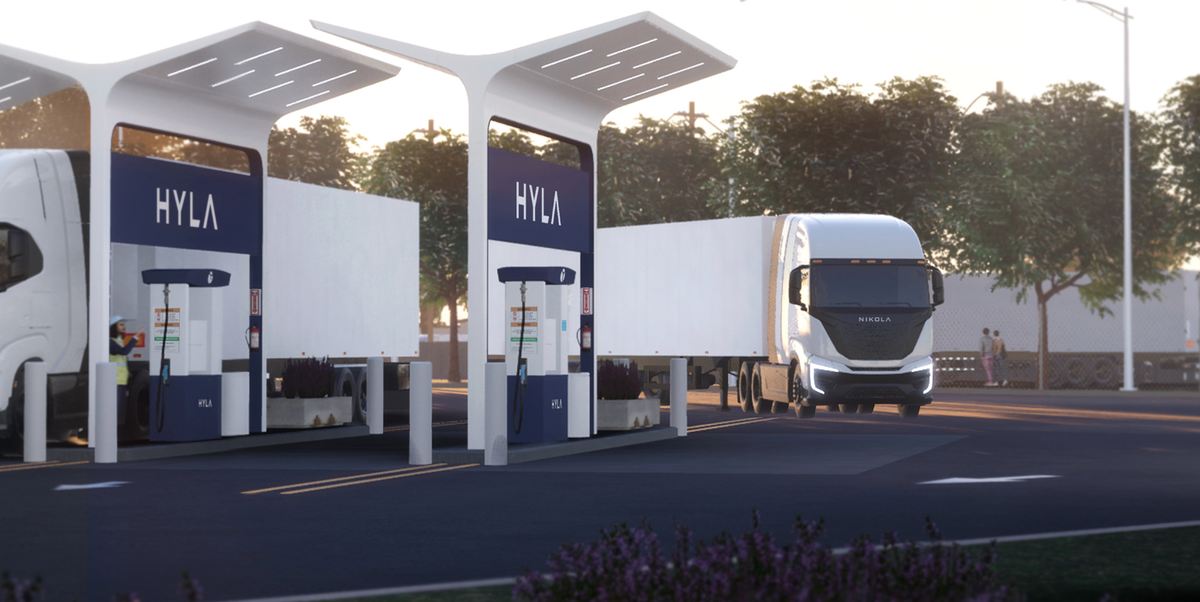 The Nikola Tre FCEV features a range of up to 500 miles and full hydrogen refueling in less than 20 minutes.
Nikola's new hydrogen energy brand, Hyla, was announced this week and is planning 60 hydrogen stations by 2026.
Michael Lohscheller became CEO and president on Nov. 3, while Nikola founder Trevor Milton awaits sentencing for fraud convictions related to his inflation of the company's stock value.
---
Half an hour before CEO Elon Musk touted Tesla's record earnings this week in a Wall Street analysts' call from Austin, Texas, rival Nikola rolled out its quiet new Tre hydrogen fuel-cell electric vehicle before a crowd of about 300 fleet customers, government officials, supplier and energy representatives, and reporters, and its new CEO, Michael Lohscheller, at its Phoenix headquarters.
First unveiled at a trucking convention in Germany last September, the Nikola Tre FCEV features a range of up to 500 miles and full hydrogen refueling in less than 20 minutes. It produces 536 hp and 12,500 lb-ft of torque, Lohscheller said, with "the simplicity of one-pedal driving." Its full digital cockpit sounds Tesla-worthy, with a 13-inch instrument panel and 17-inch infotainment screen, "the largest of its kind."
The Class 8 PHEV semi-tractor also comes with heated and cooled vegan-leather seats and a mobile app that helps route drivers efficiently while sending relevant information back to fleet managers.
"The interior is very exciting," Lohscheller said at the Washington DC Auto Show's Public Policy day on Jan. 19. "I'm 6-foot-8—I can stand in the cabin."
All fine and good. But where do you refuel it? California has a small network of hydrogen stations serving Southern California (between San Diego and Santa Barbara), Northern California (from the Bay Area to Truckee), a couple of stations near Vancouver, British Columbia, and nothing to the east until you get to Quebec City, Quebec. That's about six Tre FCEV tankfuls between refueling stations.
Nikola's answer to that problem is the company's new hydrogen energy brand, Hyla ("hydrogen" + "Nikola", get it?), which was announced with the Tre FCEV rollout Wednesday.
Hyla is planning 60 hydrogen stations by 2026 from its Phoenix Hydrogen Hub (PHH) in Buckeye, Arizona. The PHH will start with 30 metric tons of hydrogen supply in Hydra's first phase to serve zero-emissions trucks in the Southwest, ramping up to 150 metric tons. Hydra's first of the 60 stations will be in California, including a station serving the Port of Long Beach.
Hyla also is rolling out "flexible mobile fueler" stations to serve Nikola Tre FCEV customers "at locations which meet their needs."
Nikola's Tre FCEV officially hits the market in the second half of this year. Biagi Brothers, a Napa, California-based trucking company (it hauls loads for wineries, among myriad other jobs) has 15 FCEVs on order. In Europe, Nikola's 50-50 joint venture with truck manufacturing giant Iveco has an order for 100 fuel-cell trucks from GP Joule, a Reussenkoege, Germany-based "systems provider for integrated energy solutions."
Nikola also offers the battery-electric Tre, a 645-hp Class 8 semi with 330-mile range and 90-minute quick recharge time, but the company clearly sees hydrogen fuel cells as the future of clean, green trucking. Though disputed by some, including Tesla CEO Elon Musk (who years ago called them "fool cells"), proponents say hydrogen fuel cells offer Class 8 trucks better range for heavier loads.
PepsiCo took delivery of the first Tesla Semi EV trucks in December, with 21 hauling Frito-Lay division chips from Sacramento, and 15 hauling them from Modesto, California, to Wal Mart and Kroger Stores. The EV trucks can carry puffy Cheetos and other Frito-Lay chips for 425-mile trips, PepsiCo Vice President Mike O'Connell told Reuters last December, but heavier loads of soda initially will be limited to trips of about 100 miles.
Nikola's grand plans for hydrogen-powered trucking and a refueling network comes as the company tries to move on from rocky beginnings. Last October, Nikola founder Trevor Milton was convicted on two counts of wire fraud and one count of securities fraud related to his inflation of the company's stock value, according to the trade publication Freightwaves.
Sentencing for Milton, scheduled this week in a federal court, has been delayed to June 21, after federal prosecutors filed a 28-page motion on Jan. 20 opposing arguments by Milton's attorneys in December asking for a new trial over claims of juror misconduct.
Though since removed from the company's management, Milton remains its largest stockholder, with about 11%, Freightwaves reports.
Nikola went public on March 3, 2020, when Mark Russell, who joined the company in February 2019, was named CEO. Nikola announced last summer that Russell would step down, and in November he was replaced by Lohscheller, a former CFO for Mitsubishi Motors and Volkswagen Group, and former CEO at Opel and Vingroup's VinFast in Vietnam, according to Wikipedia.
What do you think of Nikola's plan for its Tre fuel-cell semi-truck, as well as its Hyla refueling venture? Please comment below.