Off Road
4-Wheelers Join Tread Lightly to Clean Up the Wilderness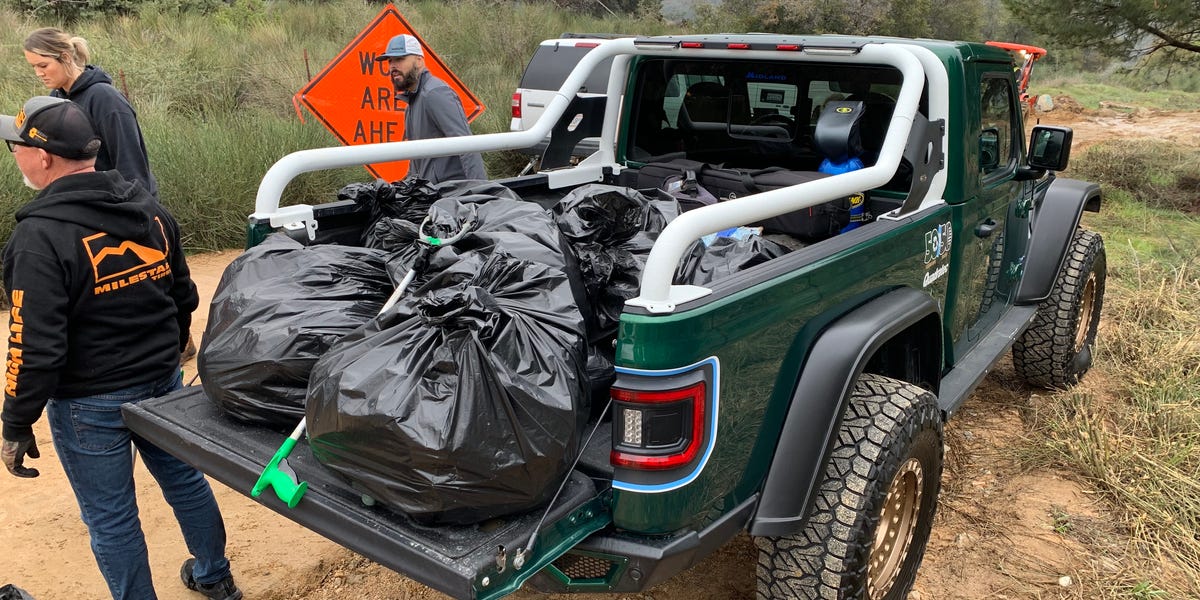 The non-profit off-road advocacy group Tread Lightly works with government agencies, 4wD clubs, and volunteers to educate the public and keep outdoor areas open to 4-wheelers and other recreaters.
Jeep partsmaker and purveyor Quadratec has built a custom-bodied Wrangler pickup to participate in off-road projects across the country.
If you go off-road, pick up all your trash!
---
Clean up after yourself, people!
There's a scene in the movie Green Book where Tony throws an empty paper bag out the window of the car and Dr. Shirley is appalled. "Pick it up, Tony," Dr. Shirley says. "The squirrels will eat it," Tony says.
Turns out, the squirrels will not eat it. And it won't biodegrade, not for a couple years at least.
The old adage, "Pack It In, Pack It Out," can be applied equally to "Drive It In, Haul It Out" when it comes to 4-wheeling. You've never realized how much trash is out there in the wilderness until you've spent a day packing it up and hauling it out. I recently got to join in a Tread Lightly cleanup effort on one of the many trails that honeycomb the National Forest land just outside Los Angeles. And let me tell you, there is a lot of National Forest land—and a lot of trash.
We filled truck bed after truck bed, and several scoopers of a Forest Service Kubota B26 Tractor Loader, all of it bagged and dragged to a donated Burrtec garbage bin that was bigger than my house (almost). I was equal parts appalled and inspired. You might have been, too. But I got to go 4-wheelin' in a Jeep Wrangler Rubicon customized by aftermarket parts maker Quadratec, so it was actually a good morning.
I have to say, my respect for the group Tread Lightly, which works to preserve and promote public lands and keep access to them open for all, grew considerably that day.
"At our core, we are an education and stewardship group. We promote responsible outdoor ethics," said Brandon Alvarez, Tread Lightly's California program manager. "Our core belief is that the places that we like to go to have fun, we should be treating those places like our own backyard. You wouldn't be trashing your backyard. You wouldn't be destroying your backyard, so why is a BLM area, or a National Forest area any different? If we want to have these resources available to us to enjoy for generations to come, we gotta take care of them."
While removing trash was the day's mission—and we were standing on it as we spoke—it's not even the biggest issue Tread Lightly deals with as it tries to educate public lands users about conservancy. An even bigger problem? People who make their own trails.
"User-created trails are always a big issue," Alvarez said. "I think it's always kind of funny, because on some of the wheeling trails that we go on there will be user-created bypasses at obstacles. Like, you're out here to do the trail and to do to the obstacle, so do the obstacle!"
For the most part it comes down to education. When the pandemic hit, it seemed that suddenly everyone with a CUV went out in the wilderness, many for the first time.
"There are more people enjoying the outdoors than there ever had been before," said Alvarez. "And there are people that are new to it as well. So they don't necessarily know what they don't know. And education is just a huge part of it. We want to present the information to the public in a way that's easily digestible. You know, our Tread Lightly principles, our outdoor ethic, it stands for, 'travel responsibly, respect the rights of others, educate yourself, avoid sensitive areas and do your part.' And if you follow those rules—and they're really commonsense rules—we'll be able to enjoy public lands in perpetuity."
But first, trash pickin'!
Not far from the trailhead of National Forest Road 1N09 is what's known as a dispersed shooting range, meaning you can just go out there and blast away. It was a flamin' pigsty. There were hundreds, perhaps thousands of spent shotgun shells, three unfired shotgun shells (live ammo!), bullet casings and piles of used targets left to fester in the rain. There were also at least a few Hewlett Packard computers, the latter used as targets and then left to rot by those to whom IT is perhaps not a strong suit.
There were heavy metal objects like cabinets, shelving, and at least one intact dual-basin stainless steel kitchen sink. There were wooden pallets, old tires, and wheels, two bowling pins and one bowling ball, all shot to hell. We picked up as many of these things as we could pick up, bagged them, threw them in the back of the Jeep or in the front of the Kobota B26, and hauled them to the donated Burrtec dumpster.
Then, since I had this very cool Quadratec Jeep JTe Wrangler, I and the Quadratec guy took off down 1N09 in search of more trash. The Jeep was a SEMA show car built by fabricator Greg Henderson at his company called "Unofficial Use Only." It had begun life as a 2022 Wrangler 4Xe Rubicon, then Henderson cut the four-door body behind the front doors and added a factory Gladiator truck bed and factory Mopar body replacement panels, thus creating an all-new kind of Jeep.
It debuted at SEMA last year to much acclaim. It seems everyone wants one of these, the Quadratec guy said, but building them would be way too time-consuming to ever be profitable to mass-produce them. So no, you can't have one. Regardless, I got to drive it. Ha ha ha!
First obstacle was a mud pit created by a steady stream that ran across and through 1N09 right by the first shooting area, turning it into a frog-ribbeting swamp of boot-sucking primordial ooze. I levered the JTe into 4-wheel-low and powered through, mud splattering all over the Jeep and anything within about 14 miles of it.
After the swamp, the rest of 1N09 was in great shape, having just been repaired by Forest Service crews that filled in the ruts with dirt and smoothed out the dirt surfaces with a bulldozer. The Jeep was a blast to drive and very capable. We forded cement-lined streams, angled up and over trail lumps and approach-and-departure-angled our way over many a deep crevasse. It was a blast.
Soon we had the Quadratec's Gladiator truck bed filled with all kinds of foul detritus. We headed back to the big Burrtec bin and unloaded. Was it a drop in the bucket, our volunteering efforts, a beer can in a Burrtec? Hey, it's better to light one candle than to curse the darkness, unless the fire danger needle on that dial sign is over on "Extreme."
"The Front Country Ranger District spans from Lytle Creek (by Interstate 15), all the way out to Banning and almost to Palm Springs—we're about 270,000 acres," said USDA Forest Service Recreation Officer Travis Mason. "And within that we have all kinds of urban interface."
There are 24 million people living in Southern California, and 1N09 was only 15 minutes from urban sprawl and a major SoCal freeway. That means just about anyone—not just mountain men and experienced 4-wheelers—could come up here. 1N09 is in fact the first dirt road you come upon that's open to the public on your way up from the city.
"We have a lot of challenges," Mason said. "The 20 million people that live in Los Angeles come to our forest district first. They can recreate with dispersed shooting, off-highway vehicles. We have two wildernesses, a lot of different opportunities as they go up to Big Bear to the Mountain Top Ranger District. So the traffic you saw today, all of them are going up to Big Bear to go skiing. They come through the Front Country to do whatever they want to do first before they get out there."
Managing a forest that's right next to such a huge population center comes with its own set of problems that you might not face in less-populated areas like Shasta/Trinity, Siskiyou, Lassen, or the Inyo National Forest. Mason says a lot of the Forest Service's job is education, and to that end he and others are working to put up signage reminding visitors to pack it in/pack it out, to be aware that a bullet hitting a stone could spark a fire, as happened here last year with the Manzanita Fire, to remind people not to shoot parallel to the road, etc. Last year's Manzanita fire was put out the same day, since it was burning right next to the trailhead and only 15 minutes away from numerous fire departments and aerial firefighting assets. So there are advantages to being so close to the city, too.
"Just be respectful," said Mason. "Know before you go, call a ranger station, ask your questions, and get the right information. Our website, the San Bernardino National Forest website, has all kinds of great information. It's really that 'Know Before You Go' about fire restrictions, about shooting restrictions, off-highway vehicle use—you know, use public lands responsibly."
And with that, the Burrtec bin half full, I turned the Jeep back over to the Quadratec guy, got into my Volvo V60 T8 E-AWD Polestar press car, which did really well on that 15-minute section of curvy paved mountain road. I headed back into what passes for civilization, having left the wilderness like one of the kids from Lord of the Flies, ready to dice with the worst of the drivers on the 210—none the worse for the wear, but perhaps better for the experience.
Do you behave responsibly off-road? What's the best way to get everyone to keep our wilderness clean and open? Let us know in the comments below.

Mark Vaughn grew up in a Ford family and spent many hours holding a trouble light over a straight-six miraculously fed by a single-barrel carburetor while his father cursed Ford, all its products and everyone who ever worked there. This was his introduction to objective automotive criticism. He started writing for City News Service in Los Angeles, then moved to Europe and became editor of a car magazine called, creatively, Auto. He decided Auto should cover Formula 1, sports prototypes and touring cars—no one stopped him! From there he interviewed with Autoweek at the 1989 Frankfurt motor show and has been with us ever since.