Off Road
2024 Ford Maverick Doubles Its Towing Capacity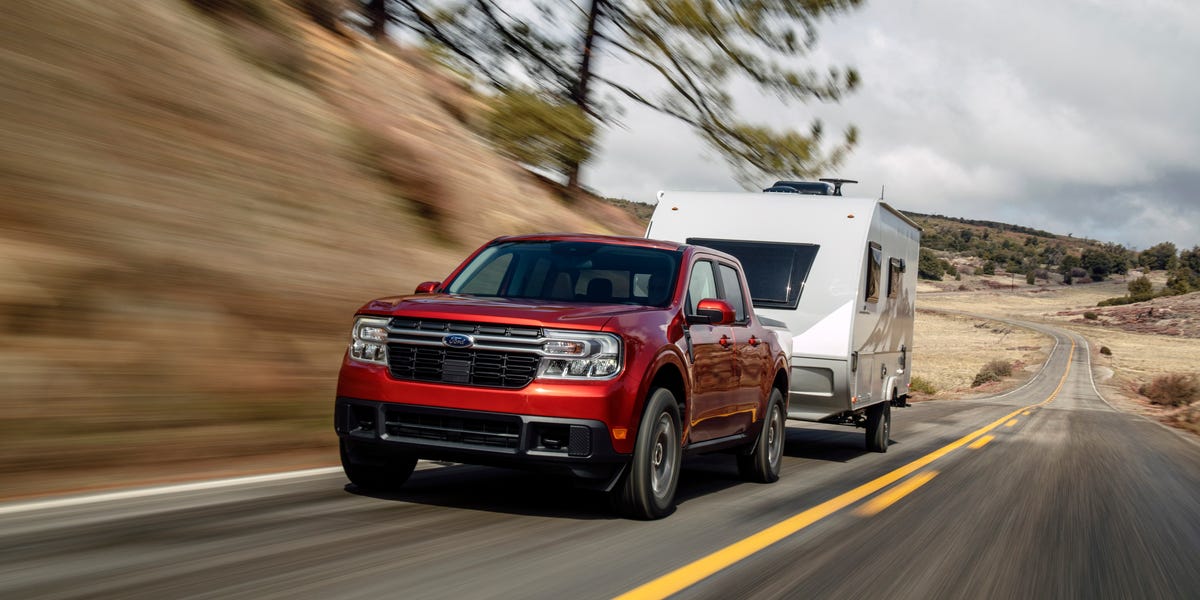 Small truck, big goals. The 2024 Ford Maverick can tow up to 4000 pounds when properly equipped, and people are taking advantage of the compact pickup's power on this front.
The problem is that most Maverick configurations can tow only 2000 pounds, as you need AWD and Ford's 4K Tow package to really load up the trailer.
Competitors can do more—the Hyundai Santa Cruz can tow up to 5000 pounds—but we don't need another towing arms race on this front. Let small trucks be small trucks.
Ford had an unsurprising hit when it released the more right-sized Maverick pickup in late 2021 as part of the welcome compact-truck revival trend. Despite these vehicles' smaller sizes, small-truck owners still want to do big-truck stuff sometimes, and the Maverick appears to be delivering.
When we first took a 2022 Maverick through its paces, we found it to be just enough truck. The unibody design, also seen in the Hyundai Santa Cruz, provided a workable balance between size and capability. The 2023 model added an optional Tremor Off-Road package, among other minor updates like different exterior paint colors. Engine choices are a hybrid with a 191-hp 2.5-liter engine and a 250-hp 2.0-liter EcoBoost turbo. For 2024, the 2.0-liter becomes the standard engine choice, with the hybrid becoming a $1500 option.
The 2024 Maverick can tow up to 4000 pounds, but most configurations can only tow 2000 pounds. The Tremor package, for example, is limited to 2000 pounds. In fact, any Maverick with the newly optional 2.5-liter hybrid powertrain is stuck at the lower capacity, but even the 2.0-liter engine is only rated at the higher capacity with the optional 4000-pound Tow package ($745) and all-wheel drive ($2220). So while the Maverick technically starts at $24,995 for the XL, to get a truck capable of towing 4000 pounds means you'll have to shell out at least $27,690.
The Tow package changes a few details in the powertrain, including lower axle gear ratios (from 3.63:1 to 3.81:1), a transmission oil cooler, a higher-capacity radiator, and an upgraded cooling fan. The package can only be applied to the XL, XLT, and Lariat trims, meaning it's excluded from the Tremor.
Of course, the maximum 4000-pound level is the headline number here. It's a decent number that can be used to sell some trucks—the Maverick can tow 500 more pounds than the Ford Escape, for example—but it's not at the same level as the Santa Cruz or the bigger Honda Ridgeline (both of which can tow up to 5000 pounds). To tow that much in a Maverick, as mentioned, you need to have all-wheel drive, which reduces fuel economy to, at best, 24 mpg without a trailer.
Every vehicle is a collection of compromises, but when you read what people are doing with their Mavericks, there's a lot to be said for this specific way of threading the needle.
Contributing Editor
Sebastian Blanco has been writing about electric vehicles, hybrids, and hydrogen cars since 2006. His articles and car reviews have appeared in the New York Times, Automotive News, Reuters, SAE, Autoblog, InsideEVs, Trucks.com, Car Talk, and other outlets. His first green-car media event was the launch of the Tesla Roadster, and since then he has been tracking the shift away from gasoline-powered vehicles and discovering the new technology's importance not just for the auto industry, but for the world as a whole. Throw in the recent shift to autonomous vehicles, and there are more interesting changes happening now than most people can wrap their heads around. You can find him on Twitter or, on good days, behind the wheel of a new EV.