Off Road
2023 Chevrolet Colorado Delivers Tougher Looks, Simpler Lineup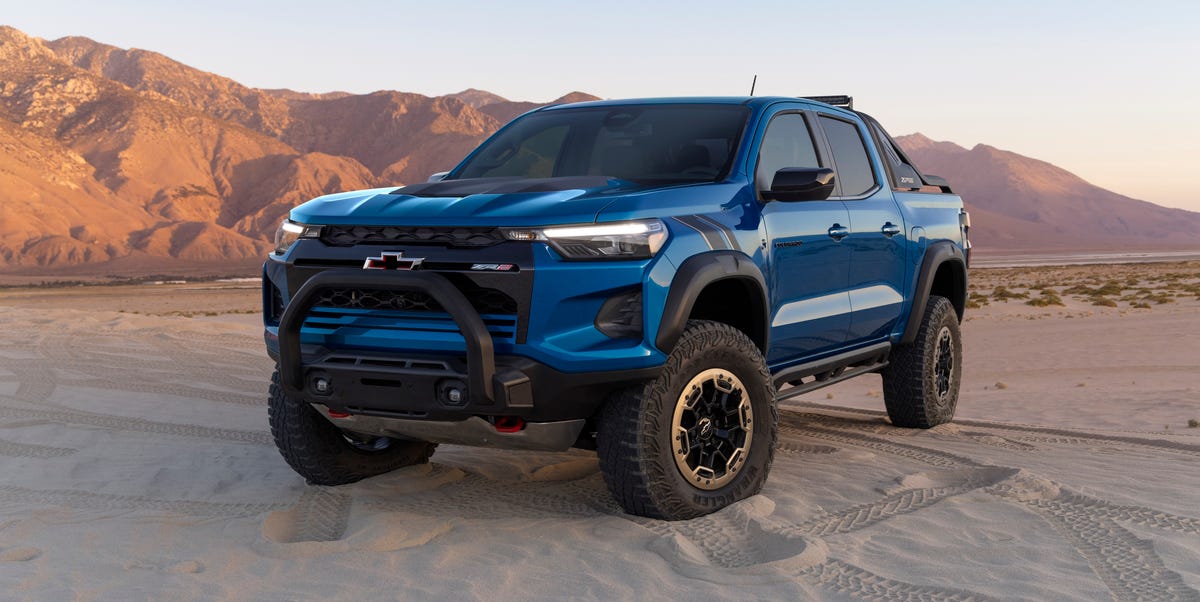 All-new Chevrolet Colorado uses comfort and competence to take on the segment-leading Toyota Tacoma in the midsize truck wars.
The new pickup gets the 2.7-liter turbocharged four-cylinder from the full-size Silverado. It's in production now and will be in showrooms soon, starting at $30,695.
Sales of full-size trucks are dropping, while midsize models like the Colorado gain ground in a moving market.

---
We Americans love trucks—the bigger, the blockier, and the brawnier the better. But while full-size trucks from the Detroit Three—as well as the Toyota Tundra—continue to dominate the pickup market in the US, the trend in full-size truck sales is generally downward. Ford F-150, Chevy Silverado, Ram 1500, and GMC Sierra were all down in 2022.
What was up? Midsize trucks from General Motors. Sales of the GMC Canyon and Chevy Colorado, both of which were in the last year of their current generations in 2022, were up by double digits. Now, with an all-new Colorado entering showrooms soon after you read this, and a coming all-new GMC Canyon on its way, look for General Motors to increase its take of the midsize and overall truck market in 2023 and beyond.
While the Canyon is slated for a spring arrival, Chevrolet just introduced its all-new Colorado—and we got to drive it.
The truck is new from the frame rails up, with three off-road models and an entry-level "Work Truck." All Colorados share a single wheelbase, a single-displacement four-cylinder engine, and just one comfortable crew-cab configuration.
Gone are all three previous powerplants: the 2.5-liter gasoline four, the 2.8-liter diesel, and the 3.5-liter gasoline V6. All three are replaced with the 2.7-liter four that has seen faithful duty in the full-size Silverado, where over 300,000 of the four bangers have served tirelessly for the last four years.
The 2.7-liter engine has been fitted for duty in the smaller Colorado in three power outputs:
Turbo making 237 hp and 259 lb-ft of torque, good for a towing capacity of 3500 pounds. This base engine is available in the WT (Work Truck) and LT trims.
Turbo Plus with 310 hp, 390 lb-ft capable of towing 7700 pounds. It's standard in the Z71 and Trail Boss Packages and optional in the WT and LT.
Turbo High Output generating 310 hp and 430 lb-ft and offering 7700 pounds towing capacity. It's standard on the ZR2 trim level.
Engineer Kevin Luchansky, the self-described "2.7 Guy," listed all the enhancements this version of the VVT 2.7 got over the four-cylinder that's been powering Silverados for four years, including: a more rigid cylinder block casting, 30% stiffer crankshaft, fully forged bottom end, and forged steel main caps. A new electric water pump, meanwhile, can keep spinning independently of the engine speed to, for instance, cool a hot engine after a long uphill pull that ends at a red light.
It can also spin more slowly if the engine coolant is at a low temperature during a cold start. The 2.7 runs on 87-octane (What happens if you put premium in the tank? "It does nothing!"). For better mileage, Active Fuel Management will cut fuel to the No.2 and No.3 cylinders when they're not needed.
"This truck is so cool," Luchansky enthused. "I've been involved in it since its inception and I love it!"
All the 2.7s are mated to eight-speed automatics. You get a choice of rear- or all-wheel drive with four-wheel low. There are five drive modes: Normal, Tow/Haul, Off-Road, Terrain, and Baja, the latter for high-speed runs across desert dirt. Both approach and departure angles have been improved, including repositioning the full-size spare to increase departure angle.
Inside is an entirely workable layout, with an eight-inch diagonal Driver Information gauge cluster and an 11.3-inch infotainment screen. There are plenty of toggle switches and dials in place, too, so you don't have to feel like you're convincing an iPad to reboot when all you want is to turn off the A/C, for instance.
Outside are ruggedly handsome lines that carry the Colorado forward without making it look like an art project. There are two tailgates available, one of which has a lockable storage space, just the right size for a rifle case or a fishing rod or two.
My first drive was in a 4WD LT. (There's a one-speed AWD transfer case in the Work Truck and LT models, and a two-speed transfer case in all other trims that have low range four-wheel-drive.) Under full acceleration going up a hill, the engine sounded just a little raspy, at least at full song. On the base models, to save cost, among the items removed are some sound insulating parts. The power wasn't really overwhelming, either. Then I got into a Colorado with the 310-hp Turbo Plus and it felt better. The truck was quieter on the open road and even kept itself inline on a twisting mountain road.
Next I got into a Trail Boss trim and went off-road. The Trail Boss has a 3.2-inch wider track in front and a two-inch higher ride height. The slightly washed-out dirt road was no problem for the Colorado, easily mastering some deep ruts caused by recent rains.
Colorado pricing starts at $30,695, including destination charges, for the bare-bones Work Truck, $33,095 for the LT, $38,495 for the Trail Boss, and tops out at $48,295 for the coming ZR2.
The Ford Ranger, meanwhile, starts at $28,895 for an XL and goes up to $36,995 for a Lariat. But the mega-seller in this class is the aging Toyota Tacoma. That truck starts at $29,085 and rises up through (by my count) 34 models to $51,225. The Ranger is relatively fresh, having been redone just a couple years ago.
But the Tacoma is genuinely aging. It is due for a full redesign next year. Despite the model being long in the tooth, Toyota sold 237,323 Tacomas last year, just 4000 shy of the GMC Sierra full-size pickup. Chevy sold just under 90,000 Colorados in the same time frame, to lead the rest of the field in the mid-size truck segment. Tacoma's numbers dropped last year 6.3% year-on-year while Colorado was up 22% with a similarly aging product.
Now, with this new and quite competent Colorado, numbers would suggest that Chevy's mid-size truck will continue to close that sales gap over the next year—until the new Tacoma comes out in 2024 and blows everyone back into the weeds. Until then, enjoy this new and exciting Colorado.
How do you like the new Chevy Colorado? Are you eager for a test drive? Please comment below.

Mark Vaughn grew up in a Ford family and spent many hours holding a trouble light over a straight-six miraculously fed by a single-barrel carburetor while his father cursed Ford, all its products and everyone who ever worked there. This was his introduction to objective automotive criticism. He started writing for City News Service in Los Angeles, then moved to Europe and became editor of a car magazine called, creatively, Auto. He decided Auto should cover Formula 1, sports prototypes and touring cars—no one stopped him! From there he interviewed with Autoweek at the 1989 Frankfurt motor show and has been with us ever since.