News
Volkswagen Drives into SEMA with 10 Concepts, Show Cars, and Old Cars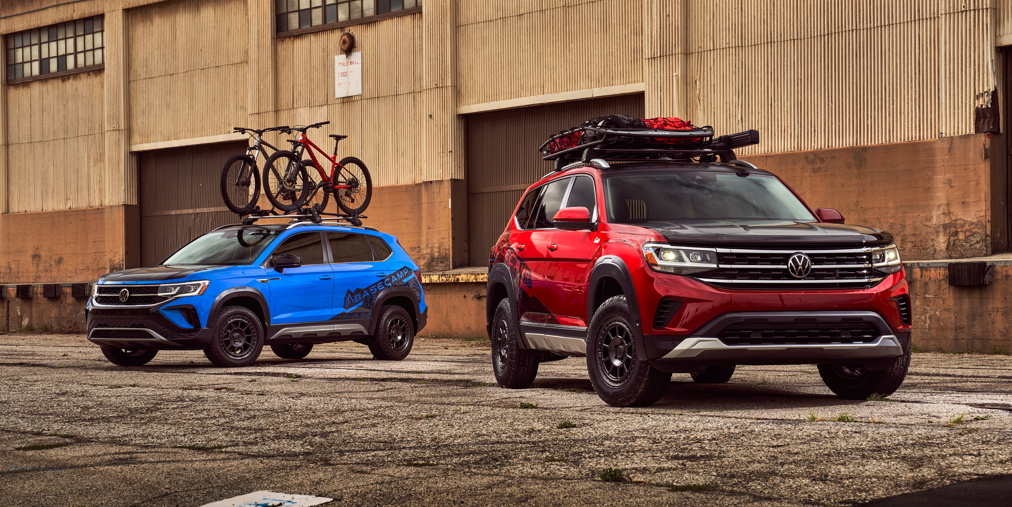 The third in the "Great Golfs We Have Known" series on the Volkswagen stand this year is this, the 1993 Rallye Golf 3 A59 Prototype. Don't recall this one? VW reminds us of the car's history, saying it was created as a proof of concept to determine the feasibility of entering the 1994 FIA World Rally Championship, for which homologation regulations required that manufacturers create 2500 street-legal versions. This prototype was developed with Schmidt Motorsport (SMS), and had it been put into production it would have been the highest performance version of the third-generation Golf family. This specific car is the only complete version ever built. So you won't see these at your local Caffee und Kuchen Saturday morning.
"The engine and drivetrain was developed specifically for this concept, and although the Golf A59 did not go on to compete in races, the engine design went on to class wins at the 24 Hours of Le Mans race in different vehicles," Volkswagen says. "Volkswagen's performance unicorn featured a bespoke 2.0-liter all-aluminum turbocharged four-cylinder engine, putting out 275 horsepower and 273 lb-ft of torque, paired with a six-speed manual transmission and four-wheel drive with a variable center differential. The front strut-type suspension was modified with Bilstein shock absorbers for longer travel, and the control arm width was increased by 3 inches. The fully independent rear suspension was a multi-link design, with Bilstein struts, and retained the original factory chassis attachment points, supplemented with additional points. It rode on 16-inch five-spoke Speedline SL817 motorsport wheels, with 225/45R-16 tires, and braking was handled by a Brembo system with cross-drilled brake discs."
That's carbon fiber and Kevlar on the exterior, along with a modified front bumper with chin spoiler, additional air intakes in the custom grille and hood, widened front and rear fender arches, pronounced side skirts, a rear hatch spoiler, and a custom rear bumper with twin pipe muffler. Inside are Recaro A8 sport seats with integrated head restraints and supportive high bolsters. An early '90s digital dashboard with engine monitoring selection sat in front of the driver, while additional engine and rally controls resided on the dashboard and inside the glovebox.