News
Dodge Shows Crate Hurricanes and Hellephants at SEMA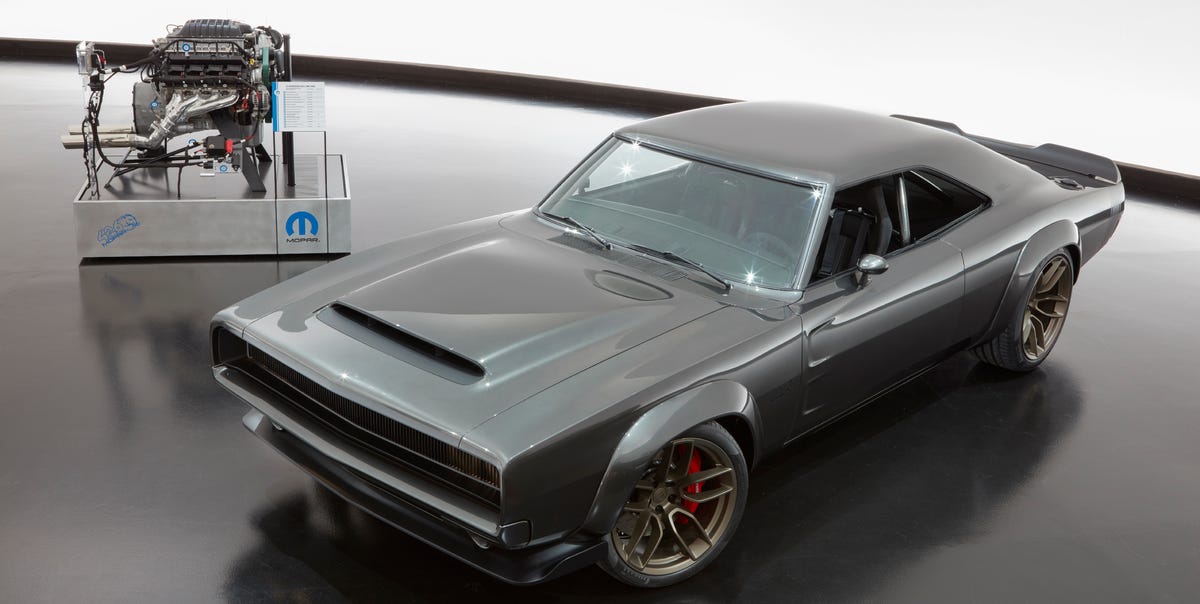 Dodge shows off two crate engine families at this year's SEMA show.
Dodge is rolling out a next-generation Drag Pak engine based off the upcoming Hurricane 3.0-liter turbocharged I6.
Dodge is fleshing its Hellephant crate engine into a whole family of high-performance Hemi power.
---
Dodge is unleashing a fleet of Hellephant crate engines at this year's SEMA show. The Hellephant debuted at SEMA in 2018 as a stand-alone, 426-CID crate engine that boasted 1000 hp. Now Dodge and Direct Connection will sell you a whole array of Hellephant models that range in power and displacement. Dodge is also peeling the curtain back on its Hurricane inline-six-cylinder engine platform, and its plans for next-generation crate engines.
Kicking off the Hellephant line of engines is the entry-level 376-CID, iron-block Hellephant C30, which advertises a cool 900 hp. Cranking it up a notch, Dodge will push that same 376-CID Hellephant to over 1000 hp with the Hellephant C170. The different names represent the percent of ethanol in the fuel (like proof you'd find on a bottle of liquor). If you want even more power, Dodge still offers 426 CID Hellephants under the A30 and A170 banners, with 1000 hp and 1100 hp advertised respectfully. All of these V8 mills sport a 3.0-liter supercharger on top and have upgraded internal parts compared to the production Hemi engine.
If that's not good enough, Dodge and Direct Connection will also offer race-ready Hemi mills. Direct Connection will feature two race-ready Hemi engines in its catalog: the Drag Pak Hemi that makes an NHRA-certified 630 hp from 354 CID, and 1500 hp from the 426 CID Hemi. Though if you're going to want to snag one of these, you'll need a deep bank account. The Drag Pak Hemi will set you back $56,995 and $59,995, respectively.
Dodge isn't only flexing its Hemi might at this year's SEMA show. The team at Dodge and Direct Connection are also making the I6 Hurricane engine available as a crate package. This turbocharged I6 will be available at three power points: 420 hp, 550 hp, and over 1000 hp. This 3.0-liter I6 will carry the Cat1, Cat3, and CatX names, and be sold under the HurriCrate banner.
Making this HurriCrate engine even more interesting, the CatX engine is slated to be the next Drag Pak engine. When asked what Dodge plans to use for its upcoming Drag Pak platform, Dodge boss Tim Kuniskis simply said "TBD." That could mean that Dodge isn't entirely out of the internal-combustion coupe and sedan world, or it could stuff one of these into its upcoming EV muscle cars to meet the needs of NHRA Super Stock drag racing. Regardless, if this turbocharged I6 does make it into the NHRA stock ranks, it could make for an interesting matchup against the V8s from Ford and Chevrolet.
If you're hankering for one of these Hellephant or HurriCrate mills for your next project, you'll have to wait. Dodge says the HurriCrate Cat3 will be available in Q2 of next year, with the base Cat1 available in early 2024. The earliest Hellephant is the 1000-hp A30, which shows up in Q2 of next year, with the C170 expected to follow in Q3. Rounding out the year is the C30, which is set for Q4 of next year. If you want the aluminum A170, you'll have to wait until Q2 of 2024. Though, considering the normal demand for the Hellephant, you might want to get ahold of Direct Connection sooner than later to get in line. As for price, the current Hellephant, which will now fall under the A30 banner, will set you back $29,995. Pricing for the rest of the lineup is still to be determined.
Even though Dodge is making a serious push away from internal combustion, it doesn't seem like Dodge is completely stepping away from turning fuel into noise and motion. More interesting, Dodge is roping its new six-cylinder platform into its crate engine program, which will open the doors for even more interesting custom combinations down the line.
What do you think Dodge has planned for its next-generation Drag Pak? Tell us your thoughts below.