News
Chrysler Synthesis Demo Cockpit Is the Hi-Tech Interior of Tomorrow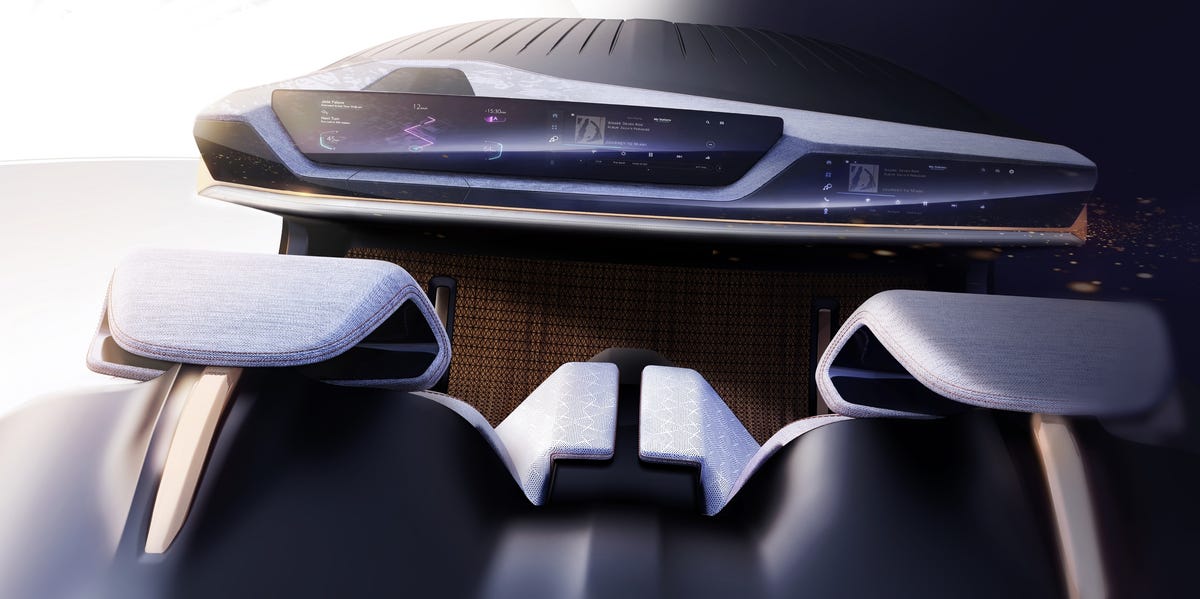 Chrysler is showing off its dashboard of the future at the 2023 CES.
The demo cockpit is called Synthesis and incorporates AI-based systems aimed at making driving easy and fun. It'll even get you to sing karaoke.
This technology may appear on the first of the all-electric STLA Chryslers, due in showrooms by 2025. Look for all Chryslers to be electric by 2028.
---
Last year at CES, Chrysler debuted its all-electric Airflow Concept vehicle sporting "seamlessly connected STLA SmartCockpit, powered by STLA Brain." This year Chrysler zeroes in on the interior and shows a two-seat interior styling buck called Synthesis that further details the SmartCockpit and Brain, as well as STLA AutoDrive technology.
The two-seater demo dash is one more component of the coming all-electric Chryslers that will ride on four different versions of the new, all-electric STLA platforms—one platform underpinning each size group in the Stellantis repertoire. That goes from tiny Fiats to full-sized Ram pickups, and this is what will be inside them all, in one form or another.
Chrysler has already said it will lead Stellantis' electric transformation in the North American market, and it reiterated what it said at last year's CES, that it is on track to launch its first battery-electric vehicle in 2025 and to go all-electric across its portfolio by 2028.
So what's in this Synthesis demo-buck?
"The Chrysler Synthesis helps to manage the friction and chaos of everyday life with thoughtfully connected technology with a contemporary, sustainable environment that anticipates and delivers Harmony in Motion with every customer experience," Chrysler says.
Let's look closer at the information Chrysler provided ahead of the Synthesis launch at CES in Las Vegas.
Think of the "STLA Brain" as the electrical architecture of the Synthesis demo cockpit. It integrates all the STLA SmartCockpit infotainment through a giant, 37.2-inch black glass screen for driver and passenger alike. Over time, the system learns what you like and don't like (and, presumably, gives you only what you like). There are several "Chill/Zen/Fun Modes" available that encourage everything from meditation to karaoke.
It can get information and updates over-the-air while a virtual personal assistant called MyDay "synchronizes all aspects of the customer's digital lifestyle including home, work, and personal devices." The assistant will do everything from installing updates and synching calendars for schedule and route planning, as well as recommending parking spots with EV charging available.
Synthesis also shows off STLA AutoDrive, Chrysler's Level 3 autonomous driving technology that allows you to look away and remove your hands from the wheel (but not take a nap). No timeline was given for the introduction of AutoDrive.
"The Chrysler Synthesis cockpit demonstrator expresses 'Harmony in Motion' through a design language that is contemporary, sustainable, and technology-focused," Chrysler says. "The two-seater cockpit is inspired by the look and feel of the Chrysler Airflow Concept and represents Chrysler's future design direction."
So if you like this, and all the techno-connectors inside it, you might like the new wave of coming Chryslers. You just have to hang on until 2025 to buy one.
Does Chrysler's next-generation cockpit concept sound like it could work for you? Please comment below.