Industry
With New Battery Plant, BMW Likely Secures $7500 Tax Credit for Customers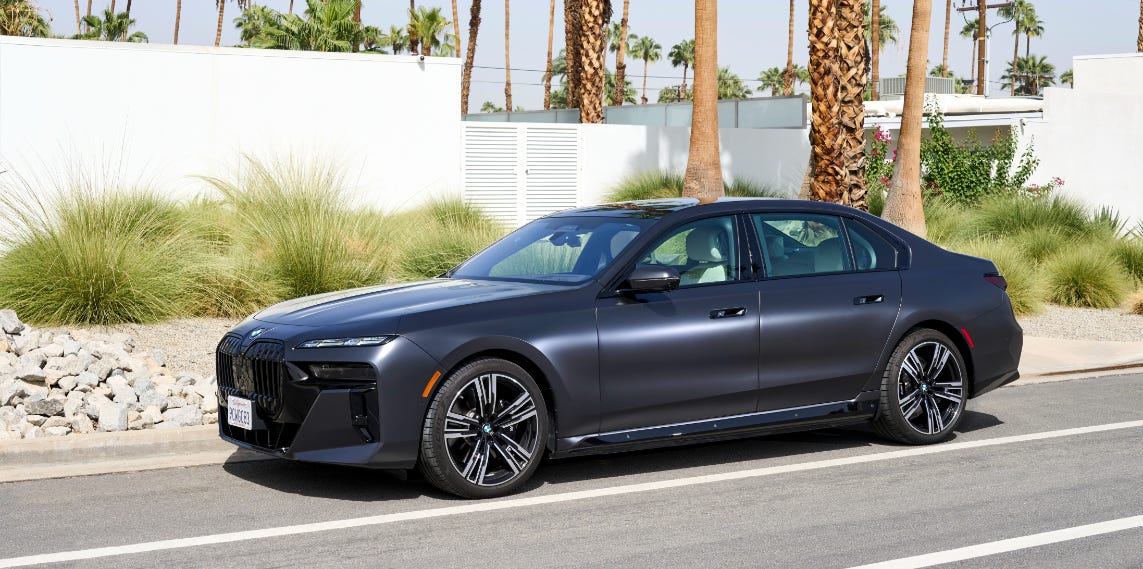 BMW is doubling down on its US manufacturing efforts, as it breaks ground for a new Woodruff, South Carolina, battery assembly facility.
Using battery cells from AESC, BMW says it will increase range by 30% while decreasing lifecycle emissions of its EV models by 40%, thanks to additional sustainability practices.
With a goal of 50% all-electric sales by 2030, BMW is hoping to secure a chunk of the US EV market by making its electrified models eligible for the IRA EV tax credits.
---
BMW is on the electrified bandwagon, even if the company's offerings are outnumbered by cross-state competitor Mercedes-Benz. From battery-electric executive sedans to mild hybrid technology in its top-of-the-line SUVs, the German brand is committed to fitting electrification into its historic performance ethos. However, setting itself up for 50% electric sales by 2030 hinges on strong adoption globally, particularly in the US.
BMW has a plan to help push American buyers to its growing electric lineup, and it starts in South Carolina. Announcing that ground has broken on its new high-voltage battery assembly factory, the Woodruff, South Carolina, facility is poised to provide sixth-generation batteries for BMW's future EVs. At more than a million square feet, the battery plant will be closely tied to the brand's nearby Spartanburg assembly plant, as BMW optimizes its US manufacturing facilities for EVs.
"Today's groundbreaking is the start of a new era at Plant Spartanburg as we prepare to produce fully electric BMW X models for the world," said Robert Engelhorn, president and CEO of BMW Manufacturing. "The road to the future begins here in Woodruff as we build on our legacy of producing high-quality vehicles right here in the US. Plant Woodruff will be state-of-the-art in terms of sustainability, flexibility, and digitalization."
Later last year, BMW invested $1 billion in its US operations, primarily focusing on retooling Plant Spartanburg as well as building an EV training facility. Now, an additional $700 million has been funneled into this battery facility south of Spartanburg, creating some 300 jobs. But BMW can't do it all on its own.
Specifically, the company will purchase battery cells from AESC, a local partner of BMW with a new 30-GWh battery cell factory under construction in Florence, South Carolina. The chemistry of the newly developed round lithium-ion battery cells is specific to BMW, with the company claiming an increase in energy density by more than 20% and a charging speed and range improvement of up to 30%. BMW will be its first customer, as AESC's plant broke ground on June 7.
BMW claims its new battery production facility will set standards for sustainability, as CO2 emissions will be reduced by up to 60%, thanks to the partial use of secondary lithium, cobalt, and nickel material. Similarly, the company says renewable energy will be used to power the plant, specifically focusing on eliminating fossil fuels and using 100% green electricity. Solar panels may also be installed, though BMW doesn't plan to implement this energy source right away. The result for consumers will be a 40% reduction in lifecycle emissions by 2030 for each new BMW EV produced in South Carolina.
Having invested over $12.4 billion into its South Carolina operations since 1992, BMW executives expressed frustration last year over President Biden's federal tax credit initiative, claiming it was a clear disadvantage for foreign manufacturers.
However, with clarified interpretations and no end in sight for North American sourcing and assembly rules, BMW appears to be making its move toward genuinely competing for US EV market share. In doing so, it will likely secure a full $7500 IRA tax credit for its future American EV customers, leveling the playing field among domestic manufacturers like Ford and Tesla.
How do local tax incentives affect your buying choices? Please share your thoughts below.

Associate Editor
A New York transplant hailing from the Pacific Northwest, Emmet White has a passion for anything that goes: cars, bicycles, planes, and motorcycles. After learning to ride at 17, Emmet worked in the motorcycle industry before joining Autoweek in 2022. The woes of alternate side parking have kept his fleet moderate, with a 2014 Volkswagen Jetta GLI and a 2003 Honda Nighthawk 750 street parked in his South Brooklyn community.