Industry
Will Port Charging Be the Next EV Infrastructure Frontier?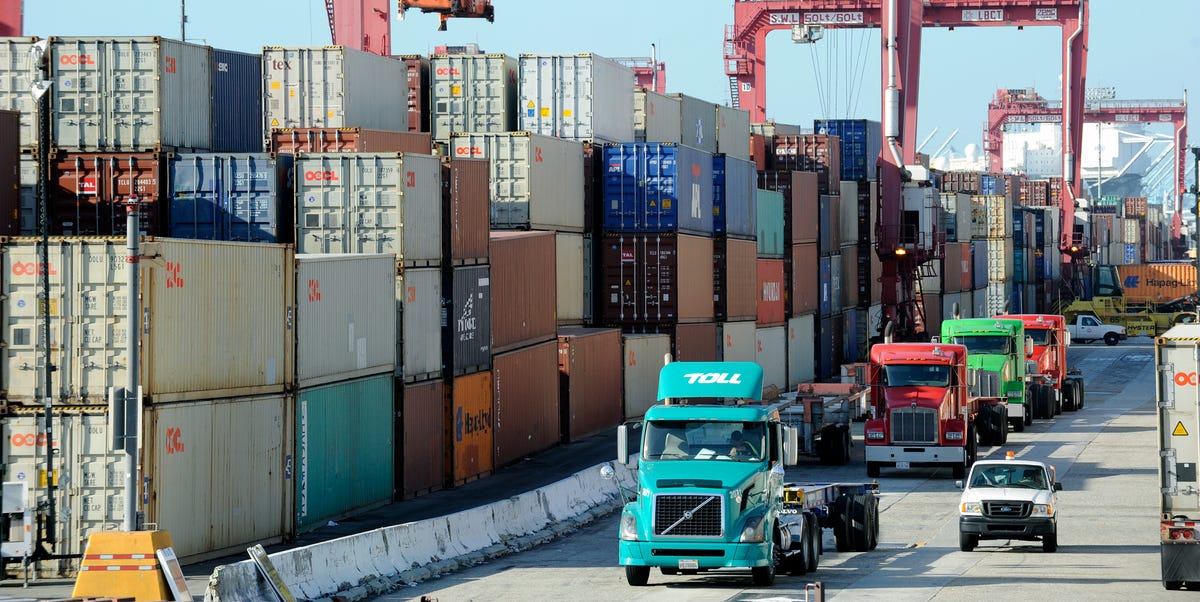 California is holding strong to its strict electrification targets, as it plans to have half of all California-sold heavy-duty trucks electric by 2035.
Electrifying commercial fleets will be an essential step to cleaning up port-based supply chains, but the charging infrastructure for commercial uses is currently lacking.
Private equity firms are investing billions of dollars into the creation of port-based and shipping route-lined chargers in an effort to reduce emissions and make a buck or two as well.
---
California has long been at the forefront of emissions and environmental regulation in the US, as over a dozen states follow its strict passenger vehicle emissions guidelines. As the EV industry grows rapidly, many of these states have also considered following in the Golden State's footsteps regarding electric adoption. But California recently took its EV policies one step further, in a move that may actually have more short-term health benefits.
California Governor Gavin Newsom set the precedent that half of all heavy-duty trucks sold in the state will be electric by 2035, with the 2020 executive order mandating all operations of medium- and heavy-duty vehicles be zero emission where feasible by 2045. And the Environmental Protection Agency approved this plan just two weeks ago, as California spearheads the shift away from diesel-powered trucks.
It's not immediately clear if this timeline is feasible, as it hinges on the advent of additional electric semi-trailer trucks and a dedicated commercial EV charging network. Currently, around 10 electric big rigs are available in the US, with about five of them in service today. Europe is undeniably ahead of us in this regard, as its rate of electric semi-truck adoption is higher and relative trip length is shorter, but US investment firms are looking into reversing this trend. Or at least making some money off of it.
With an estimated 157,000 medium- and heavy-duty chargers needed by 2030, the California Energy Commission has dedicated $1.7 billion to the cause, as it claims only 1000 chargers are currently in use for its range of commercial trucks. Given this abysmally low number of chargers, it's no wonder California is scrambling to add capacity at its ports, especially considering that the Port of Los Angeles just lost its 22-year run as the busiest American port.
The private investors, however, come from a slightly different angle. The CBRE Group is joining forces with Oakland-based energy startup Forum Mobility to build drayage-specific electric charging infrastructure, to the tune of $400 million. BlackRock is also involved, with a $650 million investment to build chargers for the freight network, according to Reuters. Regard of the charging location, these heavy investments from key players send a clear message: The commercial EV industry is likely to be fruitful for energy providers and infrastructure owners.
Reporting from Reuters also claims that most port-based chargers will actually be on trucking company property—not on the public dock—due to pricing and space constraints. This will likely leave the accessibility of these chargers up to private operators, though permitting issues still remain. These space issues also have the potential to play out along common freight routes, as both traditional gas stations and the comparative range of passenger EVs could leave commercial rigs fighting for space on both ends.
Even with the potential for challenges, there is a developing blueprint that state and federal regulators can use to build this network of commercial chargers. Europe's network of chargers is already more robust, with around 2.6 million chargers across the continent. And its commercial EV presence is set to grow exponentially. In just two years, Europe is expected to have 40,000 commercial EVs in service, with an expected 270,000 in use by 2030, according to the European Automobile Manufacturers' Association.
To support this growth, companies like British Petroleum and Milence are focusing on providing charging stations for commercial vehicles exclusively. BP started with half a dozen 300-kW chargers in Germany earlier this year, while Milence (owned by Volvo, Traton, and Daimler) is a hub for commercial charging throughout the continent, with an estimated 1700 chargers on the way.
Phasing out diesel is a common-sense project with a particular emphasis on human health benefits and air quality. And urban bans like those proposed in Paris and Madrid are of particularly sound reasoning, given the unique needs and challenges in such metropolitan cities. Additionally, the scale of Europe and its projected growth in international cargo aviation and maritime imports and exports means that electric big rigs will have a palpable effect sooner rather than later.
In the US, however, the scale of domestic shipping routes and the current ICE truck range plays a major role in our immediate-gratification economy. In order to maintain this style of consumption, it's evident that additional charging infrastructure will have to come before the majority of commercial EVs arrive, lest we encourage consumers to reset their expectations nationwide. Similarly, medium- and heavy-duty vehicles accounted for 26% of US greenhouse gas emissions in 2020 (passenger vehicles accounted for 56%), meaning the electrification of commercial rigs will have a meaningful but secondary effect on our annual emissions. Even so, the introduction of private equity into commercial charging stations could speed up the development and installation, which has the potential to be a win for consumers and operators alike.
Share your thoughts on the topic of medium- and heavy-duty vehicle electrification in the comments below.