Industry
Why This Company Is Confident in Month-to-Month EV Subscriptions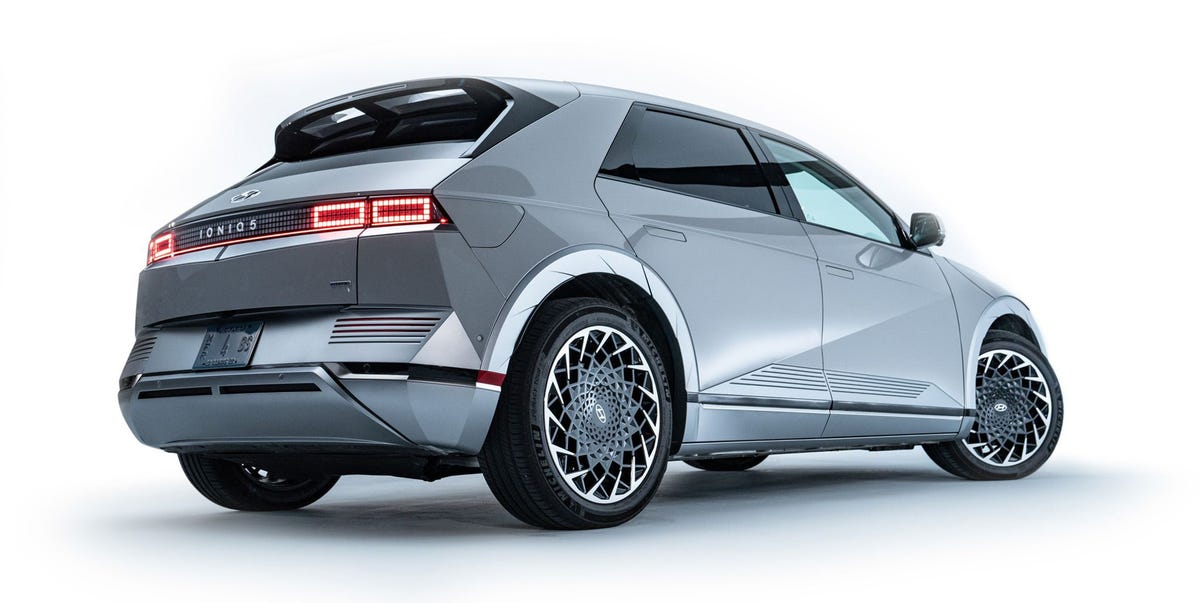 Hyundai announces its new EV month-to-month subscription program, known as Evolve+, with the goal of drumming up EV adoption and providing necessary short-term transportation.
With the Kona Electric or Ioniq 5 (above) available, seven dealerships across the US will soon allow qualified customers to try before they buy, with a one-time $300 delivery fee and a monthly cost of $699 or $899, respectively.
Insurance, maintenance, and roadside assistance are included in the package, though subscribers are limited to 1000 miles within each 28-day period.
---
Convincing consumers to adopt new technology is always a challenge, as preference and familiarity run deep for long-time norms. And the automotive industry's shift toward electrified vehicles, particularly battery-electric vehicles, is no different, with EVs making up 5.8% of US sales last year. That's up from a 2.6% EV market share in 2021, but these zero-emission vehicles still have yet to hit a million units sold per year.
As legacy and startup manufacturers dump resources into EV production, they're simultaneously trying to figure out how to incentivize EV adoption. While some manufacturers simply lower prices and optimize their models to qualify for federal and state rebates, others aim for high-performance numbers or peak luxury experiences to persuade buyers. Hyundai, however, is launching a new path to EV adoption that doesn't involve buying a vehicle at all.
Partnering with its American finance subsidiary, Hyundai Capital, the Korean automaker is set to launch a month-to-month EV subscription program in the US. Known as Evolve+, the subscription plan allows customers to drive a Kona Electric or Ioniq 5 for 1000 miles per month (28 days) at a comparable cost to monthly financing or lease payments.
The company quotes pricing as $699 per month for a Kona Electric and $899 per month for an Ioniq 5, with no down payment, an acquisition fee of $300, and maintenance as well as insurance included. Notably, the program does not require a commitment for more than a single month, meaning subscribers can cancel or renew at the start of each month.
The fine print of this program says that users must be 25 years or older and have had three years of recent driving history as well as a clean driving record. Additionally, a credit score of 650 or higher is required, partnered with a valid credit card. The limit of 1000 miles in 28 days is strict, meaning you will be charged an additional $20.00 per increment of 100 miles over up to 1500 miles. If you exceed 1500 miles, however, you will be charged at a rate of $1.00 per mile. Unused miles do roll over into the next month, should the customer choose to renew.
This program will roll out gradually, starting with just seven dealerships in six states. There are two dealerships in Colorado (Denver and Boulder), as well as showrooms in Oregon, South Carolina, New Jersey, Massachusetts, and Maryland, that will be the first to participate. Hyundai plans to expand this program further, though it didn't specify when, where, or how.
Other manufacturers have attempted subscription programs before with little success. For example, General Motors' BOOK program, an $1800 monthly subscription service that allowed users to swap into a different Cadillac each month, failed less than two years after it was launched. Similar programs from Audi, BMW, and Mercedes were shuttered in 2021, following a program run of two years on average.
These programs were generally difficult for both dealerships and consumers, as the necessary inventory could be hard to come by and sometimes left subscribers waiting for the vehicles they were promised. Additionally, with monthly costs ranging from $1000 to over $3500 a month, the programs were rarely cost-effective for consumers.
Analysis from WardsAuto found that subscription customers have been immediately faced with a confusing value proposition. "It has been difficult for many prospective clients to rationalize the two-to-three multiple premium of the monthly subscription payment against conventional loans and leases," the report reads. Additionally, WardsAuto says that incorrect generalizations about slowing millennial car ownership and the demise of a long-term relationship between vehicles and owners likely played a role in the failure of these services.
Cox Automotive's stance on subscription-based models differs slightly. "The macroeconomic factors make subscription less viable in the current market—shifts in the automotive landscape and challenges with supply. However, every OEM, dealer, and mobility provider has a different flavor that best fits their business.
"The flexible access value story is different for every consumer. An alternative to traditional vehicle ownership, subscription may offer some consumers more simplicity, variety, and flexibility in their transportation choices. It also could be a way to help drive the adoption of electric vehicles, providing EV intenders a platform to test electric vehicles without the long-term commitment."
In fact, Hyundai itself has tried the electrified adoption subscription model before, dating back to 2017 and the original Ioniq Hybrid. It was available under subscription in California only, for a 24- to a 36-month term, and for about $300 a month plus a $2500 down payment. Users were allowed unlimited miles and were reimbursed for charging costs up to the first 50,000 miles; maintenance and service were also covered. Ultimately, Hyundai discontinued the program after two years due to lukewarm reception and somewhat high costs.
Hyundai says this time will be different because of the electrified nature of the program, allowing EV skeptics to try before they buy. Inventory levels and availability will be monitored through the Evolve+ app, potentially eliminating the inventory problems that plagued previous services, and rapid credit approval will be available through Hyundai Capital.
Additionally, Evolve+ will be a true month-to-month program, allowing customers the chance to opt in or out as needed, as Hyundai hopes to capitalize on short-term ownership needs for college students at home or those who spend winters or summers away.
Hyundai says its pricing is competitive with financed or leased models, although the calculated $850 monthly payment for an Ioniq 5 used as an example in Hyundai's press material is tied to a six-year loan at 6.2% APR. Reporting from Edmunds shows the average new car loan rate at the end of 2022 sat at 6.5%, with over 15% of consumers paying more than $1000 per month. In this sense, it's possible that rising interest rates, expensive insurance premiums, and the prevalence of markups could drive consumers to opt for a less involved option at a potentially lower price.
Finally, even if the financials of the program remain unproven, the EV adoption effect could play in Hyundai's favor. Allowing prospective buyers to test out the Kona Electric or Ioniq 5 could push them to eventually buy or lease that exact unit, a process that Hyundai says it is prepared for. That is, if the current dismal state of the charging network doesn't scare off shoppers.
Would you ever subscribe to a service like this? Why or why not? Please share your thoughts below.