Industry
Upgrades for 2024 Jeep Wrangler Could Build Even Greater Fandom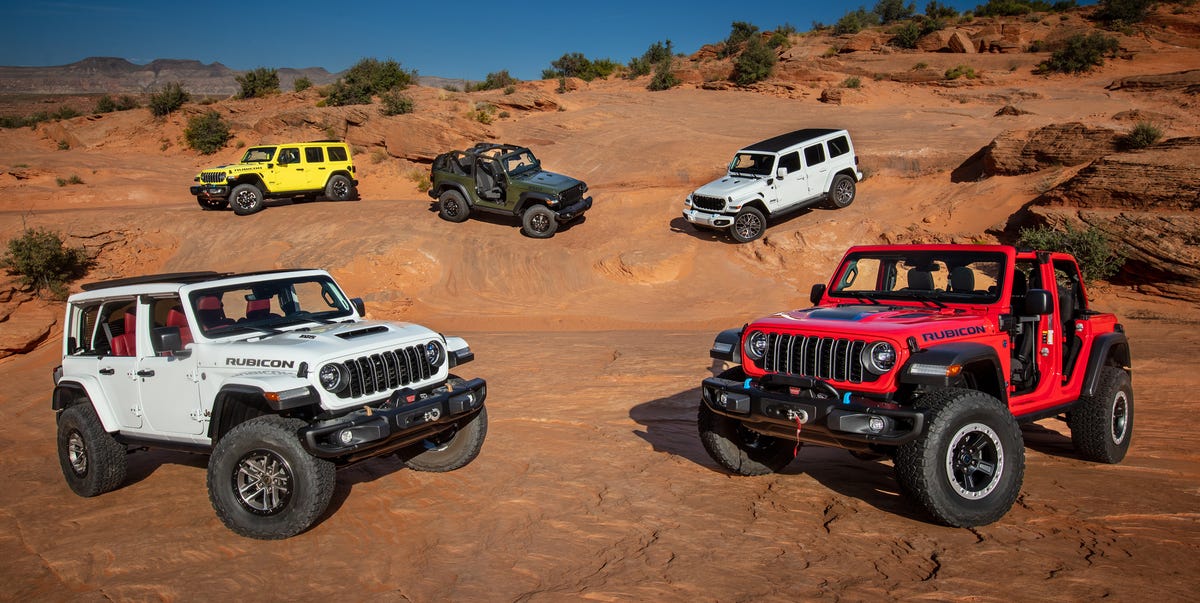 Jeep's Wrangler is a true American classic at this point, having been launched in 1986, but can it survive in the 21st century?
With a new infotainment screen and improved safety features, the 2024 Wrangler makes a strong case for joining the modern world.
The continued market domination of the 4xe plug-in hybrid four-cylinder powerplant appears to be for good reason, as the 3.6-liter V6 remains lackluster and the 6.4-liter V8 version costs nearly $90,000.
---
Banked 14 degrees sideways on a slab of napalm-colored basalt in St. George, Utah, I was most certainly out of my element. You see, my off-road driving experience consists of overspeeding a Volkswagen Golf into sharp Washington fire-road corners and attempting to left-foot-brake my way into a slide (otherwise known as the lamest Michèle Mouton impression west of the Mississippi). But there was a savior on the horizon, as a gray Jeep Jamboree hat poked just over the hood of the vehicle I was dangling in.
After all, that vehicle was a 2024 Jeep Wrangler 4xe Willys, and I was experiencing it in its natural habitat. I didn't go tumbling down a wall of red rock, nor did I bog down in the stifling sand. Void of unnecessary dramatics, the occasional chirp of all four tires was as rowdy as it got from inside the Wrangler.
And while these experiences were new to me, absurd crawling, differential-locking capability isn't new to the team at Jeep and especially not to the Wrangler, with the nameplate delivering such performance since 1986. The shape of the Wrangler hasn't changed much since then either, as the American brand keeps the ladder-type chassis in a box, so to say. Engineering requirements and strong brand heritage are almost equally important in keeping the Wrangler square, but the 2024 model year Wrangler is not like Wranglers before it.
Continuing the fourth-generation chassis lineage, the 2024 Jeep Wrangler lineup consists of eight trims (Sport, Sport S, Sahara, Willys, Rubicon, Rubicon X, High Altitude, and Rubicon 392) and four powertrains (2.0-liter turbocharged inline-four, 2.0-liter turbocharged PHEV, 3.6-liter V6, and a 6.4-liter V8), with pricing as low as $33,690 and as high as $89,390.
With 470 hp and 470 lb-ft of torque from the 6.4-liter Hemi V8, we could debate the merits of a nearly $90,000 Wrangler Rubicon 392 in a few hundred words, but I spent most of my driving impression time with a 3.6-liter Pentastar V6-equipped, four-door Rubicon, and a 2.0-liter turbocharged 4xe PHEV Willys.
Behind the wheel of the Wrangler, it's a tale of two different arenas. After hearing about wobbly steering and stability issues, my on-road experience proved some of these stereotypes right while challenging my own assumptions.
The Wrangler will, in fact, drive in a straight line at (lower) highway speeds and on flat grades with frequent but incremental adjustments, much like any early 2000s SUV. Throw in a slanted road, some potholes, plus speeds above 70 mph, and the Wrangler makes you work hard to stay within your painted bounds.
Whatever throttle position you choose won't make much of a difference either, at least when equipped with the 3.6-liter Pentastar V6. Besides the acceptable low-end torque shove, the 285 hp and 260 lb-ft of torque from the V6 is more noisy than powerful. In the face of the 4xe's 2.0-liter turbocharged and electrified 375 hp and 470 lb-ft of torque, the V6 felt especially lacking, as the dual-charged inline-four provided gobs of instantaneous torque and acceptable top-end acceleration.
The 850RE eight-speed torque converter automatic transmission also performed amicably, for a combined 17 mpg from the V6 and 21 mpg from the 4xe after a day's work, and even allowed for somewhat peppy manual gear selection.
I forgave the Wrangler almost entirely for its wobbly on-road behavior and middling V6, however, when the folks from Jeep Jamboree sent me to the off-road park in a 4xe Willys. Equipped with an MP3022 Selec-Trac transfer case (with a low range ratio of 2.72:1), a Tru-Lok electronic locking differential, and 285/70R17C BFGoodrich All-Terrain T/A KO2 tires, the instructors assured me that even a novice can manage this course in a Wrangler.
With years-certified hardware and confidence-inspiring software like tire guides and a front-facing camera, I managed to scale rocks 45 degrees up and descend narrow canyons with just some light pedal modulation.
Even with E-Save mode turned on, the 2.0-liter powerplant pulled me through loose sand and up slippery inclines with ease, in addition to recharging the 17.3-kWh lithium-ion hybrid battery on the way down.
The fact that a stock Wrangler is rock-crawling capable or that the 4xe is a fantastic choice isn't exactly news though, especially when the company adds Dana full-float axles to certain models for 2024 and self-reports a 38% take-rate on the 4xe. However, what makes the 2024 Jeep Wrangler genuinely fit for the modern world is actually its interior.
With a new dashboard design that honors the original Willys models, Jeep has managed to make the Wrangler feel 21st-century ready, with the centerpiece of this horizontal dash being the new 12.3-inch infotainment touchscreen. Using Stellantis' proprietary Uconnect 5 system, 2024 Wrangler owners can now create up to five individual profiles, connect two phones via Bluetooth, and even pull up a specific off-road trail map feature (depending on trim and location).
This system is complemented by an improved hands-free voice recognition feature, which uses an array of microphones to improve command understanding. The screen and accompanying features worked flawlessly whether connected wirelessly or by one of seven USB ports, though the TomTom navigation system (which can be found on other Stellantis products like the Maserati GranTurismo) is nothing to write home about.
But the improvements go far beyond a new screen, as Jeep added acoustic front glass, thicker carpet, and additional sound-deadening foam in the windshield header, front cowl, and B-pillars for a 5-dB quieter ride. Beyond the requisite tire noise, the Wrangler was acceptably quiet to my ears, and Jeep says these upgrades allow for a 50% improvement in speaking clarity among passengers too.
Power seats are now available as well and Jeep has even tested these seats for water fording. True adventurers need not be alarmed either, as Stellantis' Head of Interior Design, Ryan Nagode, said the Jeep brand is committed to retaining some analog pieces, like a traditional gauge cluster as well as non-powered seats and windows for those who want them.
Safety hasn't always been the Wrangler's strong suit, as exampled by a study from the IIHS which found that Wrangler passengers have a high risk of head or neck injuries in a crash. But the team at Jeep set out to address safety concerns, particularly those of passenger injuries, by standardizing first and second-row side curtain airbags.
Additionally, the Wrangler features second-row outboard seatbelts with pre-tensioners and load limiters, complimenting Jeep's claimed structural improvements. The IIHS will be the final judge of these safety improvements, but the move by Jeep is further proof that the brand sees a long future with the model.
And the brand has good reason to plan for long life with the Wrangler, as the model represented over 181,000 of Jeep sales in 2022. Only bested by the Grand Cherokee, Wrangler also holds the prestigious title of best-selling plug-in hybrid in America for now, with 43,176 4xe units sold last year. And while the Wrangler has always possessed a sort of cult following, these new quality-of-driving upgrades could push the model into even greater fandom with the general public.
Do you think a better off-roading counterpoint to the Jeep Wrangler exists today? If so, why is it better? Please share your thoughts below.

Associate Editor
A New York transplant hailing from the Pacific Northwest, Emmet White has a passion for anything that goes: cars, bicycles, planes, and motorcycles. After learning to ride at 17, Emmet worked in the motorcycle industry before joining Autoweek in 2022. The woes of alternate side parking have kept his fleet moderate, with a 2014 Volkswagen Jetta GLI and a 2003 Honda Nighthawk 750 street parked in his South Brooklyn community.