Industry
This Company Sold More EVs than Any Other but Tesla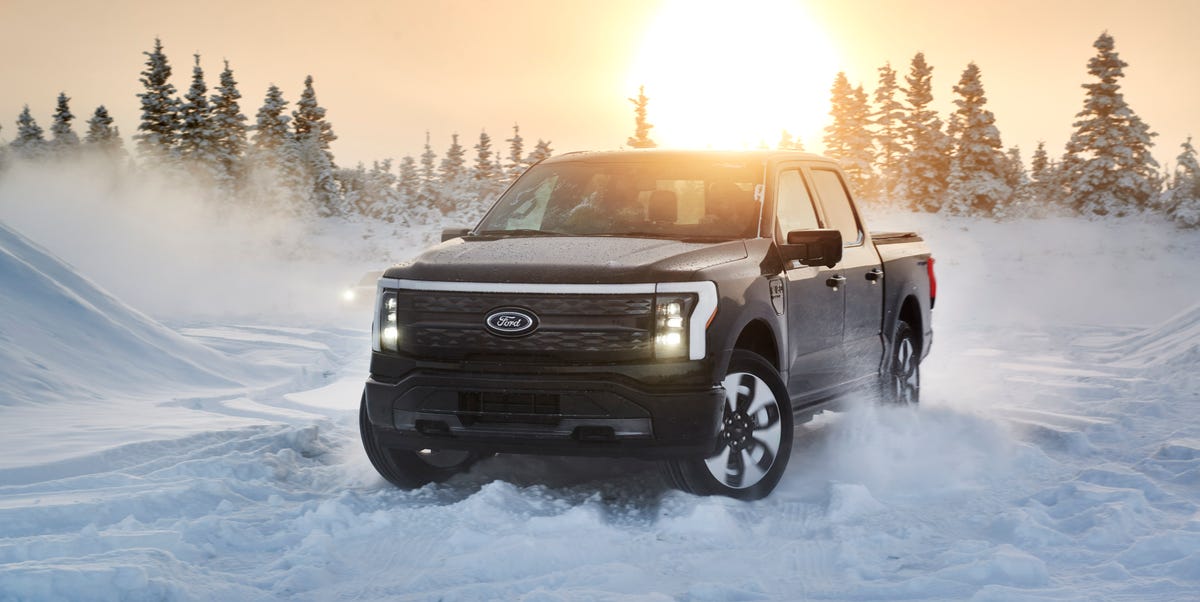 Ford sold 653,957 F-Series trucks in 2022, down 9.9% from 2021. That tally includes 15,617 battery-electric Lightnings (pictured above).
But outselling the Lightning within the Ford stable was the Mustang Mach-E battery-electric, up 45.4% from the prior year to 39,458 units in 2022.

The Ford Explorer was the automaker's next-bestseller after the F-Series, at 207,673 units.
---
Ford Motor Company sold 1,864,464 cars and trucks in the US last year, a 2.2% decline from its 2021 tally, the company announced in its sales report Thursday. This places the automaker behind second-place Toyota Motor North America and General Motors, which reclaimed the top-spot in sales from Toyota in 2022.
Leading the industry as the best-selling model nameplate was the F-Series half-ton and heavy-duty pickup trucks, of which Ford sold 653,957 in 2022, down 9.9% from 2021. Of those F-Series sold last year, 15,617 were battery-electric Lightnings.
Ford also sold 39,458 Mustang Mach-E battery-electrics, up 45.4% from the prior year. Of the 99,382 Transit vans it sold last year, 6500 were all-electric E-Transits. That adds up to 61,575 Ford EVs, to back the company's claim it is in second place for EV sales in the US, behind Tesla, which sold an estimated 525,000 vehicles here last year.
Hyundai sold 22,982 Ioniq5 EVs in the US in 2022, plus 408 Nexos. The company did not break out the number of Kona EVs it sold last year (out of 63,964 of all Konas sold).
GM delivered 39,096 EVs in the US last year, including 38,120 Chevrolet Bolts, 122 Cadillac Lyriqs, and 854 GMC Hummers. It should be in the hunt in 2023, with rampup of Lyriq production, introduction of the Chevy Silverado all-electric pickup and announced near-doubling of Bolt production to 70,000 units.
Of Ford Motor's total 2022 US sales, 1,780,078 were Ford-brand models, a 2.1% decrease from 2021, while 83,486 were Lincolns, down 4%. Lincoln's bestseller was the Corsair crossover, at 27,668 units, up 21.4%. Sales of the Lincoln Aviator SUV also rose last year, by 5%, to 21,997.
The Ford Explorer was the automaker's next-bestseller after the F-Series, at 207,673 units, down 5.5%. Ford sold 74,370 Maverick pickups in its first full year (up from 13,258 in 2021), though the compact truck may have eaten into the midsize Ranger's sales, which were down 39.8%, to 57,005.
Bronco sales in its first full year totaled 117,057 (from 35,023 in launch year 2021), outselling the Bronco Sport at 99,547, down 8%. Bronco's main rival, the Jeep Wrangler, was down 11% in 2022, to 181,409.
With a new, seventh-generation Mustang on the way for 2024 (and the last to be powered by internal combustion), sales of the current model slipped 9.2% in 2022 to 47,566, though still outselling the electric Mach-E by 8207 units.
Ford Mustang easily outsold the Chevy Camaro (which was down 12.6% to 24,652) although Dodge continues to dominate the muscle-car segment, with the Challenger at 55,060 last year, up 1%.
Perhaps some of these muscle cars will convert to all-electric by decade's end, but only one has been confirmed to date: the Dodge Daytona Charger SRT.
Looking ahead to late 2024, do you see Ford and General Motors battling for EV supremacy, and perhaps even passing Tesla? Please comment below.