Industry
Tesla Recalls All Models Equipped with 'Full Self-Driving' Beta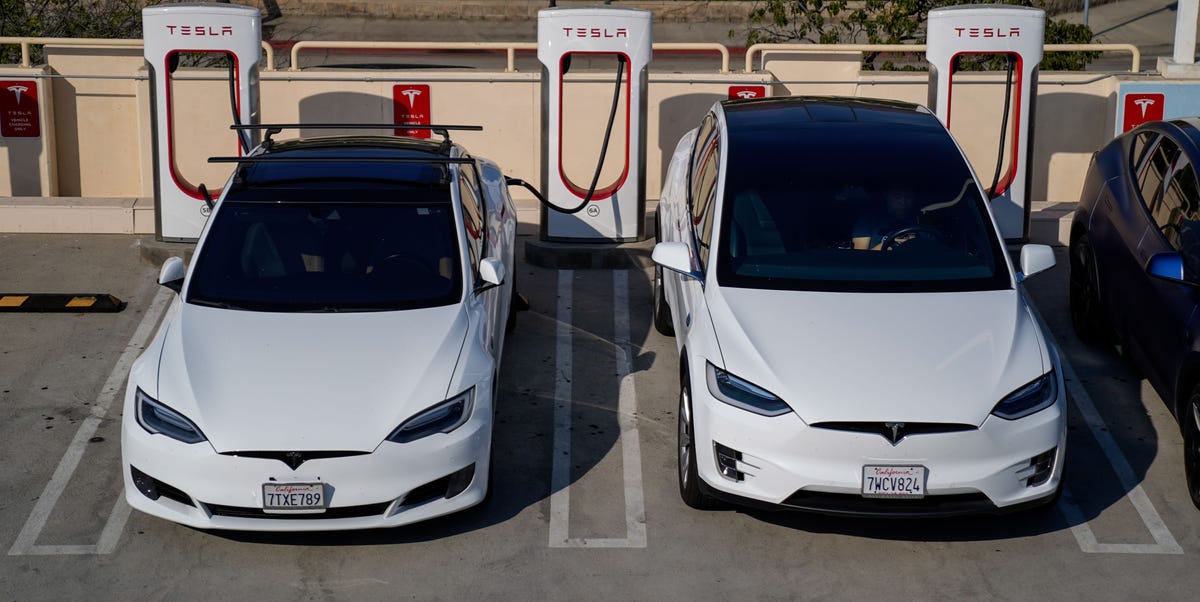 Kent NishimuraGetty Images
The National Highway Traffic Safety Administration has announced a 362,758-model recall on Teslas equipped with the Full Self-Driving Beta.
Model S, Model 3, Model X, and Model Y units are all on recall, with an over-the-air remedy to the driving behavior of the FSD Beta expected to roll out in the coming weeks.
Instances of failure to yield to yellow lights, not stopping at stop signs, and even continuing straight while in a turn lane were of particular concern to the NHTSA.
---
When Tesla announced the roll-out of its Full Self-Driving Beta software in late 2020, owners were ecstatic while safety watchdogs feared the worst. At its core, the Full Self-Driving Beta (FSD) was a particularly confident SAE Level 2 semi-autonomous system, in spite of Elon Musk's grand claims and, at times, fabricated advertisements. Now, after hundreds of thousands of Tesla owners have opted into FSD, an official recall has been issued by the National Highway Traffic Safety Administration following an accumulation of high-profile crashes.
In total, 362,758 vehicles equipped with the company's experimental driver-assistance software will be recalled. Specifically, Tesla Model 3 units from 2017-2023, Model S units from 2016-2023, Model X units from 2016-2023, and Model Y units from 2020-2023 with FSD equipped are subject to the federal recall, which was released earlier today. A remedy is already available, with the NHTSA saying that Tesla will provide an over-the-air update to customers at no cost with revised driving behavior under certain conditions.
"The FSD Beta system may allow the vehicle to act unsafe around intersections, such as traveling straight through an intersection while in a turn-only lane, entering a stop sign-controlled intersection without coming to a complete stop, or proceeding into an intersection during a steady yellow traffic signal without due caution," the recall notice reads. "In addition, the system may respond insufficiently to changes in posted speed limits or not adequately account for the driver's adjustment of the vehicle's speed to exceed posted speed limits."
The recall report goes on to say that the Autosteer function of the FSD Beta is particularly dangerous, with the possibility for it to execute maneuvers before drivers could realistically intervene. Instances of failure to yield at yellow lights, not stopping full at stop signs or stopping for excessive periods, rapid speed adjustments, and even navigating out of turn-only lanes to continue traveling straight were all regularly documented. Finally, as with any Level 2 semi-autonomous system, NHTSA emphasizes that drivers were expected to take over at a moment's notice, even if Tesla's marketing appeared otherwise.
While this is the first official FSD recall, it's not exactly surprising considering the various levels of scrutiny that Tesla is under. In the case of the NHTSA, an associated investigation into the company's hands-on driver assistance software known as Autopilot was opened in August 2021, following a series of Autopilot-engaged crashes into stationary objects. Additionally, the US Department of Justice opened a criminal investigation into Tesla's potentially misleading Autopilot rollout, with the company receiving a document request from the DOJ just two weeks ago.
These federal investigations pile on top of state-level lawsuits from around the country, with a number of Autopilot fatality suits ongoing in California and Florida.
This recall comes at a time when Tesla prices both new and used have been fluctuating rapidly, with even legacy manufacturers responding accordingly. As Elon Musk slashed and then raised the price of new Tesla models to meet federal tax credit rules and to match the current EV sales rates, used Tesla took a market-value beating as a result, with an average 4.8% drop in used prices across the Tesla lineup early this year.