Industry
Tesla Exports Cheapest Model Y Yet from China to Canada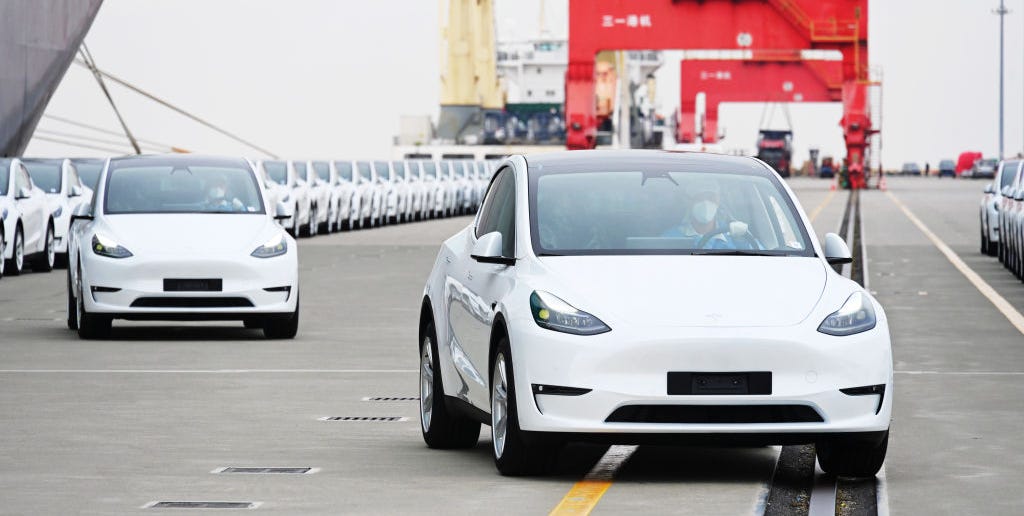 Tesla is still dominating EV sales, but market encroachment in North America is making Tesla rework its production plans and model lineups.
For the first time ever, Tesla is exporting a low-end, RWD Model Y from its Shanghai factory to the Canadian market, with deliveries set for May.
At a base price of $44,275 USD and with 245 miles of range, around 9000 units of this new trim are expected to be produced this quarter, with production set to continue into the summer.
---
Chinese-built Tesla Model Ys will soon populate Canadian roads, according to Reuters. The new rear-wheel-drive units will be built at a low price point and to Canadian specifications with deliveries set for May through July. Notably, this will be the first time Tesla ships Chinese-built units to North America.
These Model Y crossovers are being made to provide a more accessible version for Canadian customers, who were previously receiving US-built models. With a $7377 price cut and a subsidy certification from Transport Canada, these Model Ys will sell for $44,275 USD, as compared to the current low-end pricing of $46,990 in the US. Specifications between Canada and the US will differ significantly, as the RWD Canada-spec Model Y achieves an EPA-rated range equivalent of 245 miles, while the entry-level Model Y in the US (which is AWD) gets an EPA-rated range of 279 miles.
Tesla CEO Elon Musk has previously said the Shanghai plant is the company's most efficient facility from a cost and production standpoint. As a result, Reuters reporting suggests Tesla aims to produce around 9000 of these Canada-bound units just this quarter.
It's no secret that Teslas sell well across the globe, and North America is a hotbed for the sleek electric sedans and crossovers. In fact, Tesla sales accounted for 79% of the US EV market in 2020, and two years later—in a market growing rapidly with EVs from legacy automakers—Tesla managed to hold 62.4% of EV sales in 2022. And these numbers carry over to Canada, with Tesla accounting for nearly half of all 2022 ZEV sales in Canada.
A lot of this success is attributable to being an early producer of battery-electric vehicles with a consumer-ready feel, but Tesla's production prowess shouldn't be ignored either. Starting off with its Fremont, California, plant, the company has maximized production capacity for a claimed 650,000 vehicles per year, though it currently produces around 570,000 annually, according to senior director of vehicle operations at Tesla, Hrushikesh Sagar.
The company also has an eventual domestic capacity for an additional 250,000 units coming out of its Austin, Texas, plant. At the Shanghai factory, Tesla produced 710,865 units in 2022. Tesla's Berlin Gigafactory is currently responsible for about 4000 units a week, the company said in a statement, which should equal around 200,000 units by the end of this year, with a future capacity for 250,000 units annually.
Traditionally, these factories have produced vehicles for their respective regions, though hundreds of thousands of Chinese-built Model Ys and Model 3s have been delivered to Europe. After multiple, pandemic-related shutdowns, Tesla's Chinese factory has been mostly back online since the start of the year.
However, this shakeup in Tesla's typical production and delivery plans signals strategic changes are happening behind closed doors at Tesla. Joined with fluctuating prices and a drop in EV market share, it's clear Tesla is trying to maximize its profits through streamlined production and encourage new customers through low prices.
It's extremely unlikely any of these Chinese-built Model Ys will be exported to the US, given the prohibitive costs for Inflation Reduction Act tax credit-disqualified models. However, this move by Tesla shows that an even lower price point is possible from Tesla's most popular model. If this model succeeds in Canada, it's possible the American market could receive this more accessible version, as Tesla continues to lose EV market share to Ford, Hyundai, and others.
Is this lower-end Tesla Model Y appealing to you? Why or why not? Please share your thoughts below.