Industry
Shelby Adds Active Sound to Make Electric Mustang Mach-E Growl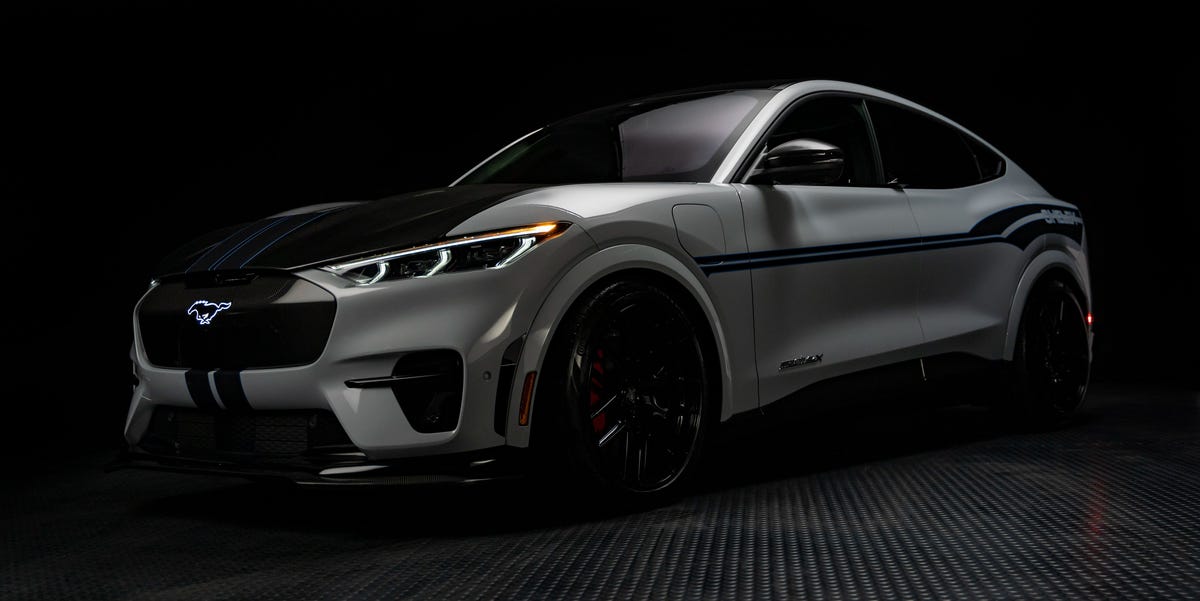 Shelby American has a performance kit for the Mustang Mach-E.
It adds (a little) handling and cosmetics to the electric SUV but also adds a Borla active exhaust that makes it sound like a mighty muscle car.
Problem is, the kit's only available in Europe, where it costs 24,900 Euros. It won't be out until July over there.
---
You knew Shelby American had to eventually expand to electric cars, and the Mustang Mach-E was the perfect car to do it with. Behold: the Shelby Mustang Mach-E GT.
"The Shelby team focused on reducing weight, making it smoother, providing auditory appeal and tailoring the styling to increase performance," Shelby American said.
"This is our first foray into a production electric vehicle, so we spent a great deal of time testing EVs on the track to understand their unique handling dynamics," said Vince LaViolette, Shelby American Vice President of Operations. "Based on that experience, we lowered the SUV over an inch, cut weight off the top of it, reduced rotating mass to enhance stability, and enhanced the aerodynamics."
Shelby added a carbon-fiber hood and splitter, custom lightweight wheels that save four pounds per corner, and a handling package. The kit also includes cosmetic features like carbon-fiber mirror caps and door trim, racing stripes, floor mats, Shelby badging, and even an official Shelby CSM ID number.
But it was the auditory kit that sounded (no pun intended) the most interesting.
This content is imported from YouTube. You may be able to find the same content in another format, or you may be able to find more information, at their web site.
The Borla Active Performance Sound system won a SEMA award for Best New Electric Vehicle Product for 2023. The system starts with a hidden speaker mounted under the rear end of the Mach-E. Borla then went to great lengths to record internal combustion-engined vehicles equipped with its own exhausts, using multiple microphones to "capture all characteristics of ICE audio, including idle, ramps to redline, cruising, throttle lifts, burble and pops and more." Then, using real-time data from the Mach-E's computer, the Borla system generates a "hyper-realistic ICE soundtrack that perfectly matches the EV motor status and other vehicle dynamics. Watch a demo and listen to it on YouTube. It sounds real.
Problem is, the Borla system isn't out yet. Go to Borla's website and it says, "Coming Soon."
"We anticipate shipping by Fall of 2022 for Mustang Mach-E…" Borla says.
Furthermore, the Shelby American package is only for the European market, and production there doesn't start until July. Cost in Euros is 24,900. Yikes!
But the Shelby kit could make it to the US market if there's interest.
"We elected to initially offer the Shelby Mustang Mach-E GT only in Europe because sales of EVs are growing much more rapidly there than in the USA," said Aaron Shelby, board member of Carroll Shelby International and grandson of the company founder. "And from 2016 to 2021, the number of public EV charging stations increased by 431% across Europe. It just makes good business sense for Shelby American."
So write to Shelby now and tell them to offer this kit here. Or write to Borla and get on the waiting list. There's no price listed on the Borla website, but it's gotta be less than 25 grand.
Do you think auditory enhancements like this will make EVs more appealing? Please comment below.