Industry
Nissan Hops on the Tesla NACS Charging Bandwagon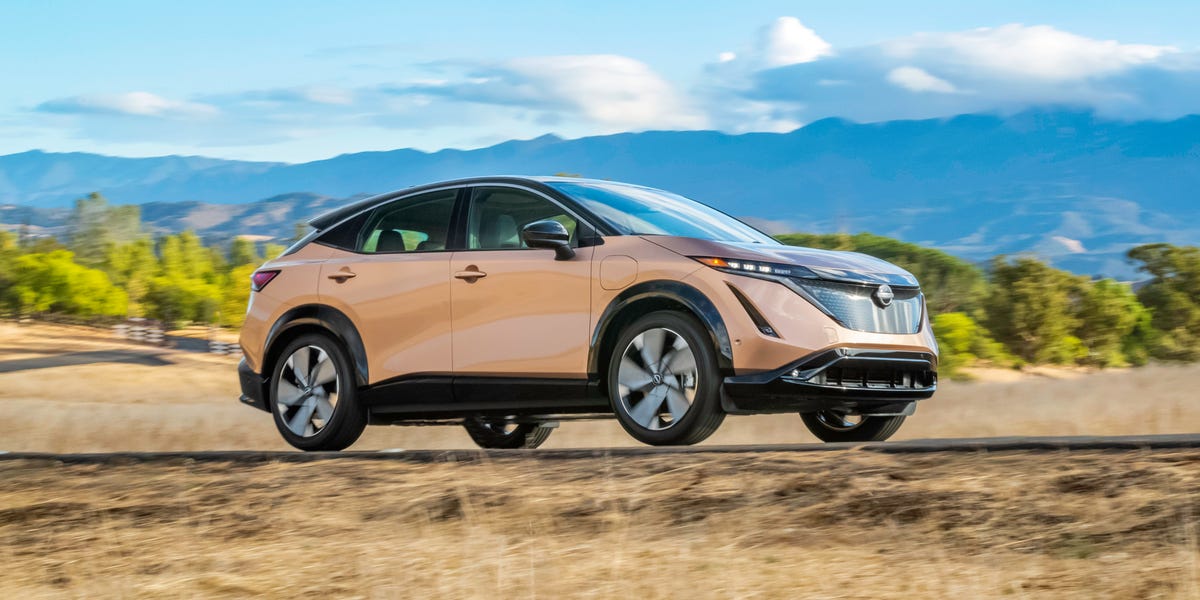 With Tesla's North America Charging standard dominating the infrastructure conversation, it's no surprise that a Japanese manufacturer has decided to join the pact.
Similar to Ford, General Motors, and Volvo, Nissan will first provide NACS adapters for its 2024 model-year Ariyas, before integrating NACS ports into its 2025 model-year EVs.
Nissan has committed to reaching 40% EV sales share by 2030, and it figures increasing charger availability for its customers is a surefire way to drum up interest.
---
With two-thirds of the Detroit Three, a few European manufacturers, and Rivian paving the way for integration into Tesla's North American Charging Standard, it seems only right that a Japanese manufacturer is joining the club. And it's a manufacturer that has historically taken more risks than its traditional counterparts at Toyota and Honda.
The brand is, of course, Nissan, complete with its occasionally quirky designs and somewhat forward-thinking ethos. And it may be getting ahead of the curve here again, at least compared to its national competitors.
That's because Nissan has forged a deal with Tesla to integrate its current and future fleet of North American available EVs into the North American Charging Standard. Starting early next year, Nissan Ariyas will be sold with an NACS adapter, which will allow Ariya owners to maximize their charging options at both Combined Charging System and NACS-equipped chargers.
In 2025, Nissan says its US and Canadian-market EVs will come from the factory with NACS charging ports, though the company doesn't name the Ariya directly. Nissan confirms for Autoweek that new EVs will come with NACS ports in 2025, meaning adapters may be necessary to use CCS chargers. Nissan also declined to comment on whether the automaker would retrofit Ariyas in 2025 with NACS ports.
Beyond initially providing access to Tesla Superchargers, which were recently named the most reliable chargers by JD Power, Nissan's agreement to adopt the NACS by 2025 signals a further push toward true North American standardization. And it could help increase Nissan's EV sales in the short term, as soon-to-be Ariya owners can take advantage of additional charging infrastructure. Notably, the aging Nissan Leaf is not included in this news, as the model still uses the first-generation CHAdeMO charging port.
"Adopting the NACS standard underlines Nissan's commitment to making electric mobility even more accessible as we follow our Ambition 2030 long-term vision of greater electrification," said Jérémie Papin, chairperson of Nissan Americas. "We are happy to provide access to thousands more fast chargers for Nissan EV drivers, adding confidence and convenience when planning long-distance journeys."
This announcement builds on Nissan's Ambition 2030 plan, which shows the brand targeting more than 40% of its US vehicle sales to be fully electric by 2030. As a part of this plan, Nissan says it will reveal two all-new EVs that are set for production from Nissan's Canton, Mississippi, plant, further indicating the company's commitment to the North American market.
Questions remain about which manufacturers are planning to adopt the NACS, though rumors of Stellantis joining the agreement are getting stale. Hyundai has confirmed its own interest in the pact as well, though Toyota, as well as Honda (which has yet to launch a new battery-electric car of its own), have remained completely silent on the matter.
Unsurprisingly, Elon Musk himself has publicly encouraged Toyota to jump on the bandwagon, though the company's historically measured approach suggests it wouldn't do so without a thorough investigation.
Have you tried using a Tesla NACS adapter to charge your non-Tesla EV? How did it go? Please share your thoughts below.

Associate Editor
A New York transplant hailing from the Pacific Northwest, Emmet White has a passion for anything that goes: cars, bicycles, planes, and motorcycles. After learning to ride at 17, Emmet worked in the motorcycle industry before joining Autoweek in 2022. The woes of alternate side parking have kept his fleet moderate, with a 2014 Volkswagen Jetta GLI and a 2003 Honda Nighthawk 750 street parked in his South Brooklyn community.