Industry
Mini Teases Next-Generation Cooper Hardtop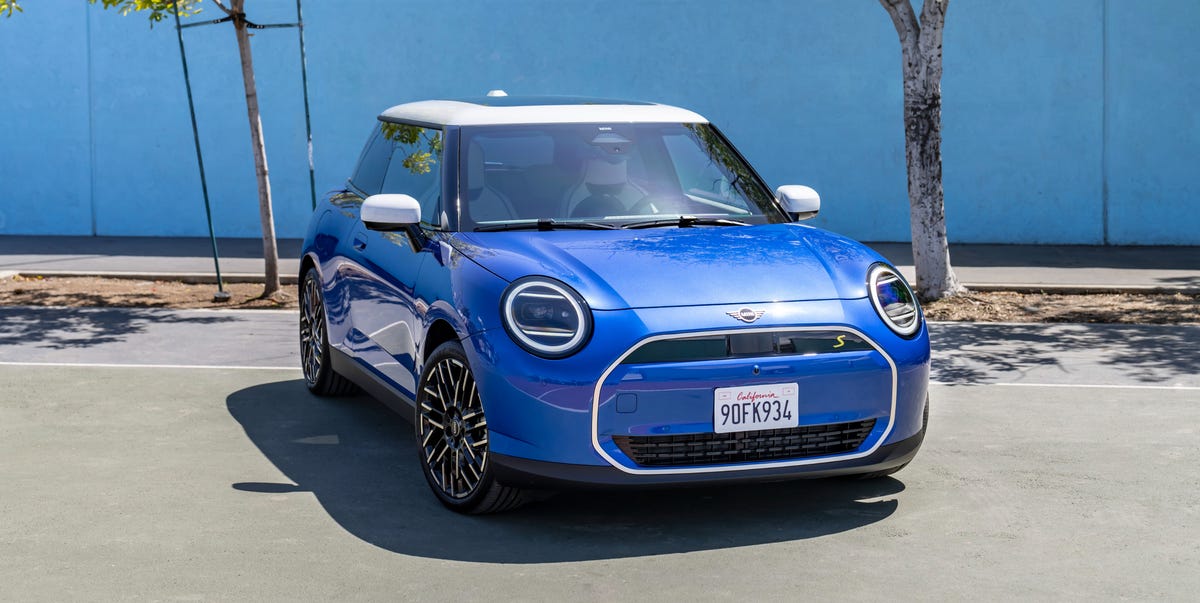 Mini has been following the same sales strategy for years now, but the adoption of electrification is shaking up its classic offerings.
With the last generation of Cooper launched in 2014 and the Clubman on its way out, Mini is set to unveil a new generation of Cooper two-door hardtops.
For Mini to hit its target of 50% electric sales by 2027, the company will unveil a Countryman EV, and this latest Cooper teaser could signal a new generation of Cooper SE.
---
The public wasn't supposed to see this car yet. But the modern, connected world we live in doesn't allow test mules to exist peacefully anymore. Even something as pedestrian as a new-generation Mini Cooper is liable to early release the second it hits the streets, which is exactly what happened last week.
In this case, it was spy shots out of Europe (on a car carrier no less) that revealed Mini's newest generation of two-door hardtops, clad in yellow and black camouflage. But additional spy shots of the Mini in Los Angeles leaked late last week, revealing a familiar but more athletic shape. As a result, Mini decided to share these official images with the public tonight, though the company declined to provide any additional information.
These teaser shots visualize a strategy that Mini has revealed itself. For one, it's likely this model is battery-electric or plug-in hybrid, as it has few front-end air intakes for cooling purposes. The BMW-owned company is going to focus on electrification in the coming years, as its first electric model (the Cooper SE) hit dealerships back in 2020. Going forward, electric vehicles will make up half of global MINI sales by 2027, with the last gasoline-powered Mini set for reveal in 2025 and the full electrification of the fleet by 2030.
BMW has committed to a similar timeline, as it starts by electrifying some of its most luxurious models, but Mini's compact offerings make it perhaps better primed for electrification. The current electric Cooper SE is severely range limited at 114 miles estimated, largely due to its small 32.6-kWh battery. However, a 3100-pound curb weight places the electric Mini amongst the lightest road-going cars today, even compared to gasoline-powered models. If Mini can increase the battery size slightly, or increase the charge speeds of its smaller battery, the updated range offering could be adequate for the metropolitan driving for which Minis are designed.
Visually, this next generation of Mini hardtop is more angular than its predecessor. Its fender flares and front end have been flattened, following decades of bulbous and rounded forms, in a move that echoes BMW's current design philosophy. In fact, the side angles of the Mini resemble the current BMW 2-series coupes. The Mini's space-age, flush wheels imitate the wonky wheels found on the current generation Cooper SE, further indicating that this unit might be an EV. Even with a clear re-fresh, the classic Mini shape has been preserved, as its iconic brand is built on visuals as much as mechanics.
Because Minis have continued to physically grow over the years, it's likely this new generation will be built on BMW Group's FAAR platform. This platform is made mostly for front-wheel-drive cars and is split into two size categories, such as the current BMW 228i, evolving on the UKL chassis used in the previous generation Mini. Prospective buyers can also expect a refreshed cabin, as the current interior was launched with the model back in 2014.
While it is exciting to see a new car before you're really supposed to, this model isn't exactly groundbreaking at a glance. Mini has the chance to prove us wrong with its power and range, but we do suspect this will be a continuation of the current Cooper SE. However, Mini enthusiasts should keep their ears open and their eyes peeled for an incoming electric John Cooper Works, as well as an all-new EV crossover, and an electrified Countryman too.
Can Mini make waves in the electric compact car segment? Please share your thoughts below.