Industry
Here's How SEMA Will Give the Aftermarket a Major Boost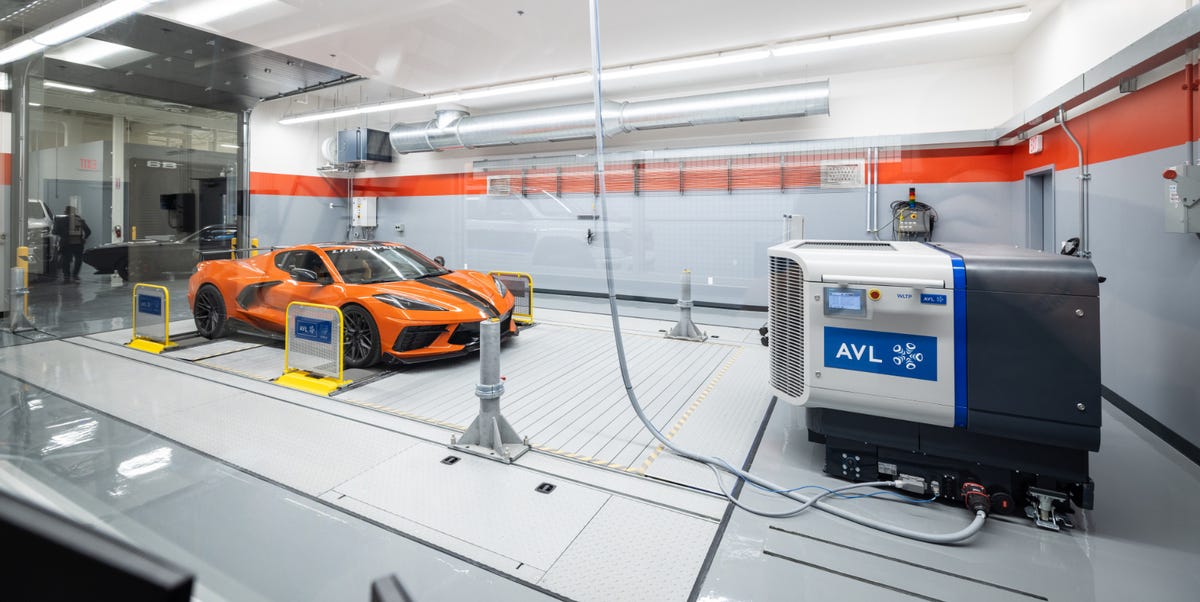 Now fully operational, SEMA Garage Detroit will welcome SEMA's 7000 member companies to test their aftermarket products and navigate the bureaucratic maze of emissions certification.
The facility will give member companies access to scanning services, a training center, 3D printers, and other advanced tools and equipment.
SEMA is keeping an eye on the restomod market, convinced some classic car owners will want to convert their vintage Camaros to battery-electric power—a notion of heresy to many.
---
When shopping online for aftermarket goodies for your car, it might seem like the wild west while cruising the internet for rims, tonneau covers, floor mats, lift kits, running board lights, and more horsepower. It's the mission of the Specialty Equipment Market Association to maintain some order in a world where any part you want can get shipped to your house within a couple days.
A recent expansion beyond SEMA's home base in Diamond Bar (east of Los Angeles, the hub of all things aftermarket) puts the 501(c)(3) non-profit organization in metro Detroit, close to major automakers, their product-development labs, and—equally important—their component suppliers.
It's been a long journey to Detroit: The SEMA team started researching the idea in January 2019, and by year's end the board approved expanding to the new facility. The process was moving along in early 2020 until the COVID-19 pandemic put the whole plan on the backburner in March of that year. Shopping in Detroit for the right location would have to wait.
It was about a year later that SEMA President and CEO Mike Spagnola and his crew found (and purchased) an ideal location in Plymouth Township, northwest of Detroit amid a growing cluster of automotive suppliers and technology startups.
Within three miles of the new location, Spagnola has identified 83 Tier 1 automotive suppliers or SEMA members with operations. Cast a broader net and the potential audience is massive.
It took 16 months to gut the Plymouth building and turn it into SEMA Garage Detroit. As of this month, it's operational.
This 45,000-square-foot research and validation facility will welcome SEMA's 7000 member companies to test their aftermarket products and—on the powertrain side—navigate the bureaucratic maze of emissions certification so those products can be sold to car enthusiasts.
This work has been done for the past nine years at SEMA's facility in Diamond Bar, but there's a backlog of at least three months' worth of emissions certification projects there, which is exactly why this new facility in metro Detroit became essential. It's three times the size of the Diamond Bar lab and has SEMA's first four-wheel-drive dynamometer, capable of 2500 hp. (Diamond Bar has a 2WD dyno.)
The California Air Resources Board recognizes the emissions lab in Diamond Bar, and in February SEMA will submit final paperwork to CARB for approval of the new Detroit operation. Once approved, aftermarket companies eager to introduce new superchargers, intake manifolds, or exhaust systems can have those products tested and validated for sale in California and all other states.
Since opening in 2014, the Diamond Bar lab has helped manufacturers secure more than 600 executive orders from CARB—more than any other testing facility. Without an executive order ("EO" as they're known in SEMA-speak), a product can't be sold. It's like a golden ticket, and extremely difficult to obtain.
"If every T wasn't crossed, every I dotted, the applications got rejected," Spagnola told Autoweek. For many years, aftermarket companies couldn't find labs to do the certification work, or the process would be cost prohibitive.
But you don't want to bypass the legislative process and start selling products that haven't been certified: "The fines for not getting that work done is $37,000 per part sold," Spagnola says. "And so our manufacturers were being sued by EPA and CARB and with major fines. So they were really, really, in a bad place with this process."
The CARB certification process used to take a glacial two years, but SEMA has cut that to between three and six months. A product with CARB certification can be sold in all 50 states. But for some products, federal certification will suffice, and the new SEMA Garage Detroit is located 20 minutes from the EPA's National Vehicle and Fuel Emissions Laboratory in Ann Arbor, where engines can be tested for in-use compliance and where fuels and fuel additives and exhaust compounds can be analyzed.
It also helps that AVL, the world's largest independent company for simulating and testing powertrains, is located a mile away from the new Plymouth Township lab and is supplying new equipment for it.
Beyond certification work, the SEMA Garage Detroit will allow member companies access to scanning services, a training center, 3D printers, and other advanced tools and equipment. Members can use the center for product reveals, photography, and how-to/installation video production.
The new facility will also host exclusive "OEM measuring sessions" where automaker engineers will be available to talk about quality, dimensions, and specifications for new vehicles soon to arrive, so the aftermarket can be ready with new products to offer enthusiasts.
Ford's popular new Bronco is a good example. Six months before it went on sale in 2021, SEMA in Diamond Bar got a Bronco from Ford so aftermarket companies could have hands-on access to computer-aided digital data for the suspension, for instance.
"We could give that suspension CAD data to the manufacturers. They could do their modifications in CAD, from that suspension data. They could then send us that file, and we could 3D-print those parts, install them on the vehicle, and check to see how they work," Spagnola says. A prototype test drive would follow.
Before SEMA offered this service, aftermarket part producers used calipers and did a lot of manual time-consuming work on their products before even dealing with the manufacturing side. "You had to actually build a prototype," without a 3D printer, "and then try to see if that would fit," he says.
At the SEMA Garage, Spagnola says manufacturers can develop fully functional prototypes in as little as two weeks.
In another example, SEMA was able to send CAD data for a product to a member company in Japan that built fender flares and body kits. "We scanned the vehicle in California and sent those files electronically to the manufacturer," Spagnola says. "In Japan, that manufacturer built the parts, sent them back to us, and they fit exactly perfect. We can do CAD data within 1/1000 of an inch, which is basically (the thickness of a) hair on your head."
Part of the new SEMA Garage will be devoted to the ever-complex segment of advanced driver-assistance systems, such as blindspot detection and adaptive cruise control. A new venture for SEMA, this ADAS Center will let component manufacturers obtain static calibration of on-board sensors, radar, and cameras—they key enablers of ADAS technologies.
The goal is to help SEMA members troubleshoot software/hardware obstacles, while working on dynamic testing. Suspension kits that lift a truck or lower a vehicle impact (often negatively) how all those sensors function. There are no industry standards to guide these component manufacturers, but an even bigger challenge is recalibrating the ADAS systems after a collision.
"So we worked alongside the collision industry to understand what it would take to develop a training center and a validation center," Spagnola says. "So we built that here."
The new SEMA Garage Detroit opens a lot of doors in the aftermarket world, even in the emerging sector of electrification. Spagnola and his team are keeping an eye on the restomod market, convinced some classic car owners will want to convert their vintage Camaros to battery-electric power—a notion of heresy to many.
"We see that as a huge, burgeoning market for us, and we are currently working with motor manufacturers, battery-pack manufacturers, harness manufacturers—all the electrical components needed to convert vehicles from gas to electric," Spagnola says.
Even before the metro Detroit facility opened, the Diamond Bar lab helped SEMA members usher literally thousands of components to the aftermarket. With the additional facility, the flow of new add-ons for your car should grow exponentially.
Do you spend much time shopping for parts in the aftermarket? If so, please share your experience in the comment section below.