Industry
Here's How Ford Dropped F-150 Lightning Prices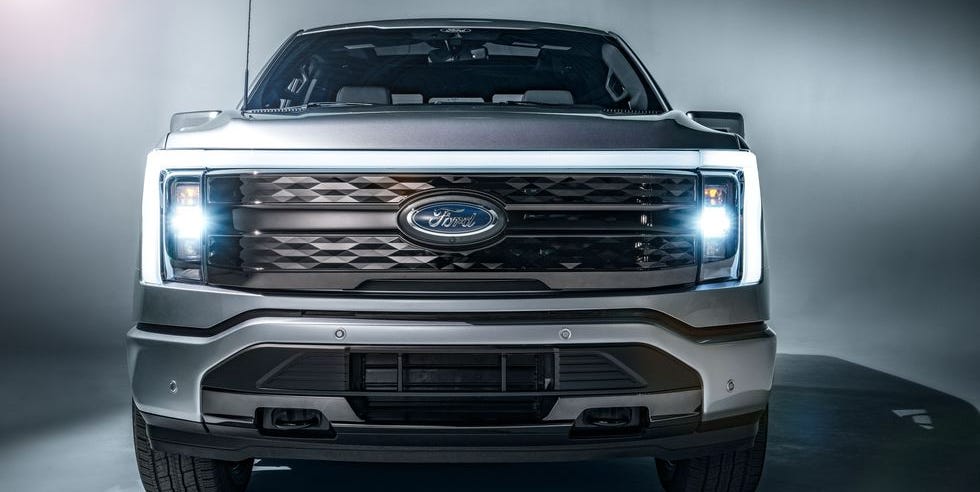 Ford's F-150 Lightning was originally marketed as an accessible, all-electric alternative to the traditional work truck, but rising prices quickly killed that dream.
Over the course of 10 months from 2022 through 2023, Ford continually increased the price of the electric truck, but the company now says it will drop the prices back down.
As Ford prepares to triple annual production rates, the Dearborn manufacturer is now offering F-150 Lightnings for anywhere from $6000 to nearly $10,000 less.
---
If you've been itching to buy Ford's premier F-150 Lightning electric pickup, then now might be the time. For the first time since the truck's release in April 2022, prices are actually going down from the factory by nearly $10,000 in some trims.
According to a pricing chart provided by Ford, the base model Pro and preceding XLT 311A trims are both receiving a $9979 price cut, bringing their respective sticker prices to $51,990 and $56,990. That includes a standard, across-the-lineup $1995 destination fee, up from the original $1795 charge.
XLT 312A and the accompanying Extended Range model drop by $8479 and $8879, respectively, while the Lariat 510A yields a smaller price cut of $6979. Ford's pricing isn't particularly consistent either, as the Lariat Extended Range version drops by $8479 while Platinum Extended Range pricing only reduces by $6079.
That means the most expensive F-150 Lightning Platinum Extended Range actually falls below $100,000. More importantly, however, Ford's F-150 Lightning Pro is now marginally closer in price to its original claimed MSRP of $41,669. Even so, this drop in price comes after three consecutive increases in 2022 and another in 2023, with base model prices rising over 30% higher than initially claimed by Ford. Notably, every trim except the Platinum Extended Range is now eligible for $7500 federal EV tax credits, as they fall below the $80,000 pricing restriction.
But how does Ford explain this significant reduction in price? For the exact reason that prices had to go up initially: production and material costs. With company projections showing a tripled annual run rate at the Rouge Electric Vehicle Center by this fall, Ford says it can finally afford to lower the price of the F-150 Lightning. Contributing to this decision is falling raw material costs for batteries, too.
"Shortly after launching the F-150 Lightning, rapidly rising material costs, supply constraints, and other factors drove up the cost of the EV truck for Ford and our customers," said Marin Gjaja, chief customer officer, Ford Model e. "We've continued to work in the background to improve accessibility and affordability to help lower prices for our customers and shorten the wait times for their new F-150 Lightning."
Is it a coincidence that cross-town rival General Motors is rolling out long-awaited battery-electric versions of its Chevy Silverado and GMC Sierra full-size pickups? There's no denying an EV price war has been simmering amongst manufacturers like Tesla and Ford for months now, but some industry experts say Ford's choice to lower F-150 Lightning prices is different.
With a claimed annual production pace of up to 150,000 units, Ford is likely trying to rid its dealer lots of late-model trucks as order books open up. And the Dearborn manufacturer is even incentivizing new buyers with a $1000 bonus for retail customers who build their own XLT, Lariat, or Platinum truck before July 31.
Despite the not-so-subtle pricing battle between Tesla and Ford, both manufacturers are warming up to each other, as plans for Tesla-born, Ford-adopted NACS charging is set for early 2024. Access to Tesla Superchargers will be a huge capacity gain for all manufacturers adopting the charging standard, but Ford and General Motors will be particularly eager to take advantage of it, as both domestic manufacturers battle Hyundai and Kia for a podium in the EV unit sales race.
Could EV price wars eventually put off prospective customers? Or will the luck of the pricing draw entice enough potential buyers? Please share your thoughts below.

Associate Editor
A New York transplant hailing from the Pacific Northwest, Emmet White has a passion for anything that goes: cars, bicycles, planes, and motorcycles. After learning to ride at 17, Emmet worked in the motorcycle industry before joining Autoweek in 2022. The woes of alternate side parking have kept his fleet moderate, with a 2014 Volkswagen Jetta GLI and a 2003 Honda Nighthawk 750 street parked in his South Brooklyn community.