Industry
GM Cancels Chevy Bolt, Expects Ultium EVs to Bolster the Bottom Line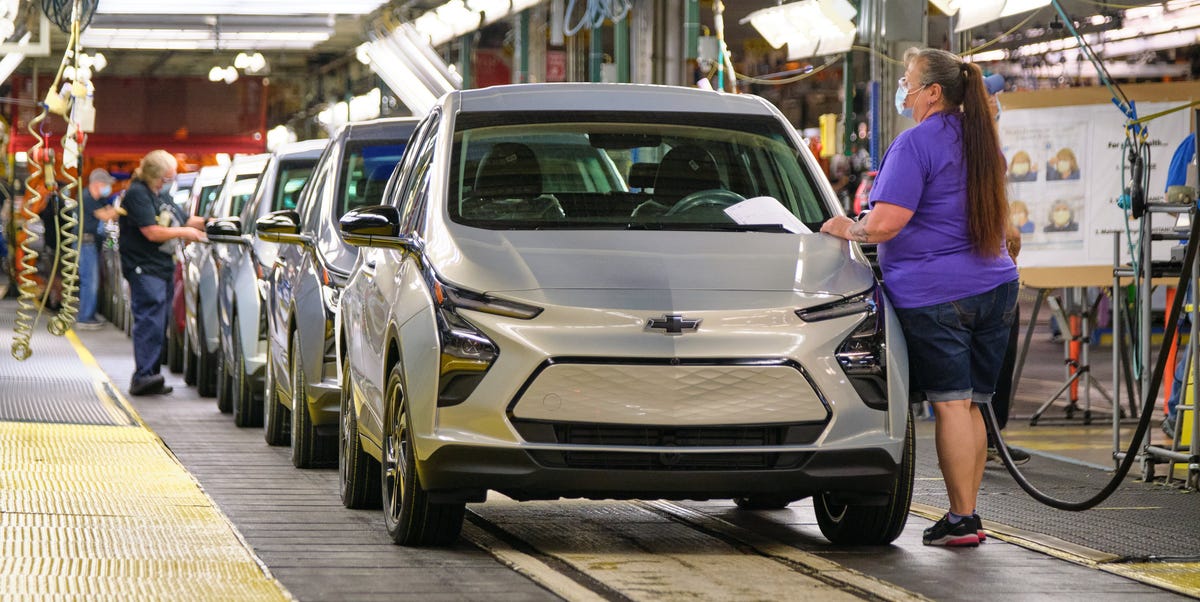 The Chevrolet Bolt and Bolt EUV helped boost the automaker to second place in electric-vehicle sales in the US, though still well behind Tesla.
Replacing the Bolt on GM's Orion, Michigan, assembly line will be the 2024 Chevrolet Silverado EV and GMC Sierra EV full-size pickups.
GM expects to double overall revenues to between $275 billion and $315 billion by 2030, when the company expects half its sales to be EVs.
---
General Motors has canceled its Chevrolet Bolt and Bolt EUV just as they propel the automaker to second place in electric-vehicle sales in the US, though still well behind Tesla.
When the last Bolt leaves GM's Orion assembly plant in the Detroit area, 2024 Chevrolet Silverado EV and GMC Sierra EV production will go in, contributing to company-wide capacity (including Factory Zero in Hamtramck) of 600,000 electric trucks per year, potentially accounting for a large chunk of GM's goal of producing 1 million EVs in North America in 2025.
The shift from Bolts to Silverado EVs also represents GM's commitment to a single EV platform, Ultium, which surely is more cost-effective and potentially profitable compared with the pre-Ultium 2017-2023 Chevy Bolt. As an affordable, relatively high-volume EV, the Bolt will essentially be replaced by the Equinox EV (also on Ultium underpinnings) launching this autumn.
GM expressed its optimism for a prosperous 2023 and a profitable EV future in its first-quarter earnings call with Wall Street investment analysts Tuesday, in which CEO Mary Barra talked about just-announced plans to build a new, $3 billion battery manufacturing plant in the US. It will begin making nickel-rich prismatic and cylindrical cells in 2026, with location and employment levels to be announced later.
In its Q1 investor deck, GM said Tuesday that Ultium is a "key enabler in launching high-volume EV products into multiple segments," and the automaker expects to double revenues to between $275 billion and $315 billion by 2030, when the company expects half its sales to be EVs.
GM is fortified by the Biden administration's Inflation Reduction Act and its EV tax credits of up to $7500, with local content and production requirements increasing through 2028, though with no cap on the number of EVs produced by a given company.
The automaker estimates EV gross revenue of $50-billion-plus in 2025, of anticipated total gross revenue of at least $225 billion, and a "low to mid-single digit" earnings before income taxes-profit margin that year. Cell cost is expected to be below $87 per kilowatt hour ("under $100" was the first-level target GM announced three years ago).
Barra reiterated GM's plan to produce 400,000 EVs between last year and the first half of 2024, and to have capacity for 1 million EVs in North America by 2025.
In the Q&A, one investment analyst asked whether GM might soon match Tesla's high profit margins, which are surely falling as the EV-maker cuts prices to prop up demand as an onslaught of competitors enter the market.
"We're going to work toward portfolio growth," Barra responded. "We are not giving up on our ICE portfolio," but, "we are very targeted at having the EVs at the right price-point."
Three-quarters of GM's current capital and engineering expenditures are going to EVs, said Chief Financial Officer Paul Jacobson, with the remainder devoted mostly to mid-cycle updates of its internal-combustion-powered portfolio.
GM's new Ultifi software platform (which, controversially, ditches Apple CarPlay capability) could generate up to $25 billion in annual software and service revenue, including OnStar, by 2030. Barra said Ultifi will reduce the portfolio's infotainment screen configurations by 60%.
Barra touted sales of GM's high-content trucks, with the top trim levels of the Chevrolet Silverado HD taking 52%, and of the GMC Sierra HD taking 30% of orders. Top-level and off-road versions of the Chevrolet Colorado make up 60% of orders, and AT4 and Denali versions account for 75% of GMC Canyon builds.
Meanwhile, the CEO said, the Chevrolet Trax and Buick Envista crossovers, both starting under $30,000, are capturing consumers who had otherwise given up on affordable vehicles.
Also notable is the new Brazilian-built Chevrolet Montana, a pickup truck based on the Trax (like Hyundai's Santa Cruz), which has more than 10,000 initial orders in its home country.
GM reported $3.8 billion in earnings (EBIT) for the first quarter of 2023, down 6% year-over-year, on revenues of $40 billion, up 11.1%. The automaker raised its full-year earnings guidance by half a billion dollars, estimating it will earn an EBIT-adjusted $11-$13 billion for the full year. GM said it expects the US market will sell 15 million vehicles in 2023.
Are you confident GM will be able to keep Chevy Equinox EV base pricing in the $30,000 range, like the now-departing Chevy Bolt? Please comment below.