Industry
Ford, Hyundai, GM, VW Try to Build Their Way to EV Supremacy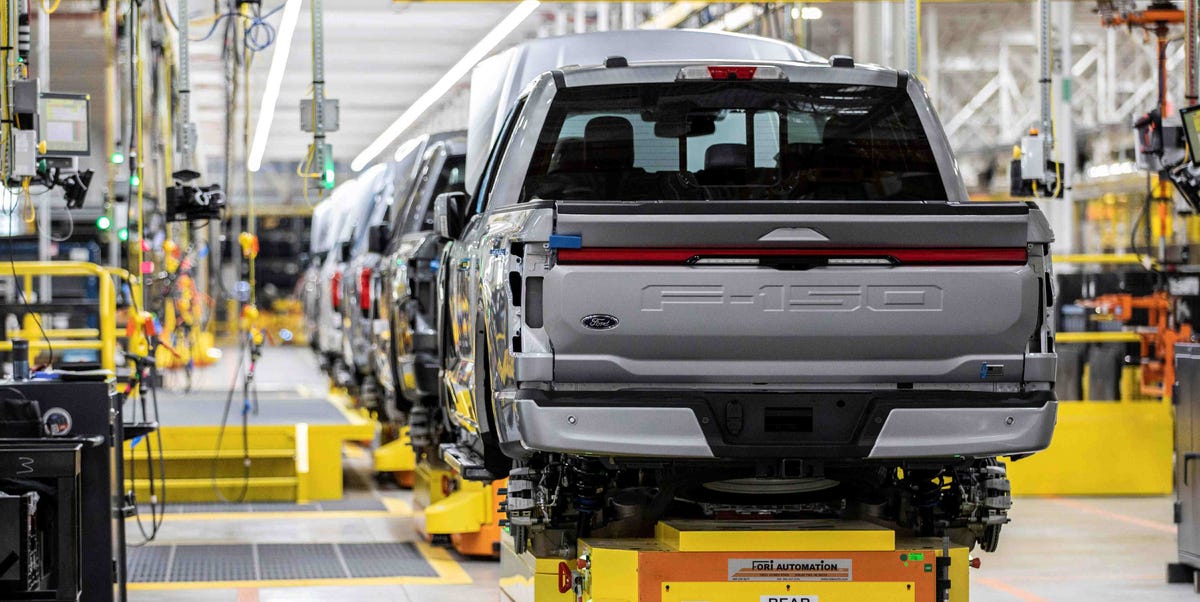 Electric vehicles are a non-negotiable fact of business for manufacturers at this point, but increasing EV adoption will require more than consumer enthusiasm.
Beyond raw material shortages, the biggest hurdle for automakers will be scaling production, though some manufacturers are already getting ahead of the game.
Ford, Hyundai, GM, and VW are investing billions of dollars in domestic EV factory construction, but will it be enough to reach their rapidly approaching sales goals?
---
"I'll believe it when I see it," says the EV skeptic, as they turn the key of a car made by a brand that is slowly but surely ridding itself of internal combustion. For the most part, it doesn't matter if this skeptic drives a Ford or a Toyota—everyone is going electric. Even Lotus.
But beyond layers of callousness and decades of gasoline rituals, the EV skeptic has a point. How is this transition really going to happen, with automakers and politicians intent on meeting sales targets?
As Robert N. Charette points out in his recent analysis of the EV marketplace, perhaps we are moving too quickly. Yes, we need to bring EVs to market and, yes, it will have a positive sum result on our efforts to reduce climate change, but only if we do it right. In fact, doing it wrong may have more severe unintended consequences for consumers, manufacturers, and the world, Charette says.
"Transforming the energy and transportation sectors simultaneously will involve a huge number of known and unknown variables, which will subtly interact in complex, unpredictable ways," Charette explains. "As EVs and renewable energy scale up, the problems and the solutions will cover ever-expanding populations and geographies. Each proposed solution will probably create new difficulties."
But that doesn't mean Ford, Hyundai, General Motors and Volkswagen should stop building EVs, right? Of course not, but they couldn't stop even if they wanted to. Beyond publicly committing to building EVs en masse, there is actually demand for it. Cox Automotive estimates that 809,739 total battery-electric vehicles were sold in the US last year, accounting for about 6% of total domestic sales. Those numbers do not include gas-electric hybrids.
Additionally, Cox Automotive predicts the sale of electric vehicles in the US will surpass 1 million units in 2023, with strong electric sales in the first months of 2023. Specifically, luxury electric brands are regaining traction after a sharp dive last year, with Rivian and Lucid garnering a respective 563% and 192% year-over-year Q1 sales bump. Tesla also had a fruitful first quarter, with a 39.5% rise in year-over-year sales and a 37% sales increase as compared to the last quarter of 2022.
This trend is slated to continue into the future as well. AutoForecastSolutions anticipates 64.2% of the electrified vehicle market will be made up of battery-electric vehicles by 2026. That number is forecast to reach 72% by 2030, with non-plug-in hybrids accounting for the next highest market share at 11%.
These forecasts, in conjunction with the commitments made by manufacturers, indicate that a whole bunch of EVs should be coming at us fast. In order to do this, however, manufacturers across the globe are investing in what will be one of the largest markets for EVs: North America.
Ford, in particular, has been dumping money into its growing EV lineup, with two EV-dedicated plants in progress. Blue Oval City is an all-new facility near Memphis, Tennessee, that will be initially used for second-generation EV truck production, all at the cost of $5.6 billion. Joining forces with battery supplier SK, Ford's Tennessee plant will cover 3600 acres and can pump out 500,000 vehicles per year.
Compared to this investment, Ford's latest announcement of a full EV retrofit for its Oakville, Ontario, plant seems like a drop in the bucket. With $1.8 billion invested, Ford will reinvent its former assembly hub for EV manufacturing and battery packing, though the company didn't say what this facility's production rate would be. Because this plant is currently assembling Ford Edge and Lincoln Nautilus, Ford expects to have electrified production lines rolling by 2025, around the same time that Blue Oval City will launch.
Likewise, Hyundai announced a Georgia-based plant for EVs last year and is in the process of getting that factory online. However, to compete on a global level, the Korean company just announced its domestic growth plan, costing some $18 billion. This will allow for increased production of 1.51 million units annually, with the set goal of 3.64 million EVs produced annually by 2030. By upgrading Korea's EV ecosystem, the company says it can become a global hub for innovation—and potentially a top three EV producer.
Asian markets are embracing EV technology, but the push for US-based production is not lost on foreign manufacturers. Volkswagen is setting up its newly formed Scout Motors, a wholly owned EV branch of VW Group, in South Carolina. With 1600 acres and $2 billion invested, the brand is set to employ around 4000 people in the name of increasing production of battery-electric crossovers and SUVs, though parts of this deal hinge on local government approval.
Automakers are also acutely interested in the raw materials necessary for making EVs. Specifically, GM Ventures is leading a $50 million investment into Energy Exploration Technologies Inc. for additional lithium extractions. Specifically, EnergyX will continue developing North America's lithium supply, in order to meet provisions of the Inflation Reduction Act, while mitigating raw material shortages and supply chain disruptions.
Going forward, the battle between manufacturers for EV supremacy will ride at the heels of Tesla, as it continues to dominate the class by a wide margin. However, as Tesla vehicles continue to age, there is room for domestic and foreign manufacturers to take the number two spot for North American EV sales. The quality of these EVs will matter, but only as much as the production capacity and company-wide support for these vehicles. And brands like Ford, GM, and Hyundai are arguably ahead of the curve, so it very well could pay off.
What would best incentivize you to choose a battery-electric vehicle for your next car? Please share your thoughts below.