Industry
Could Automakers Nix Broadcast Radio in Cars? Some 15,000 Commercial US Stations Would Object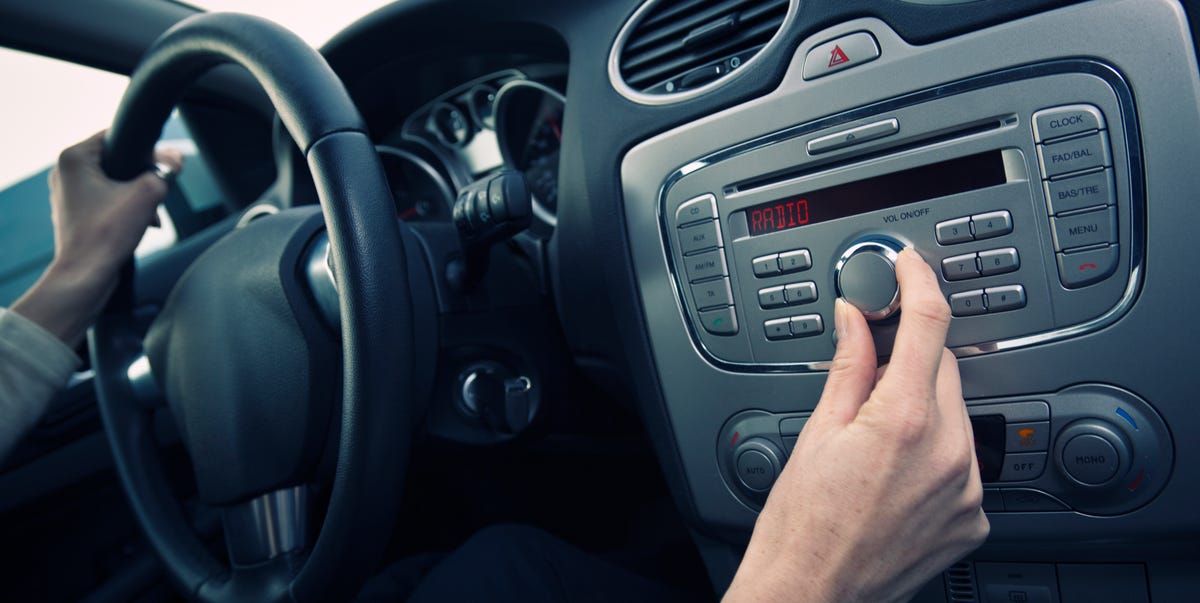 Several automakers have already dropped AM radios from their new offerings, including Tesla, Volvo, Audi, Rivian, and BMW.
In Europe, the digital audio broadcasting system (DAB) is now dominant, largely replacing FM on the radio dial. Norway has shut down its national FM broadcasts completely.
While some legislators have argued for the importance of AM radio for its emergency broadcast reach, it's likely nearing the end for AM radio's days on the dashboard.
---
Could the British Broadcasting Corporation, uh, stop broadcasting? That's a possibility, says BBC Director-General Tim Davie. He said last year, "For the BBC, Internet-only distribution is an opportunity to connect more deeply with our audiences and to provide them with better services and choice than broadcast allows… A switch off of broadcast will and should happen over time, and we should be active in planning for it." The BBC has already said it would move its CBBC and BBC Four outlets to online only.
Does this mean Britons will no longer be able to listen to BBC during their morning commutes? Not necessarily, because today's cars can bring in online audio over their 4G or 5G connections, and services such as TuneIn—available (both paid and free) in an increasing number of cars and claiming access to 100,000 stations—helps them do that. Other such services include Apple Music and Xiialive. Broadcast radio is limited by the geographic proximity to the signal, but Internet radio has no such limitation—your drivetime in Chicago can be spent listening to morning shock jocks in Denver.
Could automakers eventually eliminate all broadcast radio in their automobiles? There are 15,445 commercial radio stations in the United States (as of 2020) that would be concerned about that. FM is likely safe, at least for now, but some automakers have gotten a start by ditching the AM band, which encounters interference from the motors in electric cars. Carmakers that have made vehicles without broadcast AM include Tesla, Volvo, Audi, Rivian, and BMW.
Automakers are none too eager to talk about this issue. But Rivian, one of the companies Senator Ed Markey (D-MA) called out, offered an explanation from a spokesperson. "Rivian offers free access to AM and FM radio services in all Rivian consumer vehicles that come standard in each vehicle," the company told Autoweek. "AM radio service from local and national stations is provided via digital radio platforms (thus ensuring enhanced audio quality). FM content may be accessed either digitally or via built-in receiver. Rivian has no plans to discontinue either of these features in its current or future consumer vehicles."
Ford says it's "transitioning" from AM in most of its new or updated 2024 models. "A majority of US AM stations, as well as a number of countries and automakers globally, are modernizing radio by offering Internet streaming through mobile apps, FM, or digital options," Alan Hall, director of technology communications at Ford, told Autoweek. "Ford will continue to offer these alternatives for customers to hear their favorite AM radio music, news, and podcasts as this transition continues. Less than 5% of radio usage in our vehicles is through amplitude modulation—the definition of AM in this case—which we are removing from our vehicles."
Volvo spokeswoman Sophia Durr said the automaker still installs traditional antennas for FM. "However, for AM and all others, it is accessible over an internet connection."
For an idea of what nixing traditional broadcast would look like, consider technologically advanced Norway. In 2017, it became the first country to shut down nationally broadcast FM radio, switching its 31 channels instead to the digital audio broadcasting system (DAB). In 2023, DAB (which requires its own receiver) is dominant in Europe and is making headway in Australia and parts of Africa and Asia—55 countries as of 2022.
The Federal Communications Commission (FCC) says DAB "provides for enhanced sound fidelity, improved reception, and new data services." It offers "a method of transmitting near-CD quality audio signals to radio receivers along with new data services such as station, song, and artist identification, stock and news information, as well as local traffic and weather bulletins. This technology allows broadcasters to use their current radio spectrum to transmit AM and FM analog signals simultaneously with new higher quality digital signals."
The US uses a different digital audio system, HD Radio, which is packaged with modern car radios. Most radio stations send out their programming feeds via high-definition HD, and some create separate side channels that can only be listened to via HD.
Joe D'Angelo is senior vice president of global radio and digital audio at Xperi, HD Radio's parent company, and he points out that both HD and DAB are broadcast radio, sent via a digital channel in the AM/FM signal. Consequently, they're disrupted by any move for cars and trucks to stop getting broadcast signals. To get onto HD, broadcasters pay a one-time $9000 fee, and auto companies pay a per-unit cost around $5. Automakers tend to put HD on their higher trim levels, and it's in 95 million cars on the road. SiriusXM satellite radio is a paid service with a monthly fee that has programming completely separate from broadcast (with less FCC supervision), and has 34 million subscribers.
"We're well aware of the AM radio issue," said D'Angelo. "We concur that AM plays a vital role, especially in the US, Canada, and Mexico, which have a lot of people living in remote locations."
One of the problems for AM radio's decline has been poor broadcast sound quality (when compared to FM), but the playing field would be leveled in a digital world, as it is in HD. Another advantage is spectrum efficiency. Listeners will no longer be limited to the stations that fit on the broadcast dial. Local stations could start up with minimal costs and no need to wait for an available frequency.
TuneIn has an obvious dog in the hunt when it comes to eliminating broadcast. But it's an increasingly important voice, with automotive partners that include Jaguar Land Rover, Mercedes-Benz, Stellantis, Rivian, Lucid, and Tesla.
According to Richard Stern, TuneIn's CEO, "AM/FM transmission is a legacy distribution technology and will likely go away as more efficient technologies such as DAB and IP delivery continue to mature. This doesn't mean radio is going away, though. I think as an industry, we have trouble decoupling the art of radio, and the vital relationship our listeners have with our content, from the nuts and bolts of distribution. Radio will live on and thrive long after the last broadcast tower falls."
The global radio broadcasting market grew to $143.29 billion in 2023. According to Pew Research Center, in 2020 83% of Americans ages 12 and older listened to terrestrial radio in a given week, down slightly from 89% in 2019. Radio is holding on. iHeart Media, which had revenue of $811 million in the first quarter of 2023, owns 860 radio stations, and is deeply invested in terrestrial broadcasting. Since the first radio broadcast by Guglielmo Marconi in 1895, the hard assets have held their value. Will that continue?
iHeart spokeswoman Wendy Goldberg says the company isn't worried. "Given that we play in both broadcast and digital, we're platform agnostic," she told Autoweek. She said that digital enterprises via the iHeartRadio platform, available on everything from digital auto dashes to gaming consoles and tablets, "have substantially added to further radio listening." And she cited Nielsen in saying that 90% of Americans listen to its 860 broadcast stations every month. But CEO Bob Pittman has been pushing podcasts.
But might there be an analogy to New York taxi medallions? Two of them sold for $1 million each in 2011, but now—with the rise of Uber, Lyft, and other ride-hailing services—are practically worthless. To be clear, there are no immediate plans to eliminate all broadcast radio from cars. But what's happening with AM is indicative of a possible future.
"The buzz at the National Association of Broadcasters (NAB) convention a couple weeks ago was that AM may disappear," said B. Eric Rhoads, chairman of the board of Streamline Publishing, parent company of the industry trade Radio Ink. "This is auto manufacturing-driven. As you know, even small savings [in building cars] adds up. Of course, my fellow broadcasters are up in arms. They have multimillion-dollar businesses that would eventually get crushed as new cars leave AM out—keeping in mind that millions still listen to AM, though mostly boomers who grew up with AM."
Rhoads thinks the FCC or Congress might legislate keeping AM in cars for safety reasons. In March, Senator Markey went after eight auto companies—BMW, Ford, Mazda, Polestar, Rivian, Tesla, Volkswagen, and Volvo for removing broadcast AM from their EVs. Said Markey, "Although many automakers suggested that other communication tools—such as Internet radio—could replace broadcast AM radio, in an emergency, drivers might not have access to the internet and could miss critical safety information. The truth is that broadcast AM radio is irreplaceable." He said he will "continue to work to ensure that automakers maintain access to broadcast AM radio in all their vehicles."
In addition, seven former FEMA administrators sent a concerned letter to Secretary of Transportation Pete Buttigieg February 26. "Because of the great distances that its signals carry, and due to its resiliency during even the worst natural disasters, the success of the national public warning system—the only method the government has to reach every point of the country at once—hinges on its use of AM radio."
iHeart's Goldberg echoes this. All-digital platforms, she said, are "often not available during times of crisis," i.e., when wireless and cell networks go down.
The National Association of Broadcasters (NAB) launched a "Depend on AM Radio" campaign last month. "This campaign is being launched as some automakers have stripped AM radio out of certain vehicle models," NAB said, adding that AM has a monthly audience of 82 million in the US. NAB said that "implementing cost-cutting measures at the expense of our nation's emergency communications abilities is reckless and will have dire consequences for Americans who rely on AM in times of crisis."
NAB spokesman Alex Siciliano told Autoweek, "The recent outcry from policymakers and consumers about some auto manufacturers removing AM radio from their newer model cars should cause these companies to think twice before alienating the hundreds of millions of Americans who listen to free, local radio every day. Radio is an essential part of daily life for people across the country, connecting and serving diverse communities. As a vital source of local news and emergency information, we'll continue working to ensure automakers understand the importance of broadcast radio to their customers."
The takeaway here is that broadcast AM is endangered, and FM is under a much more distant threat that may or may not materialize. Increasingly, automakers are liking the idea of confining the antenna to the dustbin of history.
Do you still listen to terrestrial radio broadcasts in the car? Or have you converted to digital or satellite radio? Let us know in the comments below.

Contributing Editor
Jim Motavalli is an auto writer and author (nine books) who contributes to Autoweek and Barron's Penta. He has written two books on electric cars, Forward Drive (2000) and High Voltage (2010), and hosts the Plugging In podcast.  
Motavalli's writing has appeared in the New York Times, CBS Moneywatch, Car Talk at NPR, Forbes, US News and World Report, Sierra Magazine, Audubon, and many more. In his spare time, he reviews books and jazz.