Industry
Car Supply Is Stabilizing, but Prices Are Slow to Fall for Some Brands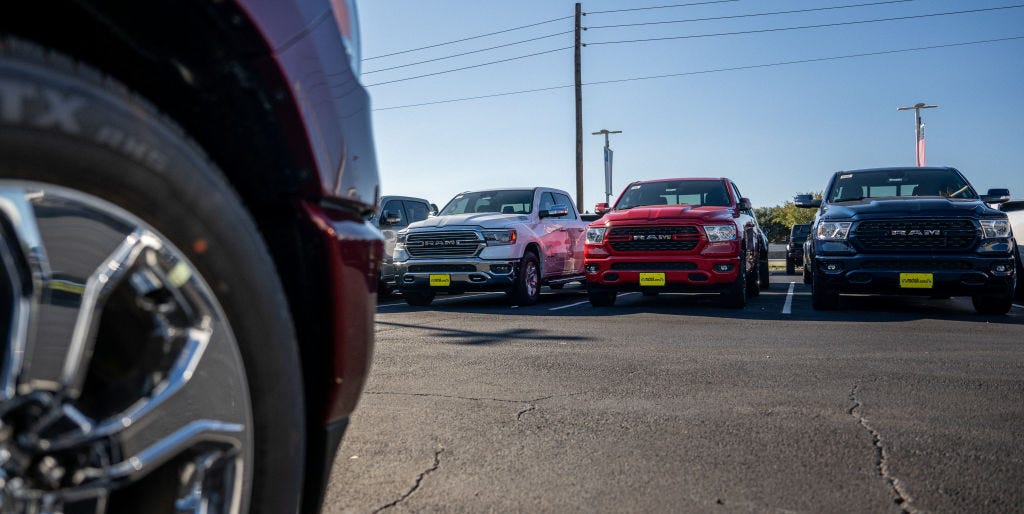 Car buying may get a bit easier, as average new car prices fell in March and manufacturer supply levels are reaching post-pandemic level highs, according to Kelley Blue Book.
Across the industry, Cox Automotive data shows an average of 56 days' worth of supply, with domestic manufacturers like Stellantis achieving above 100 days' worth of inventory.
Many foreign manufacturers continue to struggle with around 30 days' supply, and industry experts warn that prices may not continue falling for long.
---
You can pop your price-conscious eyeballs back into their sockets and stop calling dealerships in Iowa and Wyoming, folks. After nearly three years of high prices, higher inflation, and joy-less Craigslist scrolling, there is perhaps some light at the end of the car sales tunnel. We won't be surprised if you are scarred from egregious markups and empty lots, though.
Either way, new and used car sales as well as total industry supply are finally trending in the right direction, as Cox Automotive data from March and the early weeks of April show. In fact, the average price paid for a new car in March fell below sticker price for the first time in over a year. This sort of drop was documented at dealerships across the spectrum, with Chevrolet, Chrysler, Dodge, Ford, Hyundai, Kia, Nissan, and Volkswagen all showing an average sale price decline between 0.2% to 3.8% in March, according to Kelley Blue Book.
This slow decline in prices was documented earlier this year by Consumer Price Index statistics, but the rate at which prices have fallen appears to be picking up. And industry experts say the reason behind this shift is clear: supply increases. While some manufacturers still struggle with production, many have regained their footing, increasing availability on dealership lots and lowering sticker prices as a result.
"During March, we saw sales surpass the 1-million mark for a 30-day period for the first time since early September 2021," said Charlie Chesbrough, Cox Automotive senior economist. "Higher sales have been boosted, in part, by improving inventory, which has been running at around 1.8 million or so for the past several weeks."
That's an average of 56 days' worth of supply at dealerships across the US, which is 58% higher compared to the same time last year. Domestic brands are taking the lead, with Stellantis claiming 119 days' of Ram supply and General Motors' Buick having 117 days' of inventory. Jeep and Chrysler are also excelling at production, with both leveling inventory at around 100 days' worth. Comparatively, Ford's Q1 supply was well above the industry average of 60 days' worth while Chevrolet pushes through with about 30 days' of inventory.
Some domestic brands are nearing levels of inventory they consider too high, leading to idled plants and increasing incentives like leasing deals, Chesbrough explained. But not all manufacturers are in the clear when it comes to production numbers. Foreign makes like Toyota and Kia continue to grapple with under 30 days' of inventory, though supply levels at Honda, Subaru, Hyundai, and Volkswagen also fall below industry standards. Even luxury brands like Lexus, BMW, and Jaguar Land Rover are struggling, with all falling below 30 days' of inventory.
What does all this mean for someone trying to buy a car today? It depends on what kind of vehicle they're looking for. Full-size pickup trucks had the most supply by far, with Ram, Ford, and Chevrolet touting 80-100 days' of supply, while popular crossovers like Toyota's RAV4 and Subaru's Crosstrek are moving too quickly for supply to replenish.
Despite dwindling sedan demand, even Toyota is having a hard time keeping above a 30 days' supply of its classic sedan, the Camry. Data analysis from Kelley Blue Book notes that brands like Honda and Kia continued to see dealership markups of 3%-6% over sticker price in March, likely as a result of these production woes.
Markups will continue as long as dealerships can get away with it, but overall prices trending downward means that even brands with low inventory are selling for less. This indicates that a more buyer-friendly market could be on the horizon, but forecasts from Deloitte show the future remains uncertain.
Pricing is the key factor in car-buying decisions for consumers, but automakers have yet to reach pre-pandemic production levels at a time when the process is simply costing more money. Going forward, moving into an electric-vehicle-filled world will help lower complexity and costs, but the present blend of ICE and EV production poses serious cost risks for manufacturers and consumers alike.
Have you bought a car during a previous period of economic downturn or industry instability? Please share your experiences and thoughts below.