Industry
Can the 2024 Subaru Crosstrek Wilderness Take On Jeeps?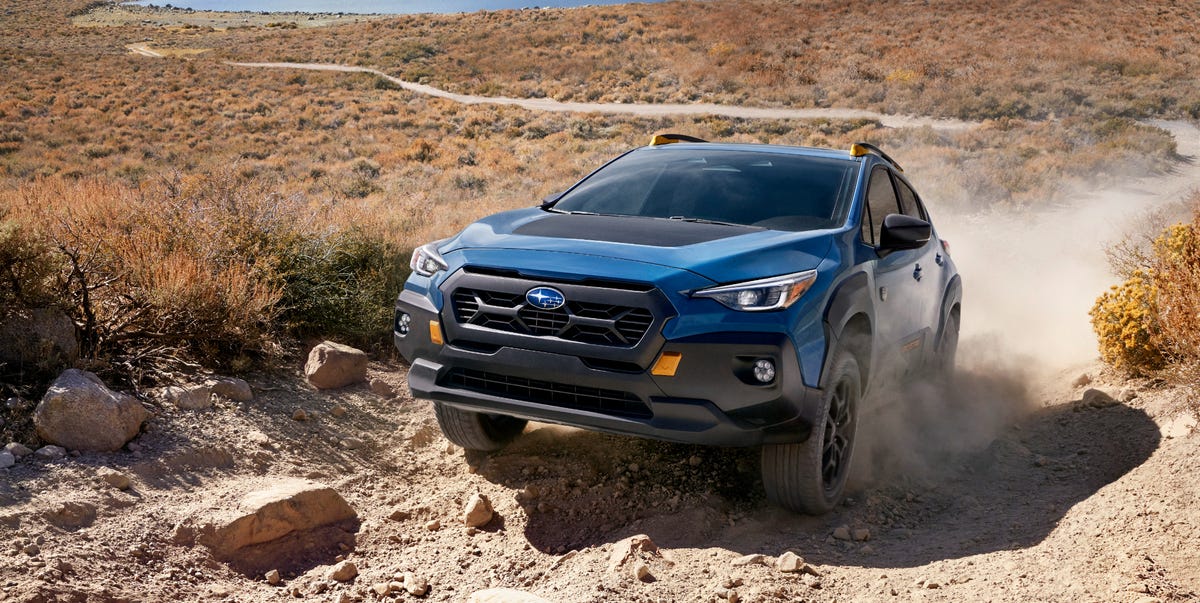 Subaru is modifying its most popular model, the Crosstrek, into an off-road-ready, camping-equipped adventure mobile known as the 2024 Crosstrek Wilderness.
Joining Subaru's Wilderness lineup, prospective Crosstrek Wilderness buyers can expect upgraded suspension, an easy-clean interior, and improved approach/departure angles.
Starting at $33,290, the company expects a 20% take-rate for the Wilderness version, as the model goes into Indiana-based production later this year.
---
If Subarus are known as tough, adventure-ready machines, then Jeeps are practically bomb-proof, at least in theory. Both manufacturers are renowned for their off-road prowess, largely due to their respective all-wheel-drive or four-wheel-drive constructions. However, Subarus and Jeeps aren't typically trail partners in the US, as the customer bases and intended uses of each manufacturer's models differ.
But that may not be the case anymore. Subaru knows its customers seek out adventure and that many of them even take their vehicles deep into the woods or desert. And it has rolled out a lineup of Wilderness Edition models to commemorate these adventuring owners, with the Forester and Outback receiving the Wilderness treatment.
Now, Subaru has applied this badging to its most popular model, in releasing the 2024 Crosstrek Wilderness at The New York International Auto Show. But Wilderness edition models receive more than just extra body cladding and flashy badging. Each Crosstrek Wilderness starts its life out as a 2.5-liter flat-four-engined Crosstrek, pumping 182 hp and 176 lb-ft of torque through its 8-speed Lineartronic continuously variable transmission.
Though its power levels remain stock, the Wilderness version features a revised differential gear ratio (4.11 versus 3.70) and re-tuned CVT programming, creating a crawl "gear" and allowing for more power modulation on slippery surfaces. The addition of a transmission oil cooler makes extended off-roading possible while also allowing for a nearly doubled towing capacity of 3500 pounds.
Subaru has also fitted the Crosstrek Wilderness with model-specific suspension components, giving it a 9.3-inch ground clearance thanks to longer coil springs and shock absorbers. Subaru says that longer travel strokes for the front and rear shock absorbers help keep the tires in contact with rough surfaces, while a longer dampening compression stroke helps increase absorption on rough road surfaces. Altogether, this setup balances capability with a road-smooth ride quality. Having seen the Crosstrek Wilderness in person, the new suspension gives it an aftermarket lift look while remaining factory functional.
It's clear that Subaru expects owners to drive the Crosstrek Wilderness hard, especially considering it added margins for error on the departure and approach ends. Compared to the 18.0 degrees in other Crosstrek models, the Wilderness features an approach angle of 20.0 degrees.
The angle of departure increases by 2.9 degrees to 33.0 degrees, while the ramp breakover angle moves up from 19.7 to 21.1 degrees. While these aren't exactly Jeep Wrangler numbers, they are comparable to 21st-century Jeep Cherokees or Toyota's Highlander, emphasizing its road-based roots.
So it's not made for rock crawling, but that leaves plenty of loose surfaces to tackle. Sold with a set of Yokohama Geolandar all-terrain tires on exclusive 17-inch alloy wheels, the combination of good rubber and driver-selectable X-Mode controller should make snowy, muddy, and sandy driving a breeze.
Subaru's X-Mode helps drivers tune the engine and optimize the CVT ratios to the task at hand, though it does not alter the differential settings. The system features a novel roll indicator, standard hill-descent control with individual wheel control, and active torque vectoring.
Anyone who has driven down a dusty fire road (much less gone muddin') knows that going off the beaten path is a dirty endeavor. Subaru has thought of this and is offering a very specific interior for the Wilderness. Water-resistant Subaru StarTex material wraps the seats while a removable water-resistant rear cargo tray protects the load floor and rear-seat backings from the inevitably soggy, smelly items tossed in back. Special Wilderness logos are also embossed throughout the car.
An 11.6-inch Multimedia Plus system is standard and is equipped with wireless Apple CarPlay/Android Auto, Bluetooth hands-free phone, audio streaming connectivity, AM/FM stereo, and a rear vision camera. Owners will also get four months of SiriusXM All-Access Radio and SiriusXM Travel Link for free. ADAS offerings include the newest version of Subaru Eyesight Driver Assistance, featuring blind-spot detection and standard reverse automatic braking.
Even if the new Crosstrek Wilderness isn't quite Jeep Easter Safari ready, it's a big jump from the base Crosstrek and is sure to be much more comfortable than a Wrangler. Beyond that, Subaru has made sure the Crosstrek Wilderness is capable of something most Subaru owners are bounded to do: carry a bunch of junk on their roof.
With a versatile ladder-type roof rack system, it's rated for a 700-pound static load limit, meaning you can probably camp out on top of your crossover. With widened fenders, in-your-face badging, and a roof tent on top, we have to admit the Crosstrek Wilderness looks pretty cool.
All of this comes at a relatively reasonable cost of $33,290, including a $1295 destination fee. Subaru expects around a 20% take-rate on the Wilderness version, falling in line with its Forester Wilderness and Outback Wilderness companions.
Luxury-concerned buyers can order a package with a power moonroof; a 10-way power driver seat with two-way lumbar support; and a Harman Kardon 10-speaker audio system with a 432-watt equivalent amplifier for an extra $2270. Either way, your prospective Crosstrek Wilderness will be produced in Lafayette, Indiana, alongside its Crosstrek, Legacy, and Ascent brethren, with deliveries slated for fall 2023.
What makes a special-edition model truly exciting? Please share your thoughts below.