Industry
Before Saying Farewell, Dodge and Mopar Bring Final Edition Charger and Challenger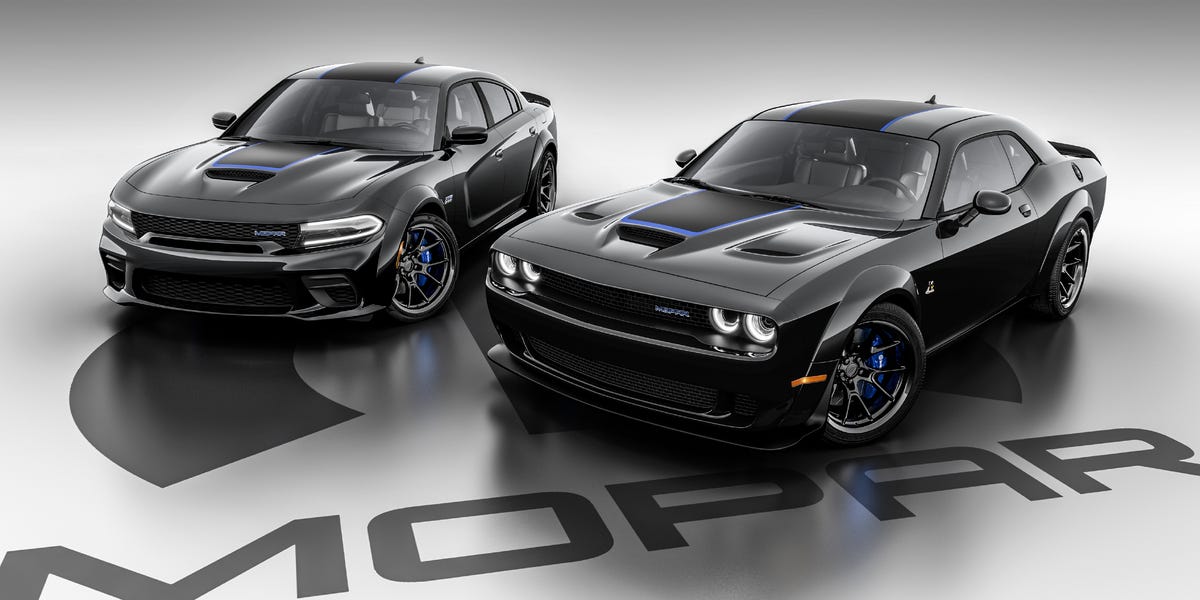 With the Camaro's demise announced and Ford taking one last crack at V8 Mustang production, Dodge is commemorating its muscle cars, too.
Teaming up with its Mopar Performance division, Dodge is releasing a batch of Mopar Edition Dodge Challenger and Charger R/T Scat Pack Widebody for 2023.
Four hundred units will be available in the US and 40 units will be available in Canada, as Dodge plans to sunset both muscle models by the end of this year.
---
V8-powered muscle cars aren't dead yet, even if the iconic American nameplates are starting to sunset. Dodge's Challenger and Charger are no different, as Stellantis plans to bow out these models by December 31 of this year. There is no need to grieve just yet though, as Dodge and the folks at Mopar Performance are creating some special edition Challenger and Charger units for true fanatics.
The exclusive upgrades will be offered as the Mopar '23 Special Edition Package. That's a $3995 option that applies to Dodge Challenger and Charger R/T Scat Pack Widebody models only. Equipped from the factory with a 392 Hemi V8 putting down 485 hp and 475 lb-ft of torque, these R/T Scat Pack Widebody units aren't just about speed, with Bilstein three-mode adaptive damping as well as Brembo six-piston front and four-piston rear brake calipers coming standard as well.
But what exactly is Mopar doing if the sibling pair of muscle cars come well equipped from the factory? Well, it appears Dodge and Mopar are appealing to legacy fans and purists alike, as they leave the mechanical bits stock and focus on creating a unique interior and exterior package. The sheetmetal doesn't have to be overly flashy either, as exampled by Pitch Black Clear Coat being the only available colorway.
Complementing the dark paint are unique matte-black graphics and Mopar Blue tracer stripes along the hood, roof, and decklid. A model-exclusive Mopar grille badge and Mopar Blue brake calipers are also included. Additionally, Mopar says it is including a carbon-fiber decklid spoiler for the first time on these limited-edition Charger and Challenger models.
The interior is arguably the more interesting part of the Mopar package, with a serialized Mopar instrument-panel badge and a series of choice materials as well. Real carbon-fiber interior trim and a microsuede headliner make up most of the accents, though the Scat Pack logo-adorned seats are made up of black Nappa leather and Alcantara. True to OEM plus form, Alpine Audio Group provides the speakers which are fed through Dodge's Uconnect infotainment system.
However, you'll have to get lucky if you want one of these special models. Dodge says it will only allocate 220 units of each model—200 Chargers and 200 Challengers for the US market and 20 each for Canada. All told, Chargers should price out to around $61,915 while Challengers will start at $59,850, including a $1595 destination fee. Production of these factory-ordered models will start in September, and Dodge is encouraging prospective buyers to contact their local dealers now.
Which American muscle icon is your favorite? Why? Please share your thoughts below.

Associate Editor
A New York transplant hailing from the Pacific Northwest, Emmet White has a passion for anything that goes: cars, bicycles, planes, and motorcycles. After learning to ride at 17, Emmet worked in the motorcycle industry before joining Autoweek in 2022. The woes of alternate side parking have kept his fleet moderate, with a 2014 Volkswagen Jetta GLI and a 2003 Honda Nighthawk 750 street parked in his South Brooklyn community.