Industry
Another Car-Carrying Cargo Ship Catches Fire at Sea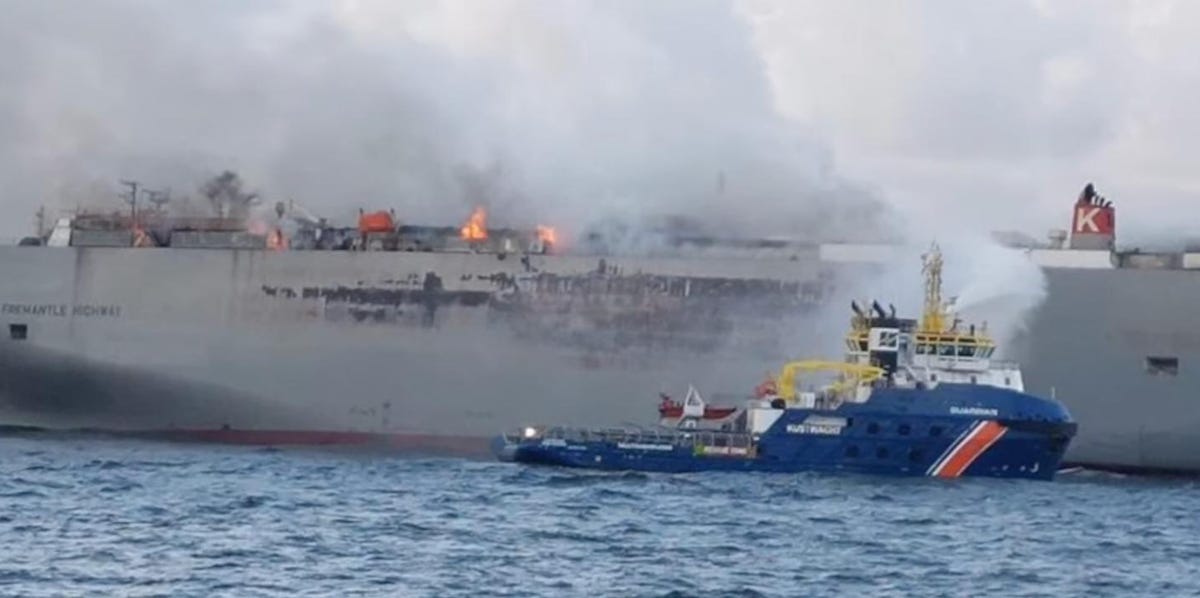 Fire is sweeping through a car-carrying cargo ship off the Dutch coast today.
One crew member has been killed and several others injured.
Cause of the fire is suspected to be an electric vehicle.
---
Another fire has engulfed another car-carrying cargo ship, with one crew member killed and several others injured.
Smoke is pouring off the Panamanian-registered Fremantle Highway while water is being poured onto it by rescue ships. The incident is happening 17 miles west of the Dutch island of Ameland.
Reuters reports the 652-foot ship was carrying 2857 cars from Germany to Egypt, 25 of them electric. An electric car was the suspected source of the blaze, according to a Dutch Coast Guard spokesperson.
"The fire is most definitely still not controlled. It's a very hard fire to extinguish, possibly because of the cargo the ship was transporting," said Edwin Versteeg, a spokesperson for the Dutch Department of Waterways and Public Works.
Earlier this month an Italian cargo ship docked at the Port of Newark, New Jersey, that had been carrying 1200 new and used vehicles caught fire and burned for days. Two firefighters died battling the blaze and 20 others suffered injuries.
In February 2022 a fire on the car-carrier Felicity Ace in the mid-Atlantic burned for days before the ship finally sunk while being towed back to port. The Felicity Ace blaze burned throughout several decks of the ship, many of which contained electric cars powered by lithium-ion batteries. The cause of that fire remains unknown.
There have now been 10 major incidents on car carriers since 2002, or an average of one every two and a half years.
Mark Vaughn grew up in a Ford family and spent many hours holding a trouble light over a straight-six miraculously fed by a single-barrel carburetor while his father cursed Ford, all its products and everyone who ever worked there. This was his introduction to objective automotive criticism. He started writing for City News Service in Los Angeles, then moved to Europe and became editor of a car magazine called, creatively, Auto. He decided Auto should cover Formula 1, sports prototypes and touring cars—no one stopped him! From there he interviewed with Autoweek at the 1989 Frankfurt motor show and has been with us ever since.