Industry
All-New 2024 Mazda CX-90 Is Unique among 3-Row Crossovers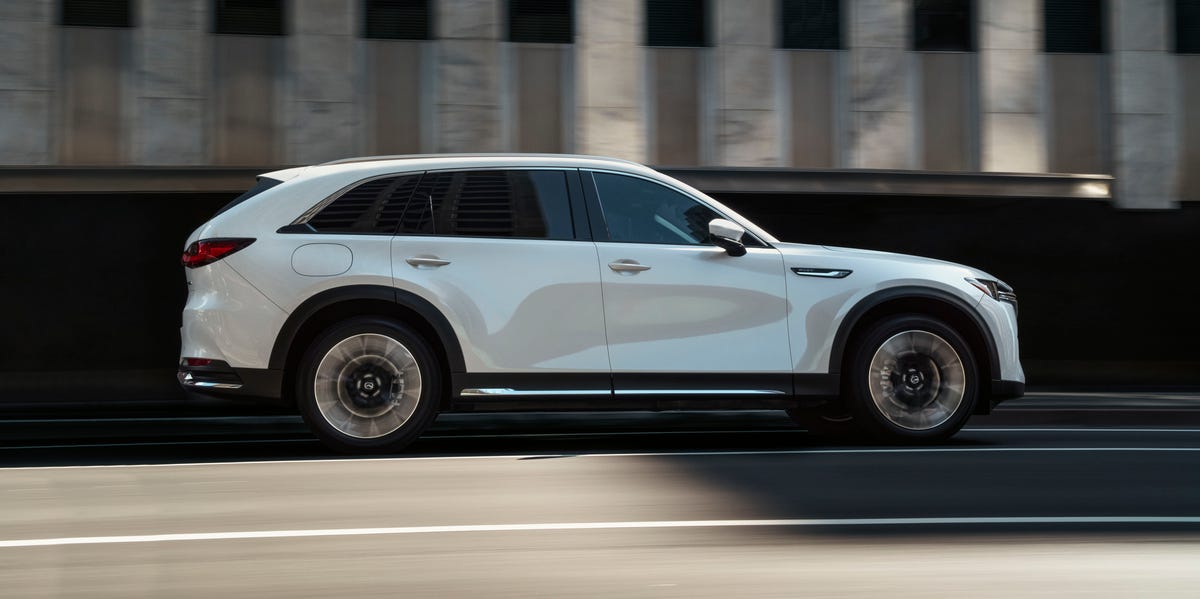 Mazda plans to make the CX-90 stick out in its class the same way it makes all its vehicles stick out—with nimble, lively handing. Yes, even in an SUV.
You also get three engine choices: two 3.3-liter mild-hybrid straight-sixes and one PHEV with a 2.5-liter naturally aspirated gas engine mated to a 100-kW electric motor.
Prices range from low $40,000 to right around $60,000. On sale now.
---
How is Mazda going to make its all-new 2024 CX-90 SUV stand out in a very crowded field? Driving feel. Does any other entry even try to make its largish crossovers fun to drive? In general, the dozen or so large CUVs in the market are all about practicality, cargo space, roof racks, infotainment front and rear, and imparting a vague feeling of safety and superiority because you sit up higher than however many sedans are left in the world. Mazda takes a different approach, even in this three-row crossover segment.
"We design vehicles and engineer them to a feeling, not just to a specification," said Mazda North America Operations President and CEO Jeffrey Guyton at the CX-90's reveal two months ago. "And whether that's in the MX-5 Miata that I'm sure you're familiar with, or the (best-selling) CX-5, which you're probably also familiar with, we try to raise the bar in every segment where we compete. And we're going to do that again today."
But surely (stop calling me Shirley!) Mazda engineers must have benchmarked some existing three-row crossover somewhere in the CX-90's development?
"We sampled around some," said Dave Coleman, Mazda's manager of vehicle engineering. "But we always kind of circle back to CX-9 being still the most fun to drive in the three-row segment. And we then try to expand the performance envelope from there."
The previous CX-9, which is now replaced by this 2024 CX-90? Not even a BMW or something?
"We literally never found anything we particularly liked," Coleman said.
Hey, the BMW X7 has three rows, and it's made by Germans!
"We drove it and didn't like it. The driving dynamics just weren't well-harmonized—they didn't feel natural, like we wanted them to."
Zoom-zoom.
So when you're at the point in life where you have to buy a three-row crossover, perhaps a CX-90 should be the one? Is it? For the record, Mazda executives insist the new CX-90 is a midsize crossover, but it's longer overall than the Honda Pilot, Hyundai Palisade, Kia Telluride, Nissan Pathfinder, Subaru Ascent, and Toyota Highlander. And all those three-row vehicles are classified as large crossovers by Wards Intelligence.
The CX-90 sits on a new platform shared—so far—only with the Mazda CX-60, a vehicle we don't get here in the US. Because Mazda isn't owned by or partnered with any other carmaker—Sumitomo Bank is the biggest shareholder—it makes all its own platforms, engines, and transmissions.
There are advantages to that, of course. If you want to imbue your driving feel to all your vehicles, it's a lot easier to do if you don't have to hammer and bend some other guy's platform to your way of driving. Mazda gets to start all over with its own ride.
In addition to a new platform, the CX-90 is powered by your choice of three Mazda engines. The 3.3-liter turbocharged straight-six, a rarity in this segment, is mated to a 48-volt mild hybrid system. The 3.3 is offered with either a 280-hp or 340-hp output. The plug-in hybrid option features a 2.5-liter naturally aspirated four-cylinder mated to a 100-kW (134-hp) electric motor powered by a 17.8-kWh lithium-ion battery. Mileage for the 3.3 liters is 24 city, 28 highway, 25 combined. (I'll add PHEV mileage figures soon, I swear.)
All three powertrains come in a rear-biased AWD configuration and with an eight-speed automatic. The 3.3-liter engines both get a 5000-pound tow rating, while the PHEV can tow 3500 pounds, still enough for a couple jet skis or a really light camping trailer. Trailer Stability Control comes standard across the board.
The CX-90 rides on double wishbones in front. The longitudinally mounted engine allows for longer suspension arms that in turn allow for increased camber during cornering and can be tuned for better ride quality, Mazda said. Rear suspension is a five-link setup "to improve rear grip."
And, of course, this being Mazda, the CX-90 gets Mazda's Kinematic Posture Control that applies brake force to the inside rear wheel during cornering for "a stable sensation on a winding road," according to Mazda. The CX-90 also has sophisticated anti-dive and anti-squat properties, Coleman said.
To find out how well this thing does handle, I got to take it out for a day's drive on some twisty roads in Marin County, north of San Francisco. Did it feel like a Miata?
"This is the second-best-driving eight-passenger Mazda you can buy," Coleman said.
What's the first?
"Four Miatas."
Ha ha ha, but compared to other entries in the class it felt more nimble, to the extent such a big thing could feel nimble. There were several tightish hill-country highways that offered a chance to lean the CX-90 around both shorter and longer corners. It felt stable and unfettered through them all (no doubt helped by that Kinematic Posture Control). Roll was perhaps the least of anything I recall driving in the class, without causing a harsh ride. Most impressive was the CX-90's stability during transitional handling, when going from one curve to the next.
"We worked on that, too," Coleman said.
I had the Turbo S model, the one with 340 hp and 369 lb-ft of torque, so acceleration felt prompt, if not exactly neck-snapping. Mazda did not provide a 0-60 figure.
Inside, the CX-90 can be ordered with 8-, 7- or 6-seat configurations. The eight-seat setup has two bench seats in back, the seven-seater is either 2/2/3 or 2/3/2, and the six is, of course, 2/2/2. (Got all that? There'll be a test.)
The fancy exterior design carries over to the interior, too. My favorite of them being, naturally, the highest trim level, which features a really cool cross-stitched insert on the dash that will have members of your car pool oohing and aaahing for miles.
Another cool feature is Mazda's "Driver Personalization System," which scans your entire face side-to-side then positions the driver's seat the way it thinks a person of your size and shape should have it. If you don't like it, just make your own adjustments. It then remembers you, and remembers your spouse or significant other, maybe both if they're two different people, and sets the car just right whenever you or they get in.
All the infotainment, meanwhile, comes through a fully digital 12.25-inch center display, while another 12.25-inch screen, this one with TFT LCD, rides in front of the driver as the instrument display.
So should you drive a CX-90 instead of one of the five or six million other entries in the class? Pricing ranges from the low $40,000 to right around $60,000. That covers a wide swath of crossovers. A very wide swath. Just try and tally up all the entries in the mid-size three-row crossover SUV segment.
Our colleagues at Car and Driver did that last year and listed 15 of them. They liked the CX-9, the CX-90's predecessor, sixth-best. It would have been higher but it didn't have a very big third row. Now, with the all-new and improved CX-90, maybe they'll like this one best. If you like driving, and if your carpool can handle increased lateral Gs, give the CX-90 a test drive.
Have you been in the market for a three-row crossover? If so, how goes the shopping? Please comment below.