Industry
8 Best Motorcycles for When You Chuck It All and Ride Out Across the Country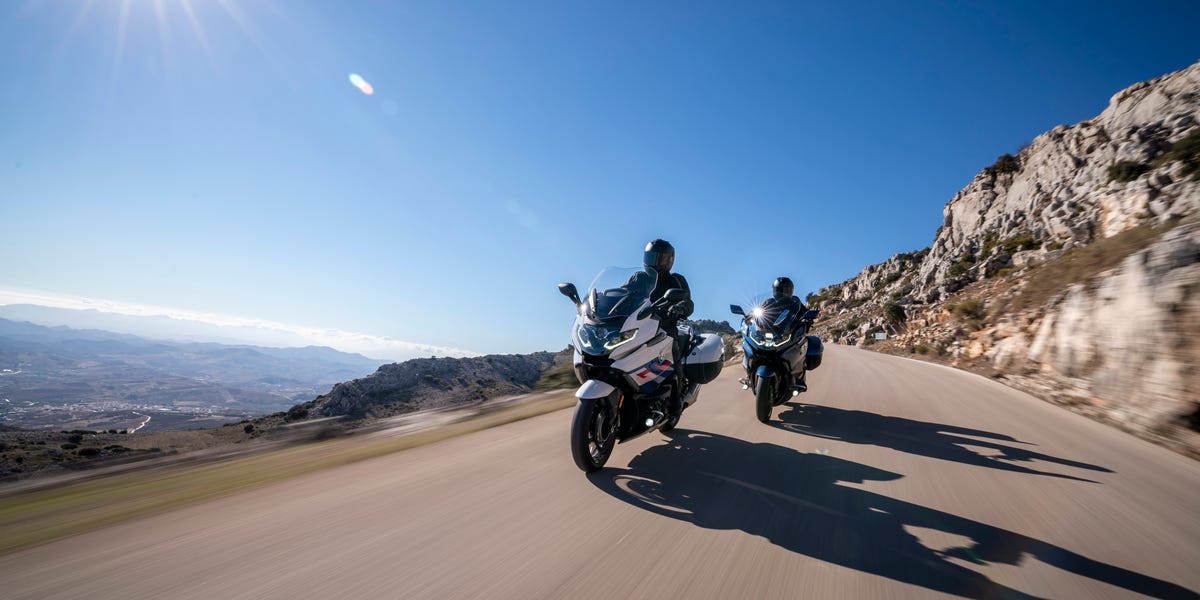 Base price: $31,595
This bike is not a cruiser or a Tourer, it's an adventure bike (of sorts). Traditionally, that class includes the BMW R 1250 GS Adventure, Honda Africa Twin, Suzuki V-Strom 1050XT, and even the Harley-Davidson Pan America 1250. So what's this road course-riding Ducati doing here? Because a huge number of riders choose adventure bikes for their grand American cross-country tour. The ADV class bikes can carry just as much as a grand cruiser, they're as comfortable to sit on all day, and they can go off-road whenever necessary. If you want to see more about this class, click here. But for now let's take a look at the big Duc.
The very first Multistrada came out 20 years ago, and the model has been updated and improved since. The Multistrada now comes in four different models, the most track-ready of which is this Pikes Peak. While the other Multistradas may come with more off-road-capable tires, this one is set up for track use, which doesn't make too much sense at first but consider that ADV bikes are so comfortable to begin with, then add the Pikes Peak's corner-capable setup, and you have a unique mix of power and performance. Once you get to the twisty fun parts of the road, you can lean into them like you were on a sport bike, then when you are back on the boring straight stuff you are sitting upright with the handlebar grips right where you want them and a nice, big windscreen protecting you from both bugs and aerodynamics. Someone seeking a Ducati for track use-only could easily pick up a Panigale and get the same basic V4 engine in a more corner-compatible cocoon. It might not be as comfortable to ride all week on your way to the Smoky Mountains and the Tail of the Dragon, but all the marketing material for this bike shows it on the race track, with a guy in a leather onesie scraping his knees around red-and-white FIA curbing. The Multistrada Pikes Peak is a conundrum.
Let's not overthink this. The longitudinally mounted 1158cc V4 still makes 170 hp and 92.2 lb-ft of torque. Like some of the other bikes that share their engines with sportbikes, this one gets its peak output up near the top of the tach, with power topping out at a lofty 10,500 rpm and torque at 8750. While the power may be peaky, the torque rolls across the rev range in a lumpy horizon of twist, offering at least 70 lb-ft from the mid-4000s on. The result is response just about anywhere on the tach, even if you have to wait a while for the revs to climb to get all the horsepower.
The new Pirelli Diablo Rosso IV Tires (120/70-17 front 190/55-17 rear) are definitely intended for the street, where they'll eat pavement all the way up the 156 turns of the bike's now-paved namesake mountain. The rake and trail are set up for street use, too, while the Ohlins Smart EC 2.0 suspension is the same found on the very streetable Panigale V4 S and Streetfighter V4S.
Add to all that the fact that is has radar cruise control (!!!) and a host of infotainment features on its touchscreen, and you set this bike far apart from its competition, if there is any competition. Maybe the BMW S 1000 XR, another sportbike for the street set up on an Adventure Bike-looking chassis, a bike I also rode up from Los Angeles to Monterey for The Quail one year. That Beemer was fast on those 100-mile-long straights but performed well when I got to the inevitable twisties around which I'd planned my ride route. The BMW is perhaps closest to the Pikes Peak in that way.
For other pure Adventure motorcycles, check out this story.
The Pikes Peak starts at $31,595.