Industry
2023 Subaru Crosstrek, Nissan Sentra, Kia Forte Fared Poorly in IIHS Crash Tests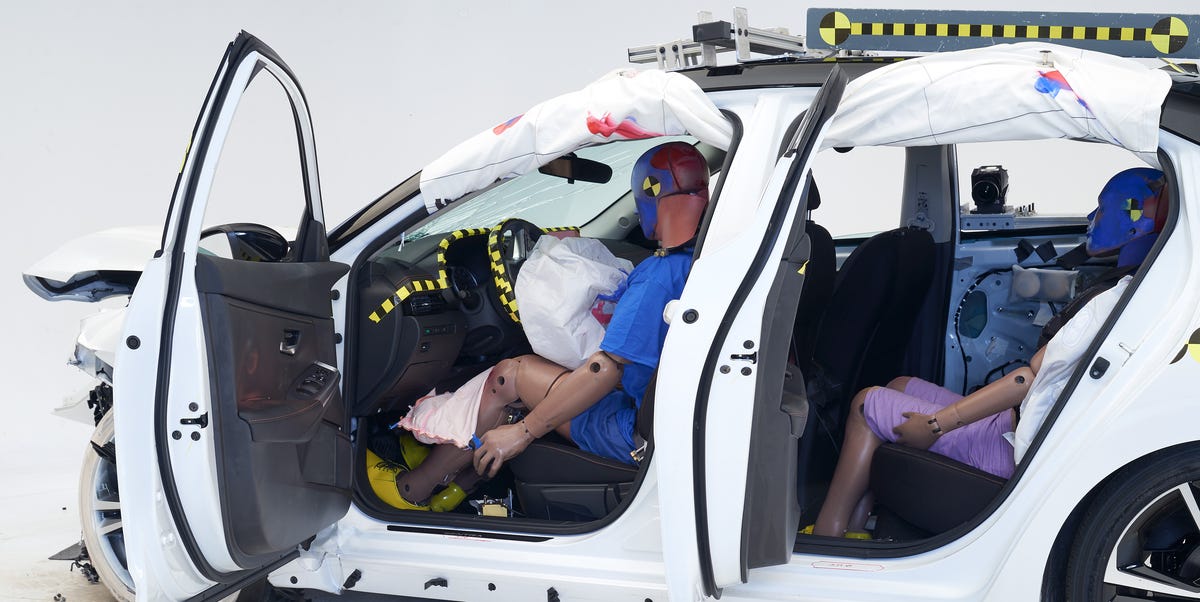 Front-seat safety has improved dramatically in the 21st century, but a lack of rear-seat safety technology is leaving passengers vulnerable.
The Insurance Institute for Highway Safety has implemented a passenger-focused moderate overlap crash test and the results are concerning.
Small vehicles particularly struggle in this test, as models like the 2023 Nissan Sentra and Subaru Crosstrek received poor ratings for rear passenger restraints.
---
The small car market is certainly shrinking, but that doesn't mean it will be gone anytime soon. As bite-sized crossovers encroach upon the market traditionally held by hatchbacks and economy sedans, keeping prices low is an important part of retaining a significant portion of car buyers. But low prices shouldn't mean lagging safety, the Insurance Institute for Highway Safety says in its latest report.
This content is imported from YouTube. You may be able to find the same content in another format, or you may be able to find more information, at their web site.
The institute's latest round of moderate overlap crash tests shows most small cars on the market today are seriously lacking in back-seat protections. In fact, none of the five vehicles featured in this test earned the highest grade of good, with three earning the lowest grade of poor. And these aren't one-off, small-market vehicles being tested: the 2022-2023 Honda Civic, 2022-2023 Subaru Crosstrek, 2023 Toyota Corolla, 2022-2023 Nissan Sentra, and 2022-2023 Kia Forte were all tested.
One poor protection attribute was shared among all five of these popular models: submarining. As the child-sized, rear-seat dummy submarined underneath the seatbelt in a crash test, the IIHS says the risk of internal and abdominal injuries increased sharply. As a result, all five models received a poor rating in the rear passenger restraints and kinematics evaluation. However, some small vehicles offer more protection than others.
Specifically, Honda's tried-and-true Civic sedan as well as Toyota's Corolla sedan received acceptable ratings from the IIHS, with every other crash evaluation parameter (for front and rear passengers) meeting the highest IIHS standard of good. If you're splitting hairs between these two timeless economy models, your decision could be influenced by the size of your family, as the IIHS noted that rear-seat passengers in the Corolla were closer to hitting the front seatback.
This crash test continues to challenge automakers, specifically in rear-seat safety, and the small vehicle test actually shows some surprising results. Subaru is a brand built on a mix of family-focused advertising, all-wheel-drive adventure, and top safety standards, but the outgoing Crosstrek earned a poor passenger safety rating alongside the Nissan Sentra and Kia Forte. Adding to the submarining issue, the rear occupants of these three vehicles were much more likely to have head, neck, or chest injuries.
IIHS analysis of real-world crash data found that front-seat occupants received fewer injuries as a result of advanced airbags and seatbelts.
"IIHS launched the updated moderate overlap front test last year after research showed that in newer vehicles the risk of a fatal injury is now higher for belted occupants in the rear than for those in front," the organization says. "This is not because the rear seat has become less safe. Rather, the front seat has become safer because of improved airbags and advanced seat belts that are rarely available in back." The IIHS refers to seatbelt pre-tensioners and force limiters.
Rear-seat passengers (who are often children) aren't receiving the benefit of these safety improvements. As such, these updated moderate overlap tests with a smaller dummy are intended to push automakers to improve future models, and some of these vehicles are being re-engineered for 2024 or 2025.
"For a vehicle to earn a good rating, there can't be an excessive risk of injury to the head, neck, chest, abdomen, or thigh, as recorded by the second-row dummy," the IIHS report reads. "The dummy should remain correctly positioned during the crash without sliding forward beneath the lap belt, and the head should remain a safe distance from the front seatback and the rest of the vehicle interior."
It's also important to clarify that all of these vehicles perform well in front-seat safety tests, with the Sentra receiving the only markdown of the group. These results also have to do with the front-seat dummy being based on an average size adult man.
Have you purchased a large vehicle over a smaller one for safety reasons? Please share your experiences below.