Future Cars
Two Maserati Tribute Cars Spell the End for Gas-Powered V8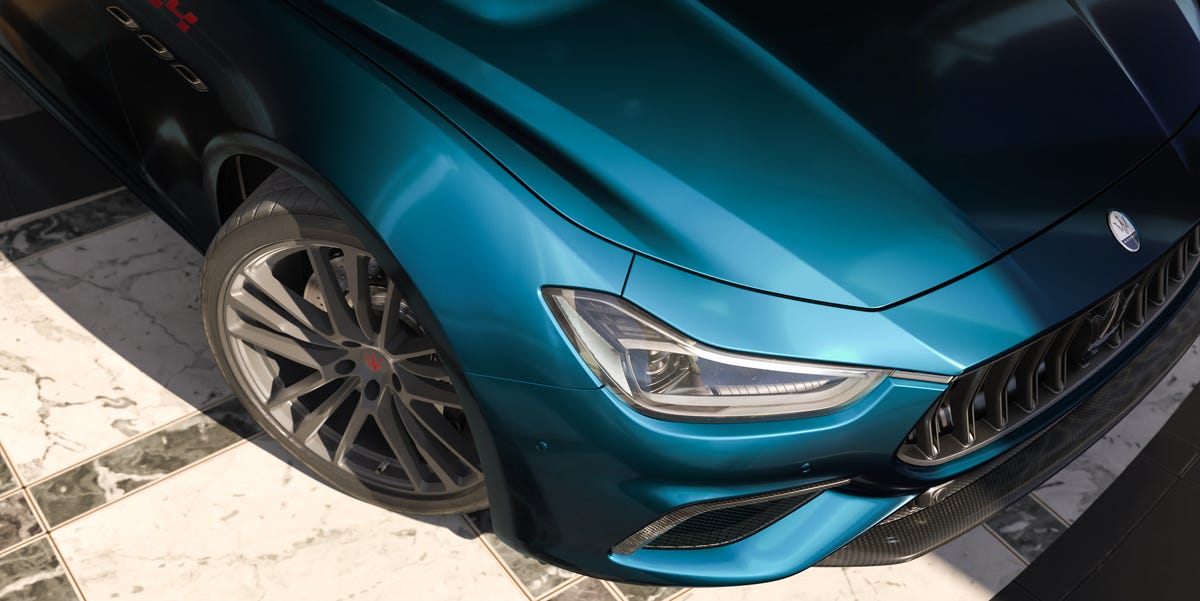 As it says caio to internal combustion, Maserati celebrates the last of its V8s with two special editions: a Ghibli 334 Ultima and Levante V8 Ultima.
Both offer more power, greater speed, and some nice trim pieces.
Look for them by the end of the year. No prices yet.
---
Maserati is unveiling two special editions at this week's Goodwood Festival of Speed that celebrate the farewell to internal combustion V8s, as The Trident, like every other carmaker in the world, makes the inevitable switch to electric power.
The two V8 tribute cars will be the Maserati Ghibli 334 Ultima and Levante V8 Ultima. Both will salute internal combustion with production runs of 103 cars each. They'll be available in the US in the fourth quarter of this year. No pricing has been announced.
It was quite a run for Maserati V8s. They started out in the great Maserati sports racers, of course. The first street car to be powered by a V8 was the 5000 GT Scia di Persia, or "Shah of Persia" as we might say in English today. Automotive historian, author, and Italian car expert Winston Goodfellow tells how a V8 found its way into a Maserati road car:
"The 1959 Scia di Persia, and this is straight from Giulio Alfieri's mouth, who was the chief engineer at the time, they sent the Shah two brochures—this was like in 1958, with a Maserati 450 S (endurance racing sports car) and the 3500 GT (road car), which had just come out. And he (The Shah) came back with, 'Do you think we could combine these two things?"
Indeed, could they?
"So Alfieri and one of the Orsis (Adolfo Orsi bought Maserati) went out and they met with him, and he said, 'Yeah, let's do that.' That was the birth of the 5000 GT."
Like every car ad ever printed has always said, improvements from race cars find their way into production cars.
"They had the 200 SI, the 300 S, and the 350 S were their race cars in the mid-'50s," Goodfellow said. "The 300 S was a fantastic, superbly balanced machine, won a lot of races. But they couldn't beat Ferrari for the championship because Ferrari was faster. All those had two-liter, three-liter, or 3.5-liter inline-sixes. Then for '57 they made the 450 S with a 4.9-liter V8. It was 400 horsepower. It was faster than the 315 and 335 S Ferraris. The problem was, Ferrari had a separate race department—Maserati did not, so the Ferraris were much more thoroughly developed and tested. Maserati should have won that year, but the last race, they had problems, so Ferrari won on the last race. Maserati did beat them twice that year in '57. They basically lead almost every race but the cars broke. So if the thing held together, the 450 S was faster than anything else anybody had."
So why not transfer that V8 from the 450 S into a street car?
"Yes, to the 5000 GT," said Goodfellow. "Those first engines were literally race engines. Maybe slightly detuned for the street. But that was the real deal. Then the car was constantly upgraded."
It was a significant step up for the automobile.
"The 450 S was the birth of the modern-day V8," said Maserati Club founder, Concorso Italiano founder, and current carguytours.com operator Frank Mandarano. "Those first two (Scia di Persia) cars had the 450 S. And then they built the other 30 cars with the detuned 5000 GT engine, which was chain-driven (camshafts) and had the more modern heads. Those heads most closely resembled those in the Mexico and then, of course, the Ghibli."
Ah yes, the Ghibli, the long-hooded, sleek and sporty two-door that came out in 1967 and had first a 4.7-liter V8 and then a 4.9-liter V8.
"The Ghibli that everyone wants is a 4.9 SS with a five-speed," said Goodfellow. "My favorite of all the Ghiblis is the Spider, which came out late-'68, early '69. OMG that car is so good looking. It's a great freakin' drive, too. They were listing 174 mph top end on it—realistically it was 150 to 160 depending on which engine, gearing, etc. But it was a striking piece."
And it went on like that, with V8s powering Maseratis for decades after: the Bora, the Quatroporte, Indy, Kylami, Khamsin, and the Shamal. Any one of those is a beautiful thing to see and most were stellar to drive.
But soon they will all, even the modern Masers, be driven by electric motors. The V8 will be in museums and in the garages and barns of a few collectors, whose heirs, not knowing what they are, will sell them at auction or maybe just haul them off to be scrapped.
Hence, Maserati offers these two models to celebrate the great V8s that came before.
The Ghibli 334 Ultima comes with a reported top speed of 334 kph (207 mph), making it, Maserati says, the fastest sedan in the world. Zero-to-60 mph takes just 3.9 seconds in the 334, compared to 4.3 in the regular Ghibli. Performance rubber on new 21-inch Orione wheels, a carbon-fiber spoiler, and even a paint scheme that matches that of the Scia di Persia car, distinguish the new Ultima.
The Levante SUV V8 Ultima is powered by a 572-hp twin-turbo V8 and rolls on its own 22-inch Oriones. It also sports distinct exterior touches not found on more pedestrian Levantes.
Both will race up the hill at Goodwood to celebrate the over-100,000 V8 Maseratis made since that first 5000 GT in 1959.
Both new tribute models will see 103 total in production. Pricing is not out yet, but the age of internal combustion draws to a close with these exciting Maseratis. The new cars will be fast and powerful, too, if just a little different.
At the Goodwood display will be the GranTurismo One-Off Prisma, "…a proud expression of this car's past and the brand's ability to go further." It will be alongside a GranTurismo Folgore, the brand's first all-electric car, with an 800-volt battery system and technology downloaded from Formula E. It'll go 280 miles on a charge. It's powered by three 300-kW motors "…one in the front, two in the rear—for a total installed power of over 1200 hp. It therefore delivers a maximum available power to the wheels of over 750 hp, at 1350 Nm (996 lb-ft) of torque," Maserati says.
But in case you need to see some internal combustion on the stand at Goodwood, there will also be an MC20 Cielo, but alas, that's powered by a turbocharged V6.
Arrivederci combustioni!
Are you going to miss internal combustion? Tell us in the comments section.

Mark Vaughn grew up in a Ford family and spent many hours holding a trouble light over a straight-six miraculously fed by a single-barrel carburetor while his father cursed Ford, all its products and everyone who ever worked there. This was his introduction to objective automotive criticism. He started writing for City News Service in Los Angeles, then moved to Europe and became editor of a car magazine called, creatively, Auto. He decided Auto should cover Formula 1, sports prototypes and touring cars—no one stopped him! From there he interviewed with Autoweek at the 1989 Frankfurt motor show and has been with us ever since.