Future Cars
The Ram 1500 Revolution Concept Previews EV Pickup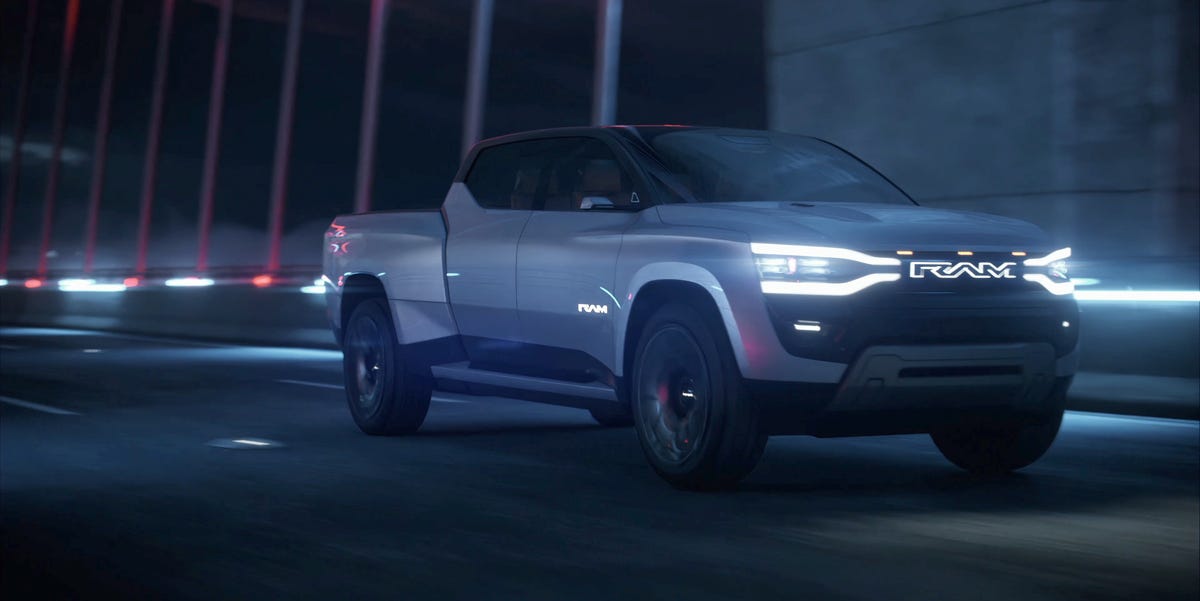 The Ram 1500 Revolution Concept previews what Ram is planning for its battery-electric pickup.
The concept features Shadow Mode, which enables the truck to follow you at low speeds.
The Revolution sits on Stellantis' STLA Frame architecture and sports all-wheel drive by way of two electric drive modules.
---
Your Ram EV pickup is finally here, kind of, as the battery-electric Ram 1500 Revolution debuts on the Consumer Electronics Show floor in concept form. Originally scheduled for last fall, the Revolution concept might be a few months late but still points to the future of Ram's battery-electric endeavors. This futuristic rig helps show what Ram will throw at the quickly filling BEV pickup marketplace.
Ram opted for what the company calls the STLA Frame architecture to underpin this concept. Designed with trucking in mind, it only makes sense for the folks at Ram to dig into its parent company's platform options and pick one designed specifically for the task at hand. This body-on-frame platform integrates the battery pack, and Ram isn't yet ready to disclose those specs. Ram says it will "be the leader in a combination of areas customers care about most: range, towing, payload, and charge time."
Ram does say this concept uses a pair of electric drive modules mounted at the front and rear axles, giving the Ram 1500 Revolution all-wheel drive. Still, count on a single-module powertrain to be available when this Ram EV hits the streets. Ram has yet to reveal range or output, but this is just a concept after all, with a rear-axle steering system that can tilt the rear wheels up to 15 degrees for better maneuverability in city situations.
This electric pickup doesn't opt for traditional truck styling but takes its Revolution name to heart, leaning into what the company calls "brutiful"—a portmanteau of beautiful and brutal. This styling shows a departure from the standard cab-box design found on most pickups and instead has the box stylized as part of the cab. The Ram 1500 Revolution also uses lighting to help further establish its futuristic appearance.
About that design, Stellantis design boss Ralph Gilles gives us a peek behind the curtain. "We didn't put pen to paper before we had deep discussions with the brand…You take that and look at latent needs," Gilles says. "You look at what our competitors are doing, what we're not doing yet, what we're doing in other programs. And we sit back in a room and lock ourselves up and start Post-It noting. Literally Post-It Noting. Kind of a design thinking project on steroids. One, because of the importance of the product, and two, because we have to: It's the way to do good work… That's what I bring to the party 'Stand back, don't start sketching cool things. Think it through.'"
If you're wondering what some of those notes inside that room said, Gilles explains the program goal: "Advancement, change, future. Groundbreaking ideas. A lot of ideas we had are still there. They're still pinned to the wall. We'll approach them at some point because we just couldn't put everything in it! There's a lot to unpack." That said, Gilles notes the teams wanted this to look like a Ram. "We wanted the truck to have an undeniable Ram presence—not look like anything else."
The wild interior is even more futuristic than the outside, featuring the most space yet from a Ram product. A two-screen display spans 28 inches. Ram says the top screen slides on what it calls the Ram rail attachment, and the bottom screen is removable. Screens also make their way to the flat bottom steering wheel to offer multi-function abilities. Taking advantage of the extra space, Ram brought back a once extended-cab staple: jump seats. That's right, the Ram 1500 Revolution concept is technically a three-row pickup.
With signature lighting taking hold as one of the prominent trends of the era, the team at Ram made a point to integrate lighting into its interior and exterior design. At the nose, the illuminated Ram logo is flanked by tuning fork signature lighting. This design is echoed in the interior of the Revolution's dashboard. Ambient lighting wraps around the passengers on the door panels and overhead.
Ram also doubled down on autonomous driving tech. While everyone still has ways to go in autonomous development, Ram says this Revolution concept has a level 3+ autonomous mode. That means that this concept could drive without intervention from the driver, and retracts the steering wheel to make extra space. The Ram 1500 Revolution also features something called Shadow Mode, which enables the truck to follow you at low speeds for a short distance.
This concept is impressive, but it's still a concept. Ford, General Motors, and Tesla Rivian all have battery-electric production-ready pickups available right now, and Ram's production variant isn't slated until 2024. While that might seem like a big deal, Ram's CEO Mike Koval seems nonplussed.
When asked about what Ram has learned from watching the competition enter the market, he says, "It's not so much the problem or challenge, it's how you respond to the problem or challenge—the frame of mind. It's your approach. So, the Ram team has decided to look at this as an absolute opportunity for us. With full knowledge of what your competitors are doing. We created what we're calling our 'customer performance index,' which is basically just taking everything we know, what's been publicly revealed from the competitors, and ensuring we will push past what they've announced in terms of the core attributes that our customers care about most… We are in a position of advantage. I think we're going to be coming to market at exactly the right time."
This should be good news for Ram fans who want to dip their toes into the battery-electric world. Though we'll still have to wait until the production version of this Ram 1500 Revolution finally makes its way to the public, Koval notes that will happen in the coming months. Details about where Ram will produce this battery-electric pickup will follow that official reveal.
Do you think Ram can make up lost ground? Or is there any ground to even make up in the BEV pickup space? Tell us your thoughts below.